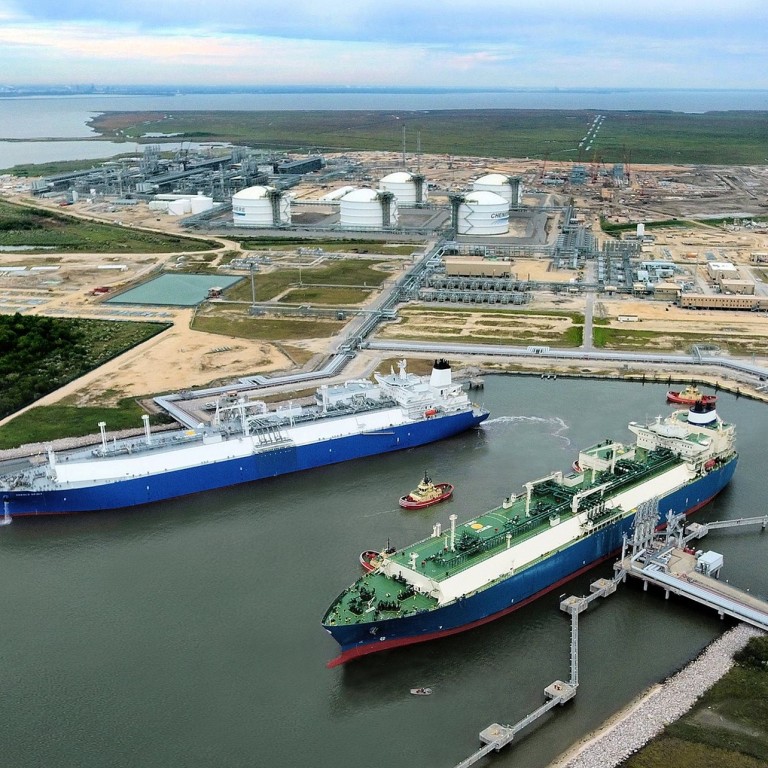 China needs it, the US has it, but why might a trade war energy deal not be the easy win it appears to be?
The US will soon be a net exporter of energy, while China is the world's biggest importer, suggesting energy would be low-hanging fruit in a trade war deal
However, issues over energy security and market access complicate the dynamic, with China keen to maintain control over its domestic market
In the second in a series on the trade war, we look at why China's need for energy security makes a deal with the US on energy more complicated than it may seem.
On paper, a healthy energy trading relationship between China and the United States would be mutually beneficial. China is the world's largest
energy importer
, while the US is, over the next year, poised to become a net exporter.
These simple facts have led many to suggest that a deal on energy trade would be low-hanging fruit in otherwise testing negotiations to strike a wider accord to end the trade war. But, as has been the case with many elements of the prolonged trade talks, things are not as simple as they seem.
While both nations were highly dependent on foreign energy a decade ago, their fortunes have since diverged markedly.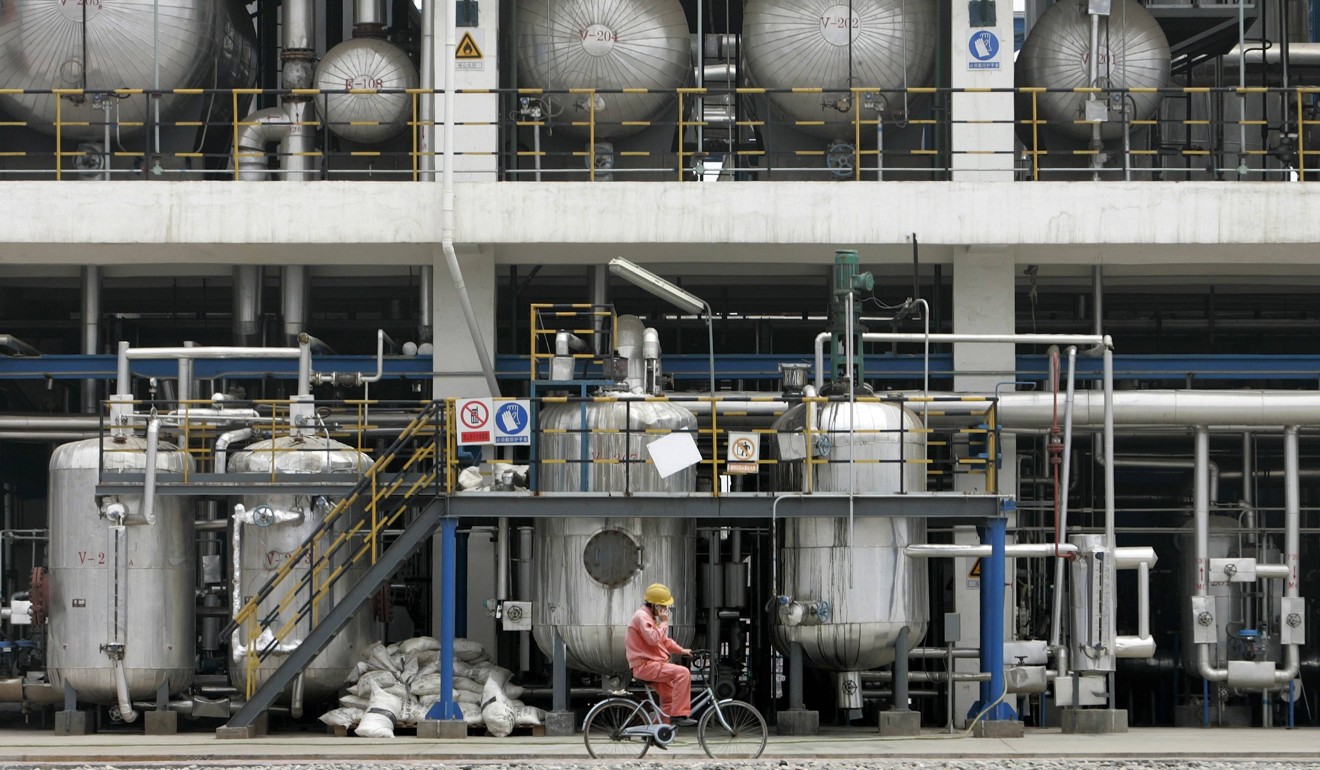 Advancements in drilling technology allowed the US to tap previously inaccessible shale rock formations, which saw its high dependence on foreign petroleum drop to near self-sufficiency over the past decade.
The US has subsequently enjoyed an energy boom, thanks largely to these huge stores of shale oil and gas. So vast are the discoveries, according to International Energy Agency forecasts, that the US may surpass Russia and Saudi Arabia as the largest crude oil exporter by 2024.
Furthermore, America is now the world's third largest exporter of liquefied natural gas (LNG) and has the potential to take the top spot within a decade. Shale gas has allowed it to overtake Russia in natural gas production. The US became a net exporter of the energy source in 2016.
China, meanwhile, is travelling in the other direction.
President Xi Jinping last year called for the country to increase its domestic energy security, which led its state-owned energy giants to allocate the largest investment on domestic drilling since 2016 in the hunt for local natural gas reserves. But the country still relies heavily on energy imports. China overtook the US in 2017 as the world's largest crude oil importer, underlining the rapid divergence in energy security between the two nations.
In 2018, China contributed 40 per cent of the world's oil demand growth, according to Neil Beveridge, a senior analyst at investment management firm Sanford Bernstein.
It is also the largest source of natural gas demand growth globally, and could surpass Japan as the world's largest LNG importer by 2025, Beveridge said in a recent report.
LNG has become particularly important to the Chinese government as it continues its "war on pollution", declared by Premier Li Keqiang at the National People's Congress in 2014, when he told 3,000 delegates: "[Pollution is] nature's red-light warning against the model of inefficient and blind development. Efforts to protect the environment matter to people's lives and the future of the Chinese nation."
China's LNG
demand has more than tripled in the past decade as Beijing looks to reduce the nation's smoggy skies through an aggressive programme of heating homes and powering factories using gas rather than coal.
This is all unfolding as a backdrop to US President Donald Trump's demand that China cut its
gaping trade surplus
as part of any trade resolution. It would appear, then, that the planets are aligned for closer energy trading relations.
"Yes, China and the US are complementary [markets] for crude oil and LNG, but the issue is volume," said Wu Kang, head of analytics for Asia at the commodities consultancy S&P Global Platts.
"In the absence of the trade war, China has the need and is set to import more from the US and the distance between the two can be largely overcome with the US' resource abundance and low cost."
The trouble is, the trade war is escalating, and has scuppered what was a promising, if fledgling, relationship.
US exports of crude oil and petroleum products to China have taken a beating since tit-for-tat tariffs began last July, plunging from 16,890 thousand barrels in August 2018 to just 4,797 thousand barrels in February 2019, according to the US Energy Information Administration.
Among all energy products, LNG has been hit the hardest. China last year imposed a 25 per cent tariff on LNG imports, in retaliation for Washington's tariffs on US$200 billion of Chinese imports.
In October and December 2018 and again in April 2019, no LNG cargoes from the US arrived at Chinese docks. The US share of China's total LNG imports dropped to 1.3 per cent in the first four months of this year, well below the 7.5 per cent registered over the same period in 2018 and the 4.1 per cent over the full year of 2018, according to Jenny Yang, a gas analyst with IHS Markit.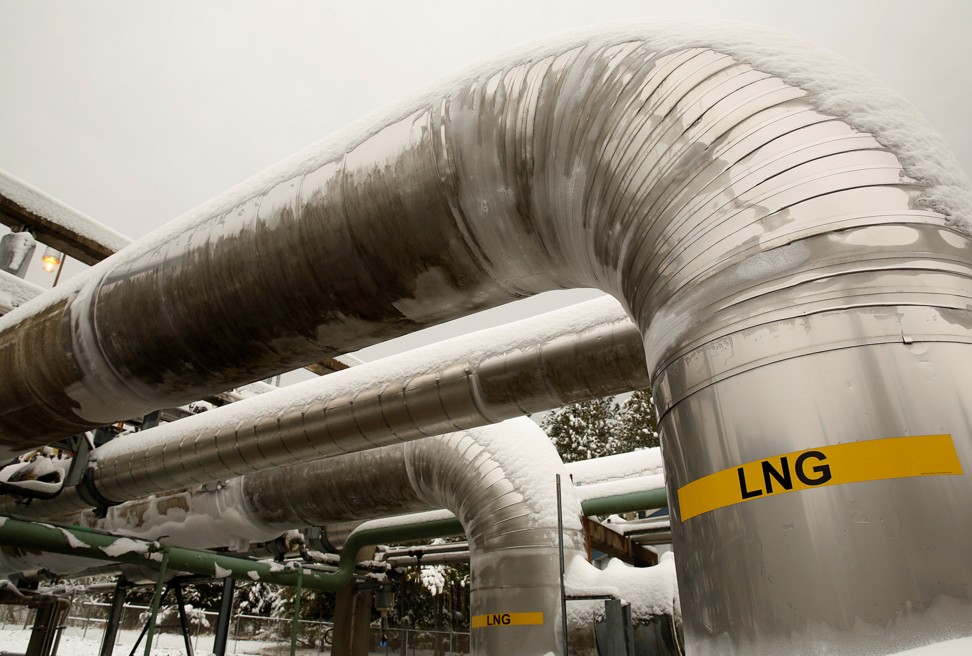 The Chinese tariffs made it uneconomical to import American LNG and forced Chinese companies that were already committed to buying US gas to swap their cargoes with traders who could sell them to other markets.
Meanwhile, China is looking elsewhere for energy supplies, with two cargoes of Brazilian crude oil en route to Qingdao by June 24, carrying an estimated 2 million barrels of oil from Petrobras, Reuters reported.
This was despite a push from Trump early in his presidency to use energy as the primary tool for narrowing the trade imbalance between the US and China, against which he raged on the 2016 campaign trail.
So while it may seem to be in China's interests to strike a deal with Washington on energy, there are certain red lines that may deter it from doing so.
Key to China's push for energy security is to avoid becoming too dependent on any single source. The small scale of China's pre-trade war energy imports from the US meant that China was unlikely to become immediately reliant on US energy, but a trade deal could quickly shift the dynamic.
If China were to become a large-scale buyer of US gas through a bumper purchasing agreement, and Washington then decided to turn off the spigot, China's energy security would be threatened, goes a line of reasoning thought to be pervasive in Beijing.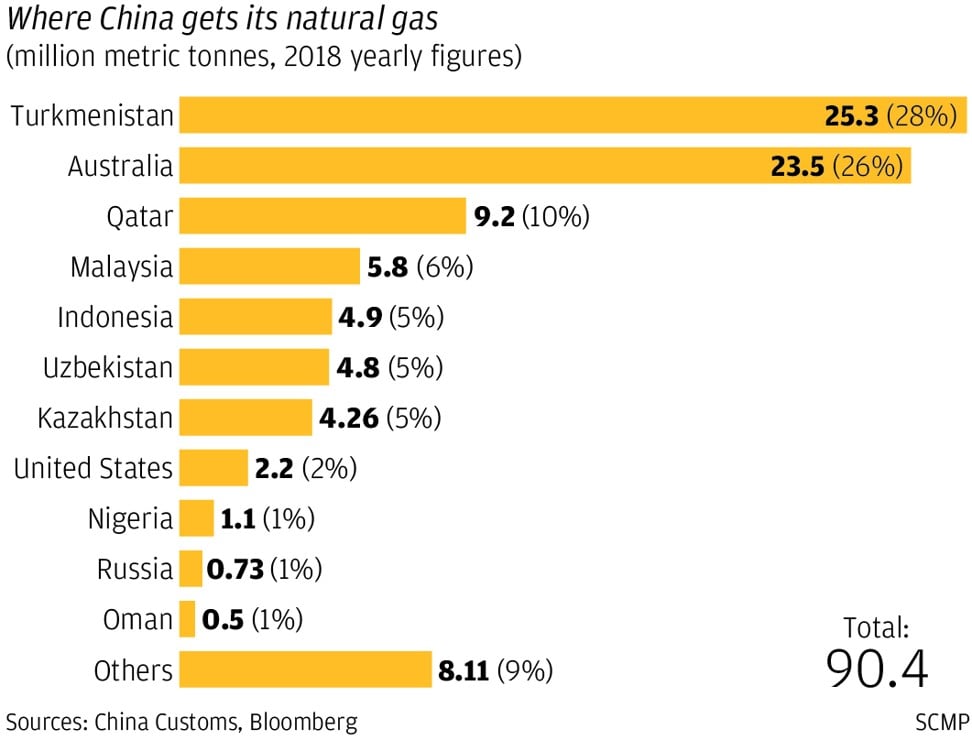 On the other hand, flexible access to US gas would allow China to diversify from its current leading suppliers. Plus, having ready access to a number of sellers allows it to make purchases at more favourable prices.
"China places a lot of value on security and diversity of supply. New supply from the US would create more competition for China's market," Beveridge said. "The strategic question is, to what extent does China want to become tied to the US as one of its large energy suppliers?"
China has plenty of alternative sources for LNG, including Qatar and Australia – currently its largest suppliers – as well as new and emerging suppliers like Russia, Mozambique, Canada and Papua New Guinea, he noted.
China began building a pipeline as early as 2007 to transport natural gas from the fields of Turkmenistan to Shanghai, with the capability of delivering 55 billion cubic metres of gas a year, or 57 per cent of China's 2010 demand, over 7,000km (4,350 miles). The final phase of the project began work in 2014.
This view on diversification is backed up by energy watchers in Beijing. Wang Yongzhong, a senior fellow with the Chinese Academy of Social Sciences (CASS), a government think tank, said that Beijing should not allow its imports of US oil and gas to "exceed 10 or 15 per cent".
"Were the US to cut off its energy supply, it would have a negative impact on China's energy security, on the economy and on social stability," Wang said – a point that percolates through much of Beijing's economic policy thinking.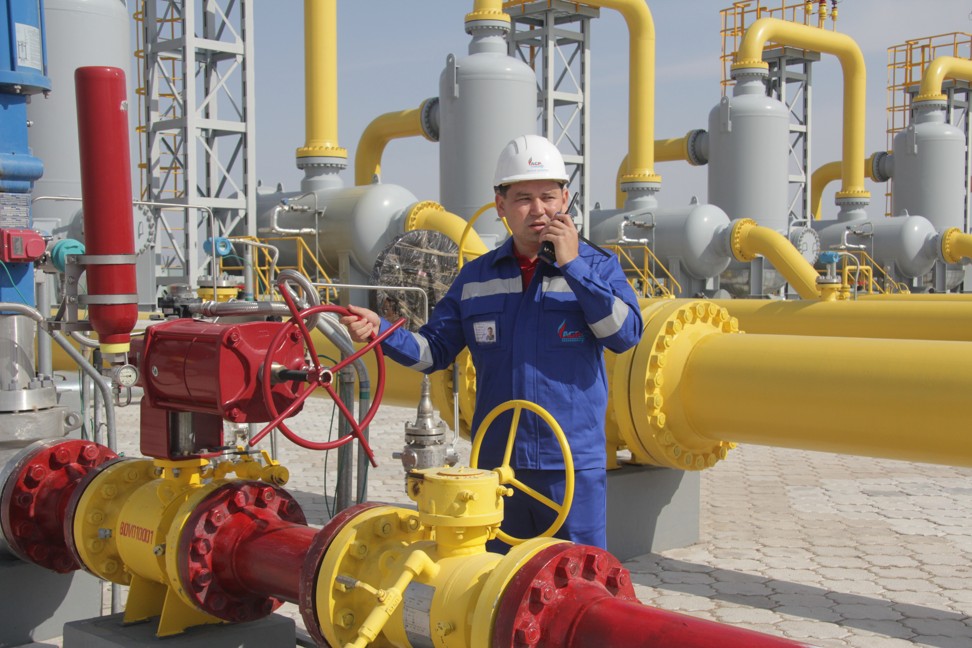 Paramount in Beijing's policymaking is a need to maintain job, food and energy security, since a strong economy is seen as a means of legitimising an unelected government.
"At the same time, considering that international oil and gas trade usually uses a long-term contract model, and China's energy import demand is large, if the US were to suddenly cut off [supply] for political reasons, it would be difficult for China to purchase alternative oil and gas resources in a short period of time," said Wang, a specialist in energy.
Another wrinkle in the complex US-China energy dynamic is market access – as is the case in other strategically important sectors.
The US negotiating team has demanded that, as part of a trade deal, China allow American companies more comprehensive access to key sectors, including energy.
While foreign energy companies are permitted to participate in China's energy market through partnerships with Chinese companies that hold exploration licenses or by establishing joint ventures with a Chinese partner to bid for licenses directly, access remains heavily restricted.
The state owns all of China's mineral resources. As such, state-owned energy companies China National Petroleum Corporation, China Petrochemical Corporation and the China National Offshore Oil Corporation dominate the oil and gas market, from exploration, to pipelines, to refining and distribution.
There are, however, signs that China is beginning to open up some parts of the energy market.
In March, China announced plans for a national oil and gas pipeline company, aiming to open its pipeline infrastructure sector to private and foreign energy producers as a way to spur oil and gas exploration. However, a timeline for the new entity has yet to be revealed.
Even so, analysts are sceptical whether foreign companies will rush into this sector, given China's reputation for weak intellectual property (IP) protection and forced technology transfer – other key US grievances in the trade war.
A survey published this week by the American business news channel CNBC found that almost one-third of North American-based chief financial officers said Chinese firms had stolen their companies' IP at some point over the past decade, meaning that even if China were to open certain sectors of its market to US firms, some
may think twice
about seizing the opportunity.
"Foreign direct investment in China's energy sector has always been difficult unless it involved the provision of specialist technology not available in China," said Dr Philip Andrews-Speed, senior principal research fellow at the National University of Singapore's Energy Studies Institute.
In Beijing, Wang said that the recent escalation of the trade war, including the US targeting of Chinese technology giant Huawei, may well prompt the Chinese government to reconsider plans to buy more energy products from the US.
"The recent escalation of trade tensions between China and the US, especially the violent US sanctions against Huawei, shows that the US is not a trustworthy partner," said the CASS analyst.
Not all American energy companies have stopped doing business with China. In September 2018, ExxonMobil, the Texas-based energy giant, said it had signed a 20-year agreement to supply 1 million tonnes of LNG a year to provincial government-backed Zhejiang Energy.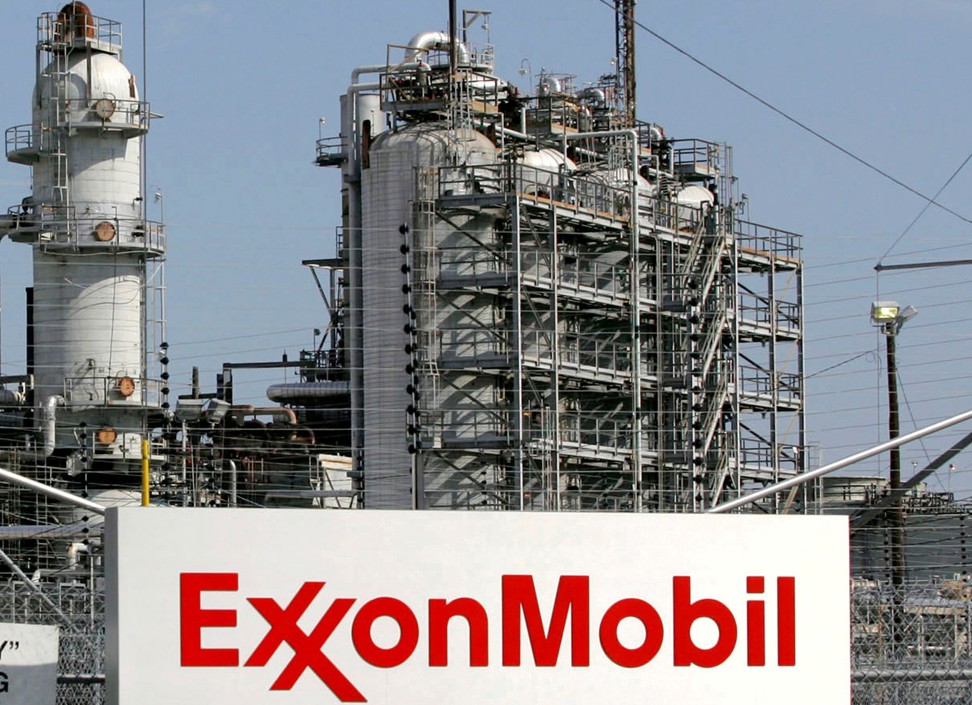 In the same month, ExxonMobil signed a framework agreement to build a chemical complex in Guangdong. Described by the company as a "multibillion-dollar project, which remains subject to a final investment decision", it would include a 1.1 million-tonnes-per-year ethylene flexible feed steam cracker, two performance polythene lines and two differentiated performance polypropylene lines, with a proposed go-live date in 2023.
Companies such as ExxonMobil often work in trying business environments, and can be found in war zones around the world. Thus, the company is likely to take a longer view when it comes to investment than more risk-averse firms.
"China is open to doing deals with companies who offer gas or oil at an attractive price. I guess both Exxon and China believe that the trade war will come to an end in the relatively near future and normal business can resume. Both parties are known for their long-term perspectives," said Andrews-Speed.
However, the broader picture of US-China energy relations that emerges when you scratch beneath the surface is far more nuanced than a simple case of supply and demand.
What is considered to be one of the "easy wins" in any trade deal, is, in reality, complex and multifaceted, suggesting that in the increasingly fractious relationship between the world's biggest superpowers, there may be few easy wins at all.
The third part in this series on the trade war will look at China's reliance on American technology.