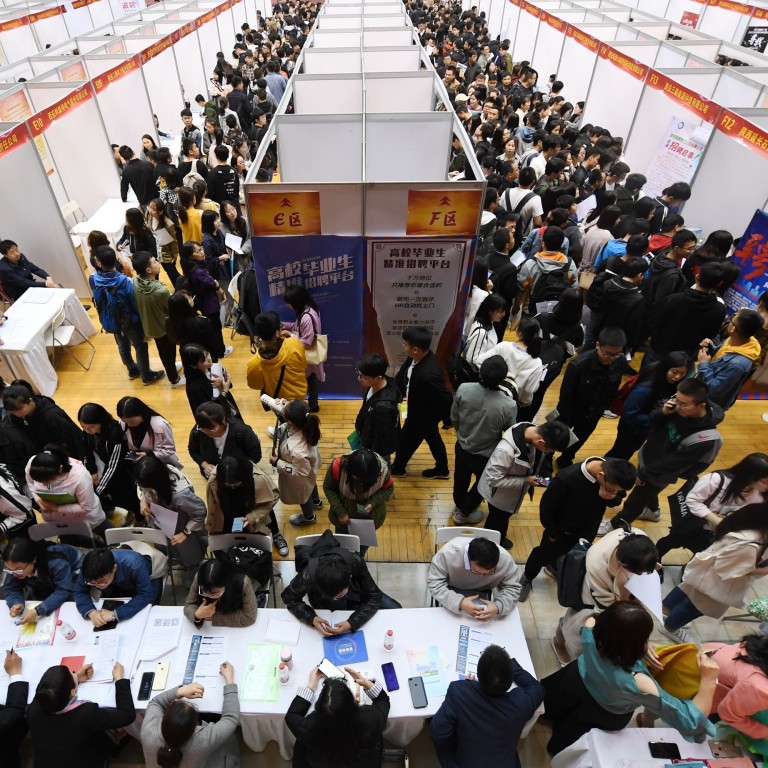 China's 8.34 million graduates fighting for fewer jobs as vacancies dwindle and gap years increase, survey shows
Number of job openings for each new graduate applicant dropped to 1.41 this year from 1.54 last year, according to online job recruitment platform Zhaopin
China's economy is struggling to maintain stable growth in the midst of the trade war with the United States, with employment concerns increasing
China's 8.34 million graduates are facing a tougher and more competitive job market than their counterparts 12 months ago as a record number of applicants compete for a dwindling number of vacancies in an economy that is struggling to maintain stable growth in the midst of the trade war with the United States, a survey of students showed.
The number of job openings for each new graduate applicant dropped to 1.41 this year from 1.54 last year, according to Zhaopin, an online job recruitment platform that tracks job postings having surveyed 88,150 graduates from February to May, the peak hiring season during the year. A ratio above 1 means there are more vacancies than applicants.
The number of Chinese graduates will rise 140,000 from last year at the same time as firms struggle to prevent massive lay-offs in a slowing economy, increasing the central government's concern to the point that it formed a special task force under the State Council this month to spearhead efforts to secure employment.
The State Council Employment Work Leading Group, headed by Vice-Premier Hu Chunhua, comprises 25 top leaders from different ministries and departments within the cabinet, and has a mission to "enhance leadership and coordination of work related to employment".
In the three months since the Lunar New Year holiday in early February, job openings for graduates dropped 13 per cent compared to the same period last year, while the number of fresh jobseekers declined by 5 per cent, resulting in the lower ratio.
Of the students surveyed, 88 per cent felt it would be difficult to find a job this year, while about 8 per cent said they would be willing to take a gap year – putting job hunting and further education on hold – after graduation, an increase from 6.99 per cent last year.
Many new graduates are still aiming for jobs with state-owned companies (SOEs) as they are seen as offering greater security even though these firms are freezing or scaling back their future headcounts. The survey found that openings for new graduates with SOEs plunged 19 per cent from a year ago, while applicants rose 5 per cent. On average, seven graduates are fighting for each SOE job.
Companies with more than 10,000 employees cut down their headcounts by 37 per cent this year, but still saw an 11 per cent increase in graduates applying for their limited jobs. On the other hand, small, private firms had more openings but received fewer applications.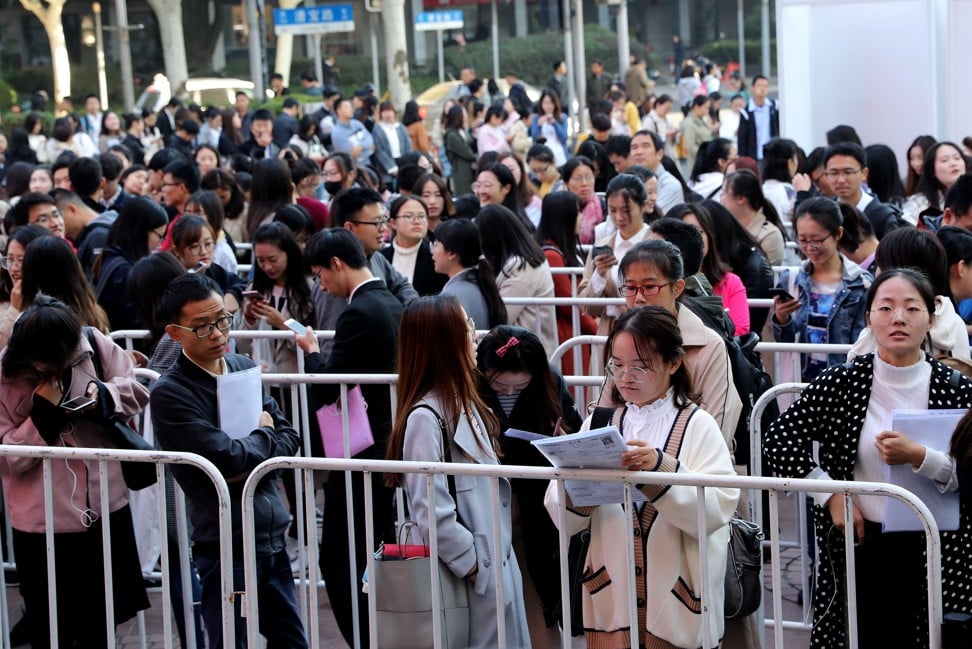 Based on the ratio, intermediary service such as home service, education and bio engineering sectors were the three least competitive for fresh graduates, while mechanics, sales and property agents were the top three professions where graduates could land a job easily, Zhaopin said.
But in some sectors and professions, there was a clear mismatch of demand for and supply of labour. For instance, even though demand for employees in the intermediate services sector increased by 25 per cent, applications from graduates declined 21 per cent.
"These so-called blue-collar positions are generally not favoured by college students, but the development of the services sector has improved the requirements for such positions, leading to this intensifying shortage of labour supply," Zhaopin said.
It also found that graduates were receiving fewer offers this year, with only 21 per cent of graduates receiving 6 or more offers, compared to about 36 per cent last year.
Even though the promised and actual salaries for graduates rose, few received what they expected. According to Zhaopin, around a third of graduates expected to receive monthly salaries between 6,000 yuan (US$868) and 7,999 yuan (US$1,158), yet only 18 per cent actually received salaries within that range. Around 70 per cent signed offers with monthly salaries of less than 6,000 yuan.
This article appeared in the South China Morning Post print edition as: Graduates fight for jobs as trade war takes economic toll