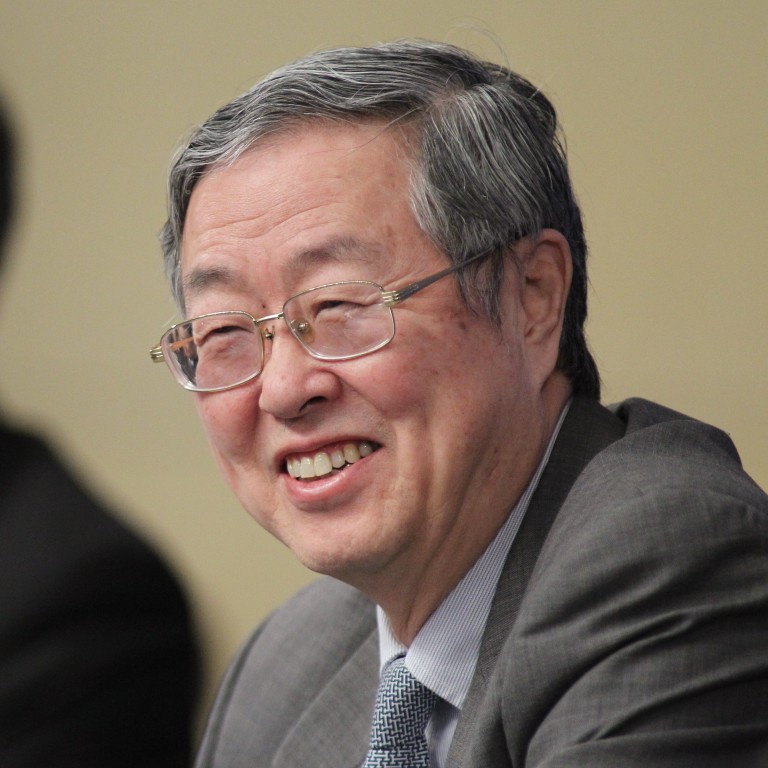 China's yuan dropping below 7 to the US dollar is no longer 'forbidden zone', analysts say
Former People's Bank of China governor Zhou Xiaochuan dismissed the importance of keeping the yuan above 7 to the US dollar last week
The yuan has stabilised in recent weeks as authorities voiced support for the currency, but weakened by 0.1 per cent to 6.9075 per US dollar on Tuesday
Yuan watchers arguing that China should not be scared of the currency breaking 7 to the US dollar are being emboldened by a former central bank official's support for their thesis.
In the four days since former People's Bank of China (PBOC) governor Zhou Xiaochuan dismissed the importance of keeping the yuan above 7 to the US dollar, at least six analysts published reports laying out why the central bank is likely to tolerate a weaker yuan. They say policymakers are more likely to prioritise supporting economic growth amid a worsening stand-off with the United States over trade. The yuan was 0.1 per cent weaker at 6.9075 per US dollar on Tuesday.
The yuan has stabilised in recent weeks as authorities voiced support for the currency, following a rapid sell-off that pushed it near a level not breached since the global financial crisis. It still lost about 2.5 per cent in May, the worst in Asia, even with current PBOC Governor Yi Gang downplaying the risk of further depreciation. Growing conviction that the US Federal Reserve will cut interest rates may also help relieve some of that pressure.
"Allowing greater flexibility in the yuan is good for monetary policy," said Nie Wen, an economist at Huabao Trust in Shanghai. "It creates more room for China to deal with its domestic problems."
A rate weaker than 7 per US dollar is no longer a "forbidden zone" for China's yuan, said Wan Zhao, an analyst at China Merchants Bank. A break below that level can actually help reduce the pressure on Chinese exporters if the US raises tariffs on more goods, he said.
Chinese authorities are preparing more policy tools to retaliate against the US should tensions escalate further. They have also announced plans to
blacklist certain foreign companies
and have threatened to restrict exports of rare earths – a group of materials that are used by US companies in everything from electric cars to hi-tech military equipment.
Edmund Goh, an Asia fixed-income fund manager at Aberdeen Standard Investments in Shanghai, also said 7 "isn't a must-defend level" for China.
"It's not the absolute number that matters, but the speed of depreciation," he said.
While a weaker yuan could benefit China's economy, analysts said it may not come imminently, unless growth worsens rapidly. A much weaker currency would also run the risk of incurring
US accusations
that China is deliberately pushing down its value to offset some of the impact of the tariff war.
"We think it's hard for the yuan to break 7 in the short term, but still need to watch the economic fundamentals and tariff policies' impact on balance of payments in the mid-to-long term," said Ming Ming, chief fixed-income analyst at Citic Securities in Beijing.
This article appeared in the South China Morning Post print edition as: Yuan below 7 per dollar 'no longer forbidden'