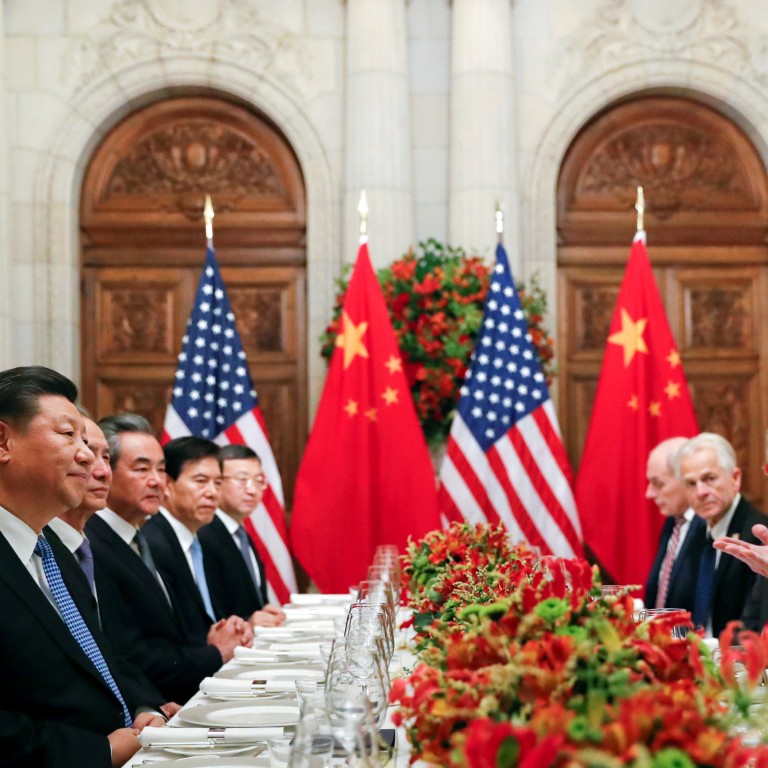 Exclusive
Donald Trump's G20 meeting with Xi Jinping in Osaka could again be a formal dinner, source says
The two world leaders last met in a similar setting on the sidelines of the G20 leaders summit in Argentina in December and agreed to a trade war ceasefire
Last meeting between the world's two largest economies took place between Chinese Vice-Premier Liu He and US trade representative Robert Lighthizer on May 10
A widely anticipated meeting between Chinese President Xi Jinping and US President Donald Trump at the end of this month in Japan could be a formal face-to-face negotiation over dinner instead of a quick handshake and chat, a source who was briefed on the arrangement told the South China Morning Post.
"It would be largely a replay of the summit in Argentina last December," the source said.
Beijing has not formally confirmed any plans or provided any details of the high-stakes meeting that is widely expected to take place on the sidelines of the G20 leaders summit in Osaka, Japan on June 28 and 29.
The US has also not issued any information about the format of the meeting, though Trump has said previously that he is "look[ing] forward" to the face-to-face parley.
The
outcome of the meeting,
which may take place on June 29, could decide whether tensions between the world's two largest economies will ease enough to allow for a resumption of negotiations, or whether the US will place tariffs on another US$300 billion worth of Chinese goods, as Trump has threatened.
Trump told American business news broadcaster CNBC on Monday that he believed China would make a deal with the US "because they're going to have to".
He also said that China was being "absolutely decimated" by firms moving to other countries to avoid paying US tariffs.
As the Chinese foreign ministry refused during a Monday press briefing to confirm whether Xi intended to meet Trump during the G20 meetings, the US leader told CNBC that he would place tariffs on the remaining US$300 billion of currently untaxed Chinese imports should Beijing turn down the face-to-face conference.
"I would be surprised if [Xi] didn't go," said Trump. "I think he is going, I haven't heard that he's not. We are expected to meet. If we do, that's fine and if we don't, that's fine. Look, from our standpoint, the best deal we can have is 25 per cent [tariffs] on US$600 billion."
A further tranche of tariffs would, contrary to Trump's estimate, bring the total value of Chinese goods subject to punitive taxes of 25 per cent to around US$550 billion.
The US president had previously stated that he was ready to impose the additional tariffs if no trade deal were reached with China.
Trump said last week that he was likely to decide after the G20 meeting whether to impose the new tariffs, while
US Treasury Secretary Steven Mnuchin
said in an interview with CNBC on Sunday that the US president would be "perfectly happy" to impose the new tariffs if China did not wish to resume negotiations.
The manner, duration and format of the meeting will be important to gauge the relationship between the two leaders and the prospect of progress toward a solution to the trade war.
If confirmed, the setting of a formal sit-down negotiation would not only allow the two leaders and their aides relatively sufficient time to address their differences, but also to agree on a conciliatory tone.
George Magnus, an associate at Oxford University's China Centre, said that the anticipation surrounding a Trump-Xi summit in Osaka is "a mark of how far the US-China relationship has deteriorated".
According to Magnus, the US-China relations now lacks the effective institutional architecture for engagement and this is "why the state leaders have to spearhead some sort of rapprochement – assuming that one or both actually want to".
In a similar situation in December – with the US threatening to raise the tariff rate on US$200 billion Chinese products to 25 per cent from January 1–
Trump and Xi talked
over steak and wine for two and half hours in Argentina on the sidelines of the G20 summit and agreed to a tariff ceasefire to allow for 90 days of negotiations.
Trump eventually decided to implement the tariffs in May after talks reached an impasse, with each side blaming the other for the breakdown.
The bilateral talks, led by Chinese Vice-Premier Liu He and US trade representative Robert Lighthizer, ended on May 10 without a deal and tensions between Beijing and Washington have risen sharply since then amid increasingly hostile rhetoric.
John Quelch, dean of the Miami Business School at the University of Miami, said a face-to-face meeting between Trump and Xi "is essential, even if nothing is resolved".
"Global stock markets want assurance that communication lines remain open at the highest level between the world's two most powerful economies," said Quelch, who has also worked at the China Europe International Business School in Shanghai.
The hostilities are also spreading to technology and geopolitical fronts after the US decided to place Huawei on a trade blacklist, effectively banning US firms from supplying the Chinese telecommunications equipment maker with hardware and software.
China responded by announcing that it would launch its own "unreliable entity list" to target foreign firms that take action that harms Chinese firms for non-commercial reasons.
China also threatened to block exports of rare earths, which contain minerals vital for hi-tech components, to companies or countries that would use them to harm China.
Despite the sharp rise in nationalistic rhetoric from Chinese state media attacking the US, there have been few personal attacks on Trump or his aides.
At the St Petersburg International Economic Forum on Friday, Xi said that he did not want to see a decoupling of the US and China economies and, for the first time on record, called Trump "my friend".
On the other hand, while Trump has threatened to levy tariffs on Chinese products, he has also shown a willingness to continue the dialogue with China.
"I'll be meeting with President Xi and we'll see what happens," Trump said last week during a visit to France.
This article appeared in the South China Morning Post print edition as: Table for two? Trump and Xi set for formal dinner