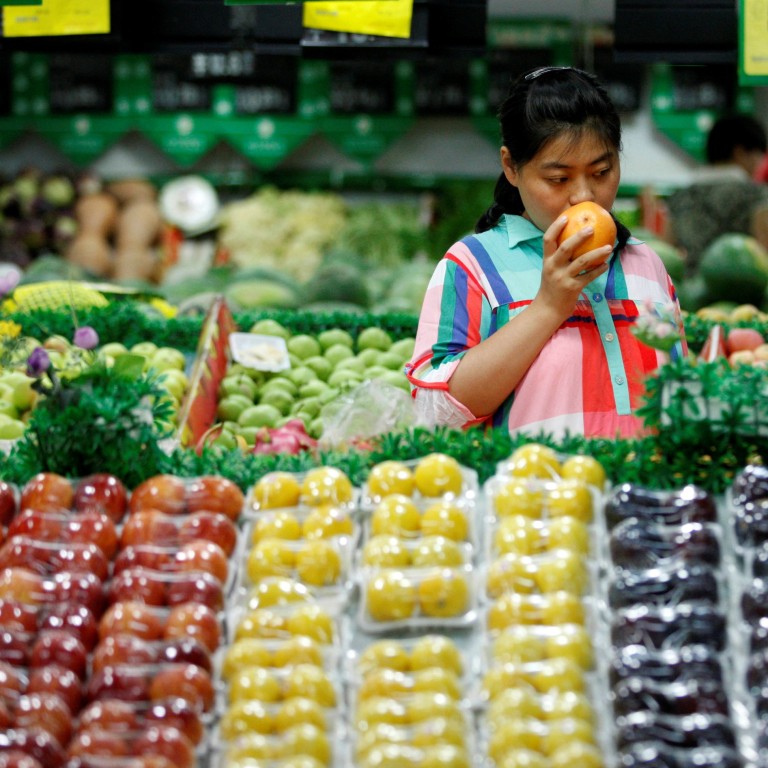 China's consumer inflation rises to 15-month high amid pork crisis, African swine fever epidemic
The consumer price inflation (CPI) rate accelerated to 2.7 per cent in May, with pork prices jumping 18.2 per cent
Producer prices charged by factories decelerate in May as expected due to lower cost of commodities like oil and natural gas
China's consumer inflation jumped to its highest level in 15 months in May, driven largely by soaring fresh fruit and pork prices as the effects of the African swine fever epidemic showed few signs of abating.
The consumer price inflation (CPI) rate accelerated to 2.7 per cent in May from a year ago, its highest level since February 2018, up from
2.5 per cent in April,
according to data released by the National Bureau of Statistics (NBS) on Wednesday. The rise was in line with expectations of a Bloomberg poll.
Fresh fruit prices rose to a record high of 26.7 per cent compared to a year ago, accelerating from the 14.8 per cent gain registered in April, while pork prices also continued to soar, jumping 18.2 per cent in May from a year ago, up 3.8 percentage points from last month.
The NBS blamed an insufficient supply to the market and wet weather in the south this year for the decline in the supply of fresh fruits.
China's
African swine fever
outbreak began in August, leading to the culling of hundreds of thousands of pigs and breeding stock to stop the spread of the virus that is deadly to pigs but does not affect humans. The impact on the industry has worsened this year, affecting large corporate pig farms.
Last month, the Ministry of Agriculture and Rural Affairs warned of the risk of a severe shortage of pork due to a lack of pig inventories as farmers aggressively culled their herds. In the fourth quarter of 2019, pig prices may exceed their record high posted in 2016, the ministry said.
Meanwhile, producer price inflation (PPI) – a gauge of prices that factories charge wholesalers – increased 0.6 per cent in May from a year ago, down 0.3 percentage points from last month and in line with analysts' estimates in a poll by Bloomberg.
Factory gate inflation slowed in May as prices of major commodities such as oil and natural gas remained subdued, according to data from the NBS.
Prices for construction materials including ferrous metals also slowed in May, in line with China's cooling growth despite Beijing's ongoing campaign to boost infrastructure spending.
"China's import tariff hike on American agricultural goods on June 1 could also bring modest upward pressures. That said, we do not think higher headline CPI would constrain policy flexibility, as the lingering trade tensions could bring downward pressures on growth and the job market, weighing on core CPI and PPI," said analysts at Morgan Stanley. "We continue to expect more policy easing, with a focus on public spending amid weak private confidence."
Analysts at China International Capital Corporation said that industrial enterprise profits may still be under pressure in the second half of the year as a result of the escalating trade tension between US and China, expecting more pressure on PPI, possibly cutting PPI to "near zero".
Larry Hu, chief China economist at Macquarie Group, said he is more concerned with the outlook for PPI, which has shown high correlation to company earnings.
"In our view, PPI inflation has peaked for this year and will keep falling in the coming months. PPI inflation could turn into deflation as early as the third quarter this year and cause earnings growth to see a double-dip," said Hu.
Uncertainty over the economic outlook has increased after
US President Donald Trump's
threat to impose tariffs on the US$300 billion of Chinese imports not yet subject to sanctions.