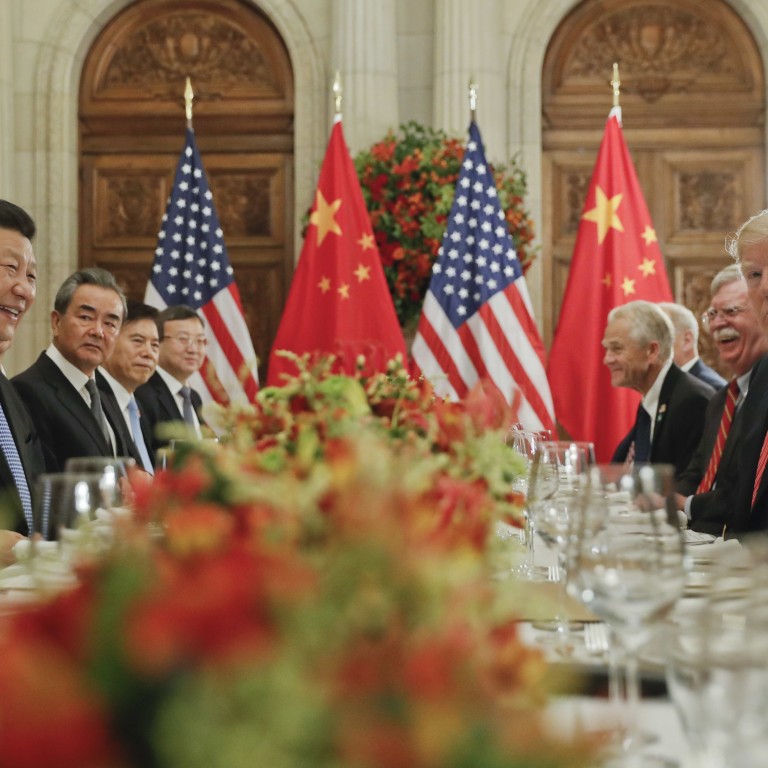 China quiet on Xi Jinping's G20 meeting and trade talk demands in face of fiery Donald Trump rhetoric
It is expected the two leaders will meet in Japan at the end of June
Analysts see an increasing caution from China amid low expectations of any deal
China's relative silence in response to comments by US President Donald Trump in relation to the trade war is due to Beijing redoubling its efforts to take a cautious approach ahead of future talks amid "low expectations" of a quick deal after negotiations collapsed last month, analysts said.
Trump has openly threatened to levy tariffs on additional Chinese products if a meeting with counterpart Xi Jinping does not take place at the G20 summit in Japan at the end of the month, while also urging Beijing to return to talks based on terms negotiated earlier in the year.
"It's me right now that's holding up the deal," Trump said on Tuesday. "And we're going to either do a great deal with China or we're not going to do a deal at all."
China, though, has remained tight-lipped on both a meeting and also the prospects of future talks, with the foreign ministry yet to confirm whether there will be a summit between
Trump and Xi
in Osaka. The
South China Morning Post
reported this week that the two leaders could share a more formal dinner, similar to the scene witnessed on the sidelines of the G20 summit in Argentina in December.
That meeting produced a ceasefire and more than five months of negotiations until early May when the talks broke down and the US more than doubled tariffs on US$200 billion in Chinese imports to 25 per cent.
Shi Yinhong, an international relations expert from Renmin University of China, said China had very low expectations ahead of the G20 summit in Japan due to the current level of strained bilateral relations.
Trump's open threats had put Xi "in a very disadvantageous position", as any agreement "would be seen as being weak or surrendering to US pressure", he said.
Instead, the two sides were likely to reach "piecemeal deals" on smaller issues such as people-to-people exchanges and relaxation of visa restrictions, according to Shi, which in turn might help to build a friendlier atmosphere to pave the way for more substantive talks in the future.
China's state-controlled media outlets have maintained their criticism of the US for starting the trade war, although editorials carried by Xinhua and the People's Daily have not given concrete information about Beijing's demands, instead, in its latest editorial, Xinhua urged "US politicians to treat China's rise with reasonable sense".
Geng Shuang, a foreign ministry spokesman, said last week that China was aware of hopes emerging from the US side of a meeting between Trump and Xi in Osaka, but that China had no information to disclose on that subject, reiterating government statements from previous days.
Amid a war of words between Beijing and Washington over which side is to blame for the stalled trade talks, both sides have showcased their willingness to talk as long as the conditions are appropriate. Commerce vice-minister Wang Shouwen said at the start of June that China "is always sincere" about negotiating with the US, but the talks must be conducted with mutual respect.
"Otherwise, the negotiation would be meaningless. Even if there's negotiation, there won't be an enforceable and sustainable agreement," Wang said.
Xi said at an economic forum in Russia last week that he did not want to see a decoupling of the US and China and believed that "my friend" Trump did not want that either.
"Trump's stance that he is unlikely to make any concessions is very clear. So, China should be very cautious when arranging a bilateral meeting with him," said Liu Weidong, a China-US affairs expert from the Chinese Academy of Social Sciences, a state think tank
Scott Kennedy, a senior adviser at the Centre for Strategic and International Studies in Washington, said Trump and Xi may reach "some sort of truce" as they did in Buenos Aires so that "both sides agree to put on hold their various actions against the other and not further escalate", but added that the chance was small.
Additional reporting by Catherine Wong
This article appeared in the South China Morning Post print edition as: Cautious China silent on Xi-trump meeting