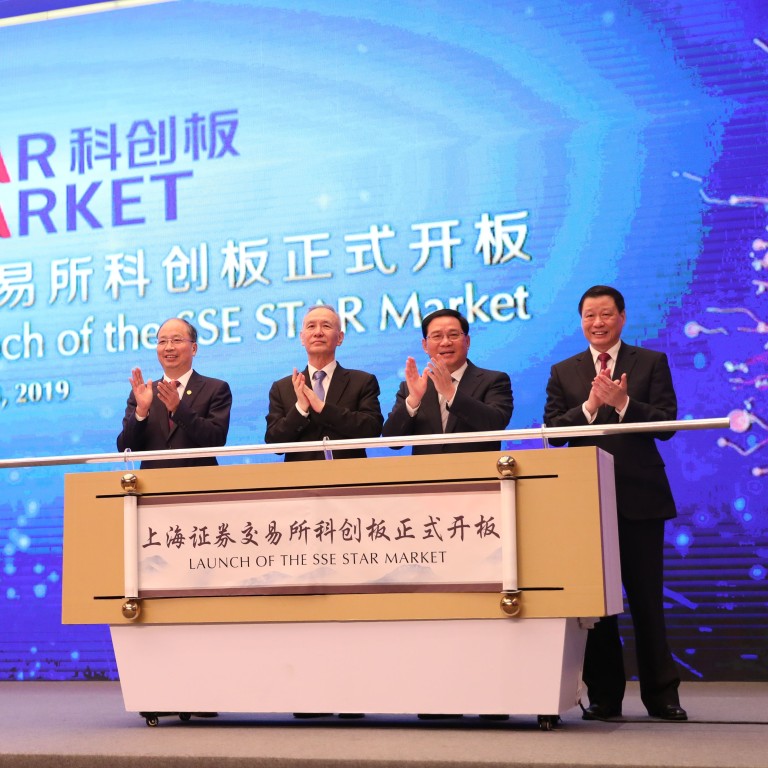 Chinese Vice-Premier Liu He says 'external pressure' can actually help China's economy
President Xi Jinping's chief US trade war negotiator did not specifically reference rising tensions with United States during surprise speech in Shanghai
Keynote address at Lujiazui financial forum his first public appearance in three weeks since tour of Jiangxi province with Xi
Vice-Premier Liu He believes the "external pressure" now hitting China's economy was inevitable and could actually boost the country's innovation and development.
Liu, the top economic aide to President Xi Jinping and chief negotiator in the trade talks with the United States, backed up comments last week from
People's Bank of China governor Yi Gang
that Beijing has sufficient policy tools to address the risks and challenges to ensure that China's long-term growth prospects remain sound.
He did not directly mention the US-China trade war in remarks at the Lujiazui financial forum on Thursday, but said that there was ample room in China's macroeconomic system to support growth and that recent moves by the government to cut taxes and government administrative fees were starting to have a positive impact on the economy.
"We do face some external pressure at the moment, but this is the inevitable test that China's economic upgrade must experience," Liu told the forum, which is an annual event organised by the Shanghai government and the People's Bank of China. "The external pressure will help us improve innovation and self-development, speed up reform and opening up and push forward with high quality growth."
Liu was critical of economists for focusing solely on monthly economic data that has shown signs of weakness in the Chinese economy, while neglecting positive trends that support long-term growth in the world's second largest economy.
Chinese employment, consumer prices and the balance of payment remained at "reasonable" levels, he said, although
China's consumer price index
did rise to the highest level in 15 months in May, partly because of the rising price of pork and fresh fruit.
"No matter what happens temporarily, China's long-term growth remains positive, which won't change," Liu said. "After the global financial crisis, our financial system has been stable. The rapid growth of debt in the system has been contained."
The keynote speech, which was Liu's first public appearance since accompanying Xi on a tour of Jiangxi province three weeks ago, was only confirmed at the last minute having initially been announced as a speech by "a State Council leader".
In an unusual move, Liu used charts and slides, both in Chinese and English, to address Chinese and foreign bankers and investors as well as other Chinese officials including Banking and Insurance Regulatory Commission chairman Guo Shuqing and People's Bank of China governor Yi.
It remains to be seen whether Liu will resume trade talks on China's behalf, with a meeting between
Xi and US counterpart Donald Trump
at the G20 summit at the end of June yet to be confirmed after negotiations broke down in early May.
"We noticed that the US side had repeatedly expressed the hope that the two presidents could meet during the G20 summit later this month. Right now I have no new information to offer about the China-US trade talks," said Chinese Ministry of Commerce spokesman Gao Feng during Thursday's regular press conference.
"Nothing is agreed until everything is agreed."
Since the last round of talks in Washington, which were attended by Liu, the US has increased tariffs on US$200 billion of Chinese goods from 10 per cent to 25 per cent, while Trump has threatened to impose tariffs on the US$300 billion worth of imports not yet covered by duties.
"The US used state power to suppress Chinese enterprises and generalise the concept of national security. These are the behaviours of distorting the market," Gao added.
"It was the US who reneged and was dishonest in the trade talks, unilaterally escalated the trade tensions and made the negotiation fall into an impasse."
This article appeared in the South China Morning Post print edition as: Liu He believes'external pressure' can boost China