G20
Get more with myNEWS
A personalised news feed of stories that matter to you
Learn more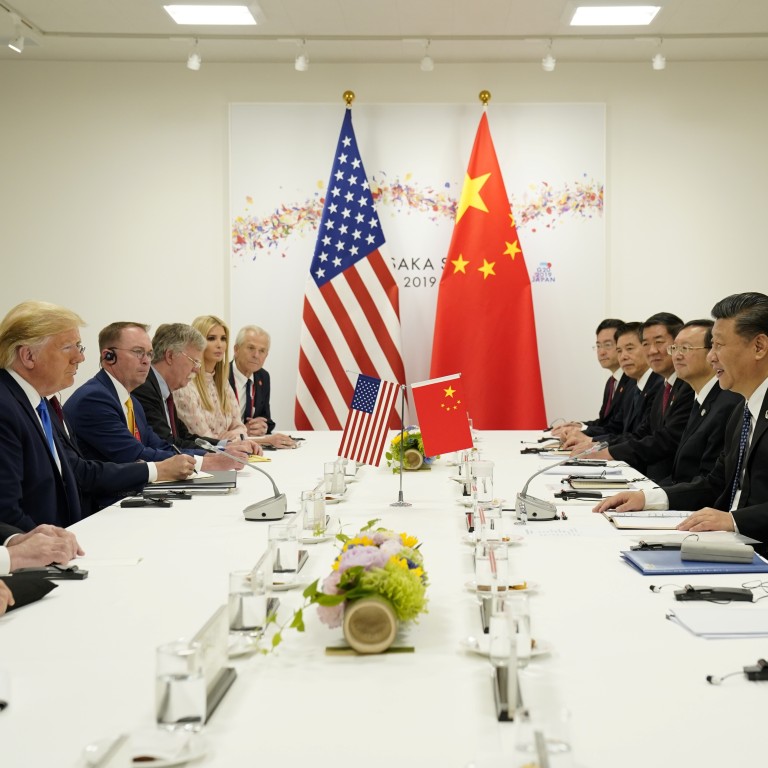 Donald Trump, Xi Jinping agree to trade war truce and to resume talks after G20 summit meeting
North Korea, Taiwan and students also discussed in Osaka, Japan
Chinese leader tells US counterpart that Beijing must protect its 'core interest', Xinhua reports
Chinese President Xi Jinping and his US counterpart Donald Trump have wrapped up their high-stakes summit at the G20 in Osaka, Japan, with the American leader saying the outcome was "better than expected", and China saying the US had agreed not to impose any further tariffs on its goods.
When asked about the talks, Trump said it was a "very, very good meeting, better than expected".
"We're right back on track," he said, without elaborating.
China's state news agency Xinhua said the two leaders had agreed to resume economic and trade negotiations, and that the US said it would not impose any new tariffs on Chinese products.
It had been widely expected that the two world's two largest economies would agreed to another truce – as they did after Xi and Trump met in Buenos Aires in December – but the news will still have come as a relief to investors and helped to allay fears of a further deterioration of China-US relations.
Trump had threatened to impose tariffs on a further US$300 billion worth of Chinese products if Xi did not meet him in Japan or if the talks failed to produce a tangible result.
That said, the presidents agreed only to resume their trade negotiations. The two sides are no nearer to reaching consensus on a trade deal than they were when the talks faltered in early May, and several major issues still need to be addressed.
"China is sincere in continuing its negotiations with the US to manage differences, but the negotiations should be based on equality and mutual respect, and address each other's legitimate concerns," Xi was quoted by Xinhua as saying.
"On issues regarding China's sovereignty and dignity, China has to safeguard its own core interests," he said.
The two teams of trade negotiators would now resume their talks and try to iron out the details, Xinhua said.
As well as discussing the trade negotiations, Xi told Trump he hoped the US would treat Chinese companies and students fairly, Xinhua said, though it did not specifically mention Huawei Technologies – the Chinese tech giant that has already been blacklisted by the US.
The two presidents also talked about North Korea and Taiwan, with Xi saying he supported the efforts of Trump and North Korean leader Kim Jong-un to keep their channels of communication open.
On Saturday morning, Trump – who flew to Seoul after leaving Osaka – tweeted an offer to meet Kim at the demilitarised zone that separates North and South Korea.
"After some very important meetings, including my meeting with President Xi of China, I will be leaving Japan for South Korea (with President Moon). While there, if Chairman Kim of North Korea sees this, I would meet him at the Border/DMZ just to shake his hand and say Hello(?)!" he wrote.
On Taiwan, Trump said he took Beijing's concerns about the self-ruled island seriously and said the US would adhere to the "one China" policy, Xinhua reported.
In his opening remarks, Xi cited the "ping-pong diplomacy" that began at the 1971 world table tennis games in Nagoya, Japan, and eventually led to a normalisation of relations between Washington and Beijing.
"China and United States both benefit from cooperation and lose in a confrontation. Cooperation is better than friction, and dialogue is better than confrontation," he said.
The president said he would exchange views with Trump on some fundamental issues in Sino-US relations. Trump, meanwhile, said he and Xi "had a lot of time together and became friends".
"We have an excellent relationship, but we want to do something that will even it up with respect to trade. I think that is something that is actually very easy to do," he said.
"I actually think that we were very close and then something happened, it slipped a little bit, and now we are getting a little bit closer, but it would be historic if we could do a fair trade deal," the US president said.
After the opening remarks, neither Trump nor Xi took any questions from journalists.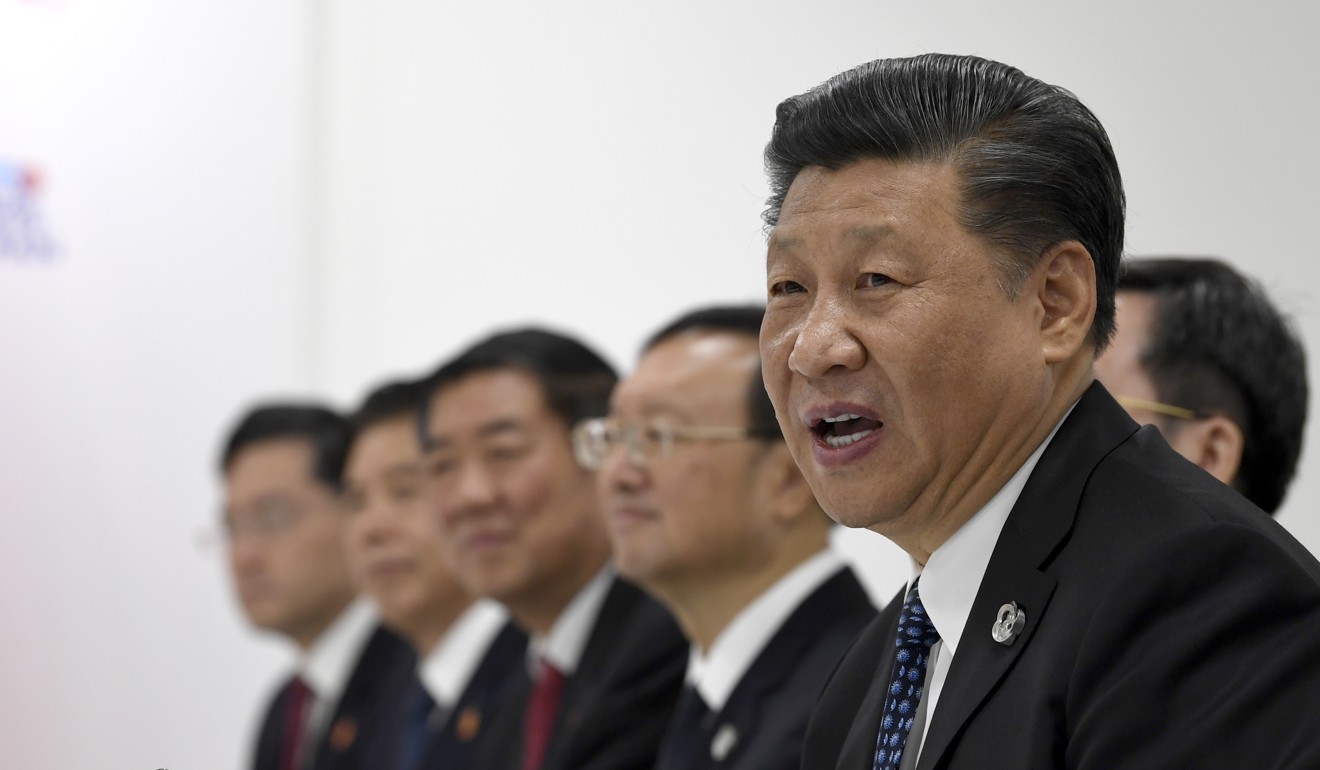 Accompanying Trump were Secretary of State Mike Pompeo, trade representative Robert Lighthizer, Treasury Secretary Steven Mnuchin, White House trade policy adviser Peter Navarro, Commerce Secretary Wilbur Ross, and the national security adviser John Bolton. Ivanka Trump, Trump's daughter, and Jared Kushner, Trump's son-in-law, were also at the table. The other two US delegates at the table were Dan Scavino, Trump's social media director, and Mike Mulvaney, the president's acting chief of staff.
On the Chinese side were Vice-Premier Liu He, Xi's chief of staff Ding Xuexiang, top economic planning official He Lifeng, Commerce Minister Zhong Shan, Foreign Minister Wang Yi, Finance Minister Liu Kun, and China's ambassador in Washington Cui Tiankai. Yang Jiechi, China's top diplomat, and deputy foreign ministers Qin Gang and Zheng Zeguang were also at the table.
Trump said before the talks began that it could be "a very productive meeting".
"I think we can go on to do something that truly will be monumental and great for both countries, and that's what I look forward to you," Trump said.
China's state media was less upbeat before the talks, criticising Washington for blaming China for its trade problems.
People's Daily, the mouthpiece of the ruling Communist Party, published an editorial just hours before the summit arguing that the US should not take its trade deficit as evidence of "being taken advantage of", though it did not name Trump directly.
Those who try to blame trade surplus countries for US domestic woes are suffering from a "whole-body smell of selfishness", the editorial said.
Additional reporting by Kristin Huang, Liu Zhen and Catherine Wong in Osaka