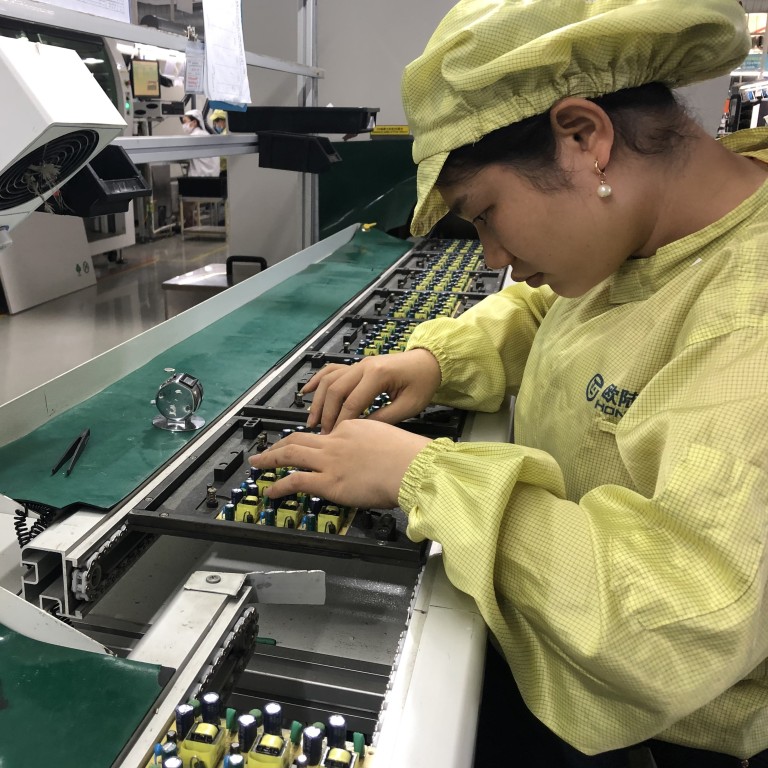 China's trade war manufacturing exodus could be hastened by EU-Vietnam trade deal, analysts say
The agreement offers Chinese firms incentive of low-tariff access to the European Union if they set up in Vietnam
Deal will eventually cut import duties by 99 per cent, which could also see a flood of European companies seek low-cost manufacturing in Vietnam, at China's expense
Vietnam's booming economy will see another surge of new investment after signing a free-trade agreement with the European Union that could hasten the exodus of manufacturers from China, analysts said.
Now, Chinese firms looking to gain lower-tariff access to the European Union (EU) market are likely to be incentivised to open production in Vietnam, on top of the
widespread supply chain shift
that is already in motion due to firms seeking to avoid trade war tariffs on exports to the United States from China.
The EU-Vietnam Free Trade Agreement was signed on Sunday after seven years of negotiations, and was immediately hailed by the EU as "the most ambitious free trade deal ever concluded with a developing county". Fully 99 per cent of customs duties between the two trading partners will be eliminated over time as part of deal.
Those Chinese manufacturers that have already set up in Vietnam
could expand production
, rather than in China, to gain low-tariff access to the EU. European companies seeking low-cost manufacturing are also likely to flock to Vietnam, potentially bypassing investments in China.
Adam McCarty, chief economist at Hanoi-based Mekong Economics, said the agreement will "speed up, slightly, the already fast movement of factories from China to Vietnam".
"The main force behind this is China's wealth, rising labour and other costs. The trade war adds a little to what was happening anyway, and this [free trade agreement] adds a little more. It is both Chinese and foreign firms relocating to Vietnam," McCarty added.
The agreement will now be presented to Vietnam's National Assembly and the European Parliament for approval. Once it enters into force, duties on 65 per cent of EU exports to Vietnam and 71 per cent of Vietnamese exports to the EU will be eliminated immediately. The remaining duties will be phased out gradually over the following 10 years.
Amid the trade tensions between the US and China, the EU has accelerated its effort to reach new free trade agreements. The bloc's Economic Partnership Agreement with Japan entered into force on February 1 this year. Late-last month, the EU and the Mercosur bloc of four South American countries – Argentina, Brazil, Paraguay, and Uruguay – agreed to draft wording for a free-trade deal after almost 20 years of talks. In October last year, the EU finalised a free-trade agreement with Singapore after nine years of negotiations.
The European Parliament took a year to approve the Singapore agreement, suggesting that it may be a similar amount of time before the deal with Vietnam enters force.
The EU is already Vietnam's second-largest export market after the US. The Southeast Asian country exported US$42.5 billion worth of goods and services to the EU last year, mainly telephones, electronic products, garments, food, and furniture, according to the European Commission website.
"From the business strategy point of view, Vietnam is actually a good manufacturing location that people are looking at for the advantage of the network of the [free trade agreement with the EU]," said Angelia Chew, founder of the Singapore-based consultancy AC Trade Advisory.
"On top of the trade tension, we have Chinese clients that are looking for manufacturing relocation [to Vietnam] to mitigate increased duties for goods made in China to the US. It is pretty exciting for companies investing into [Vietnam now] as well as existing companies in Vietnam, they knew the [free trade agreement] was going to attract more investment."
Vietnam has a population of 97 million, similar to that of Guangdong province,
China's major export
manufacturing base, which is supported by large investments from Hong Kong and Taiwan. Because of the impact of the US-China war, there has been debate over how much Vietnam and other Southeast Asian countries would supplant Chinese manufacturing, given their relatively low salary levels and large numbers of young workers.
Vietnam has been one of the top beneficiaries of the US-China trade war, with companies shifting production out of China to avoid US tariffs making a major contribution to Vietnam, whose gross domestic product grew 6.76 per cent in the first half of 2019, the second highest rate since 2011.
Dr Cassey Lee, senior fellow at the ISEAS-Yusof Ishak Institute in Singapore, a research institution that specialises in Southeast Asian studies, said the Vietnam-EU trade deal would "help Vietnam diversify its portfolio of inward foreign direct investment".
In the first five months of 2019, foreign direct investment disbursed into Vietnam rose to US$7.3 billion, up 7.8 per cent compared to the same period in 2018, according to Vietnam's Ministry of Planning and Investment. Pledged foreign direct investment over the same period was US$16.74 billion, up 69.1 per cent year-on-year.
Foreign direct investment into Guangdong, the centre of China's export manufacturing industry, was 57.86 billion yuan (US$8.4 billion) in January to May this year, an increase of 3.3 per cent on the same period a year earlier, according to figures on the provincial government website citing investment that had already been spent.
If the stand-off between the world's two largest economies continues, and capital flows into Vietnam continue to surge, inbound investment into Vietnam has the potential to overtake that of Guangdong later this year.
From January to May this year, Vietnam's trade surplus with the US stood at US$17 billion, up 32.8 per cent from a year earlier, due in part to production shifted south from China to avoid US tariffs.
The US is clearly watching the rapid rise in the bilateral trade imbalance, and US President Donald Trump has warned that China is "ripe" for new tariffs and suggested that Vietnam could be next.
"Though the size of US's trade deficit with China is significantly larger than with Vietnam, Vietnamese officials are likely to be concerned about the likelihood of the US targeting it next," said Lee at ISEAS.
This article appeared in the South China Morning Post print edition as: EU free-trade deal sets Vietnam up for more investmentDeal sets Vietnam up for more investment