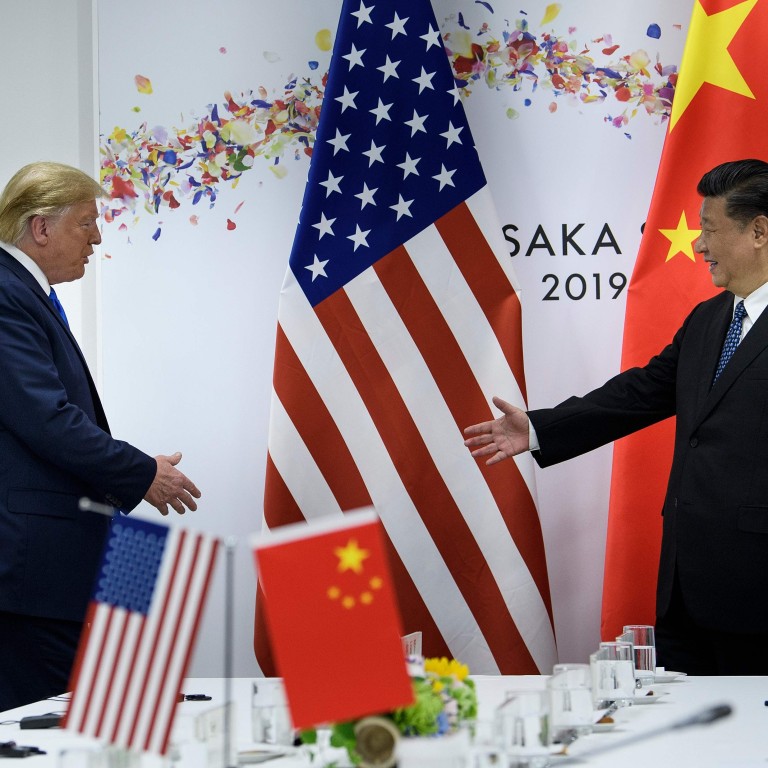 China premier promises 'faster' financial opening up to foreign investors days after agreeing to US trade war truce
Li Keqiang tells 'Summer Davos' forum in Dalian on Tuesday that Beijing will scrap foreign ownership caps in the domestic financial industry in 2020
He did not mention the US or the trade war in his speech, but the move comes days after President Xi Jinping's meeting with Donald Trump at the G20 summit
China will scrap foreign ownership caps in the domestic financial industry from 2020, a year earlier than previously expected, Premier Li Keqiang said on Tuesday, in a fresh gesture to woo foreign investors, just days after agreeing to another truce in the year-long trade war with the United States.
Li did not directly mention the
US or the trade war
in his speech to the "Summer Davos" forum in Dalian on Tuesday, but said China will open its markets wider to foreign investors, while also repeating China's assurance that it will protect
its interests amid a changing world.
Li, the second-in-command to President Xi Jinping in China's political pecking order, said the world should seek "common ground" at a time when growth risks are rising while trade flows are ebbing.
"In the face of pressure from a slowing global economy, I believe people are all in the same boat," Li said, according to Reuters. "We should promote the spirit of partnership, carry out equal consultations, seek common ground while reserving differences and manage and control disputes."
The Summer Davos, officially known as the Annual Meeting of the New Champions of the World Economic Forum, is a venue for Chinese officials to show a friendly face to the international business community, although Li's speech was not broadcast live on Chinese state media.
The forum has become an occasion to attract investment and to shore up market confidence and this year came as executives from many multinational companies are deciding whether to relocate production facilities out of China to avoid tariffs imposed by both Beijing and Washington.
Li's was the first public speech delivered by a member of the Chinese leadership since the
trade war truce
was announced at the G20 summit in Osaka, Japan, on Saturday, with Chinese agencies remaining largely quiet as many bilateral disputes remain unresolved.
In addition to further opening up domestic markets by shortening "a negative list" of sectors in which foreign investment is restricted or prohibited, Li also said China would protect intellectual property rights and creating a "transparent and predictable" regulatory environment.
But the premier went further, announcing the lifting of foreign shareholding restrictions in securities, futures and life insurance joint ventures in 2020. That would allow the likes of JP Morgan Chase and Morgan Stanley, along with their European and Japanese peers such as UBS, Credit Suisse and Nomura, to gain full control of their Chinese businesses.
Wu Wen, a senior researcher with the Bank of Communications, said that move would enhance the confidence of foreign financial institutions to invest in China. "It can enrich market entities, trigger market vigour, and increase the supply of financial products," she said.
Two days earlier, the National Development and Reform Commission, China's state planner, cut the number of sectors in which foreign investment is restricted from 48 to 40, a signal that China intends to keep opening up.
Li also said that China would not resort to any competitive currency devaluations, nor enact a major fiscal and monetary stimulus programme to help prop up growth. Instead, the government will rely on the
business and individual tax reductions
made, along with the business fees cut for small and medium-sized enterprises, that were implemented last year and earlier this year.
In contrast to the interest rate cuts by some global central banks, including the
Reserve Bank of Australia
earlier on Tuesday, Li's cabinet has stated a preference for a fine-tuning of monetary policy targeting small banks and businesses, rather than an across-the-board easing.
"We will adopt targeted cuts of the required reserve ratio, and reductions in real interest rates – mainly real interest rates for small firms whose financing situation will show significant improvements this year and funding costs will show significant declines," he added.
Larry Hu, chief China economist of Macquarie Capital, said that the Chinese economy could trend down towards the end of the year and so is at risk of a double-dip economic slowdown, but "it's not bad enough" yet for policymakers to take immediate action.
"The trade deal and stimulus are two separate issues. Exports will continue to weigh down the economy, while the window for a bigger stimulus could open in the fourth quarter," he said.
This article appeared in the South China Morning Post print edition as: China to open financial industry in 2020