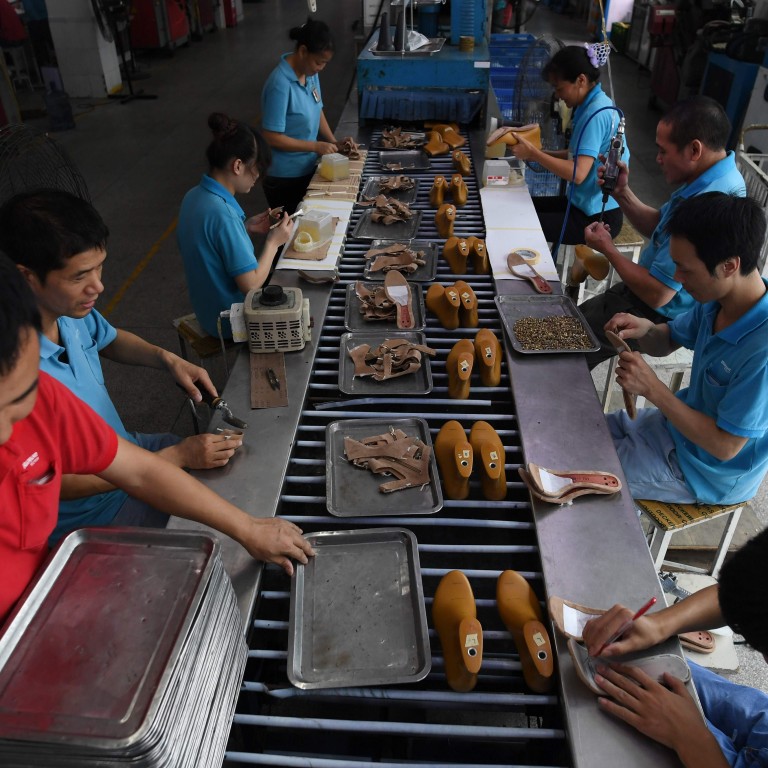 Trade war truce does little to boost public confidence in China due to lack of trust in 'flip-flopping' Trump
President Xi Jinping and US counterpart Donald Trump agreed to a truce in the trade war at the G20 summit in Osaka, Japan, on Saturday
Trump also said some restrictions against Huawei would be eased, but the moves did little to alleviate fears of online users, exporters and manufacturers
The trade-war truce agreed to by Chinese President Xi Jinping and US President Donald Trump at the G20 summit in Japan last weekend has done little to alleviate the concerns of online users, exporters and manufacturers in China, largely down to a mistrust of the American leader due to what has been described as his track record of "flipping and flopping".
On Saturday, the two leaders agreed to pause new tariffs on up to US$300 billion of Chinese goods imported by the United States. Trump also confirmed that American suppliers would be able to sell components to Chinese telecommunications company Huawei, which had been placed on a blacklist, as long as those components did not poses threats to national security.
But with China's state-owned media reporting very few of the details, reaction from people in the mainland has been muted.
"I, as well as many shoe factory owners based in Dongguan, agree that although the tariff problem now is temporarily eased, the outlook is still uncertain. What if Trump reverses again? He is too unpredictable with little credibility," said Wang Jie, who said his Yintong Shoes factory in Dongguan has continued to lose orders from the US in recent months.
"[Trump] is always changing, so we're becoming more cautious than we were before. Anyway, given that the decline in orders is already a confirmed trend, we can only reduce our operating costs and wait and see."
China's official statement following the talks, published by the official Xinhua News Agency and the foreign ministry, did not mention Huawei. Wang Xiaolong, the director general of the Department of International Economic Affairs of the Foreign Ministry, did not comment directly on the issue either.
"At first, [Trump] said Huawei was a security threat and now he is saying American companies can continue to sell products to Huawai. The trade talks and truce do not sound credible at all," said Andy Xu, the marketing director for a Guangzhou-based technology company, who like Wang Jie admitted his comments were made based solely on reports from state-owned media.
The government has continued to insist that the impact of US-China trade war remains under control, with foreign trade and investment maintaining steady growth in the first half of this year.
"A number of enterprises have been affected by Sino-US trade frictions and relocated out of China, but the number is small," said Chu Shijia, a department director at China's Ministry of Commerce, on Tuesday.
An editorial carried on Sunday by the Global Times, a newspaper affiliated with the Communist Party mouthpiece People's Daily, suggested there could still be more ups and downs in future trade talks: "It is not settled yet. We have to say that the US side has a track record of flipping and flopping."
An independent commentator, who has around 30,000 followers on China's biggest social media platform, WeChat, said that "the trade war seems to have eased, but there is very little detailed information that we have access to, except news from Chinese news outlets.
"I have wanted to write an analysis of the issues, but I have been unable to do it," the commentator, who asked not to be identified, said. "On the one hand, I know as little as my readers and fans at this time On the other hand, even if I were to write about it and share it via social media, it would very probably be blocked, and my WeChat and Weibo would be shut down in return."
Business officials, as well as social media users, are cautious about expressing their opinions, especially those at major exporting companies in China, said an executive at a leading equipment manufacturer in Taiwan.
"We must be low key, you cannot afford to offend either side. Besides, the relocation [out of China], to be honest, will also bring huge losses to us, including [loss of] fixed assets, workers' compensation, remittance of funds, and so on," said the executive, who will keep some of the company's production in Guangdong.
Guangdong is the hub of Chinese manufacturing and exports, although the country's most prosperous province has lowered its 2019 growth target to reflect the national target of 6 to 6.5 per cent, a reflection of the trade war's impact.
"The trade war is no longer worsening, and that is the best news for Beijing. If bilateral relations can remain stable, there may be a buffer period of five or even 10 years for China's manufacturing industry to continue to upgrade and transform," said Liu Kaiming, head of the Institute of Contemporary Observation, a Guangdong-based non-governmental organisation which was set up in 2001 and has since worked with many global firms to improve working conditions in hundreds of their partner companies across China.
"At present, the vast majority of Chinese-made products still do not have a presence in the international market, regardless of their orders or pricing. Only ZTE and Huawei have begun to gain market share and make technological progress," Liu said, adding that these companies can only improve their sales and technologies if China maintains friendly bilateral relations with the US and Europe.