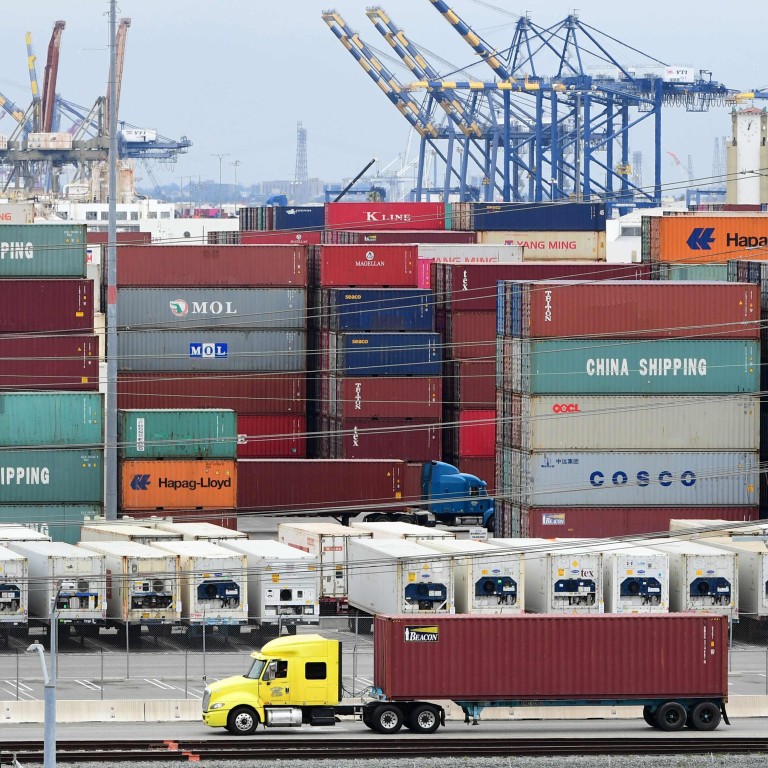 One year in, US-China trade war is the 'first sentence of the first chapter' of a new superpower rivalry
Donald Trump and Xi Jinping seem increasingly entrenched in their positions, 12 months into their bitter trade war
Experts describe a 'chaotic' year, where widespread use of tariffs has opened a Pandora's box on what was previously out of bounds in global trade
A year after the beginning of the tit-for-tat tariff war that has upended the global trading system, few trade experts see the US-China relationship improving any time soon.
Instead, companies are being advised to dig in for the long haul, with the way ahead packed with volatility, hot-tempered tweets and tariffs galore. Rather than progressing towards a deal, and despite reaching a tentative truce at the G20 summit in Osaka last week, the United States and China seem are as entrenched in their positions as ever.
Beijing is insisting that as a prerequisite to a deal, the US remove existing tariffs on US$250 billion worth of Chinese goods. At the same time, it is difficult to see what China can do to placate a seeming unappeasable White House, short of tearing up its entire economic model – an outcome that few think is likely.
"I do not foresee a scenario right now where the United States would remove all the tariffs that have been implemented so far. I think they are too deep, and I think there are a lot of deeply rooted structural concerns that are going to make it really hard to remove those," said Jon Cowley, a senior international trade lawyer at Baker McKenzie in Hong Kong.
"Right now, what I'm hearing is that China is keen to see what the United States is going to do about the designation of key Chinese companies on the Entity List, and then holding out on commitments to purchase American agricultural products until they get some positive activity on that front," Cowley added, with the suggestion that even the low-hanging fruit of agricultural purchases are now not the quick win they were 12 months ago.
Trade experts, former government officials and businesses affected by the tariffs now seem resigned to further disruption. For Dong Tao, the vice-chairman of Credit Suisse Private Banking for the Greater China region, the last 12 months have been "just the first sentence of the first chapter" of what is a new superpower rivalry.
Experts inside China said that the unpredictability of US President Donald Trump has bamboozled the Chinese negotiating team and has been a major obstacle to a deal to end the trade war.
"There have been twists and turns on the trade war in the past year. Trump's personality has contributed to this, but his style has also triggered the overall cautiousness in Washington towards China's rise. At least in the short term, this status will not change," said Yu Wanli, senior fellow at the Charhar Institute, a Beijing-based think tank.
"I spoke to my counterparts in Washington, too. They are very wary of China's current development. China is no longer the China that they knew, they are trying to figure out how to deal with a new and emerging China. The trade war was not launched by Trump alone, he has got advisers behind him, and some of them are even more hawkish than Trump," Yu added, implying that the Chinese side has found it difficult to get a read on the US position.
In some people's minds, a lack of clarity over what the US hopes to achieve from talks has made China less inclined to make a deal. One former US official described Trump's tendency to regularly change his mind as "volitional volatility", whereby the White House is intentionally throwing spanners in the works, one after the other.
"It is still not clear what the US wants: is it market access, reform of intellectual property rights and forced technology transfer, improved ease of doing business in China or restructuring of the entire Chinese economy?" said Bryan Mercurio, professor of international economic law at the Chinese University of Hong Kong. "China has played that in a way as to not feel very urgent in ending this. [China is saying] so the US does not know what it wants, so why give in?'"
Arguably the primary legacies of the past year are the effects on supply chains and normalisation of a trade policy that was, a year ago, considered out of bounds. As well as the US-China skirmish, Washington has threatened a comprehensive tariff programme on the European Union, weaponised tariffs as a means of changing Mexican immigration policy and also slapped tariffs on erstwhile rivals Japan and South Korea.
This week, the prospect of a Japan-South Korea trade war arose, when Japan placed export limits on hi-tech materials in a row over forced labour during the World War II. Korea has threatened to retaliate, showing how far the needle has moved on the use of trade remedies in geopolitical disputes this year.
"The US really opened Pandora's box by using trade tariffs as a weapon to achieve the other goals, that is really a worry. And you can see that Japan and other countries might have learned from the US in trying to adopt the same sort of modus operandi, and that is really toxic for the world trading system," said Henry Gao, professor of trade law at Singapore Management University.
But one thing that is clear from a long series of conversations on the anniversary of the first US Section 301 tariffs on July 6 last year: the element of surprise has completely disappeared, businesses now expect the worst and are planning for every threat Trump makes.
"I think the penny dropped and it dropped with almost resounding silence in May [this year] when the United States announced that they were increasing the tariffs rate on the last round of the goods that they implemented last year from 10 per cent to 25 per cent," said Cowley at Baker McKenzie.
Additional reporting by Zhou Xin