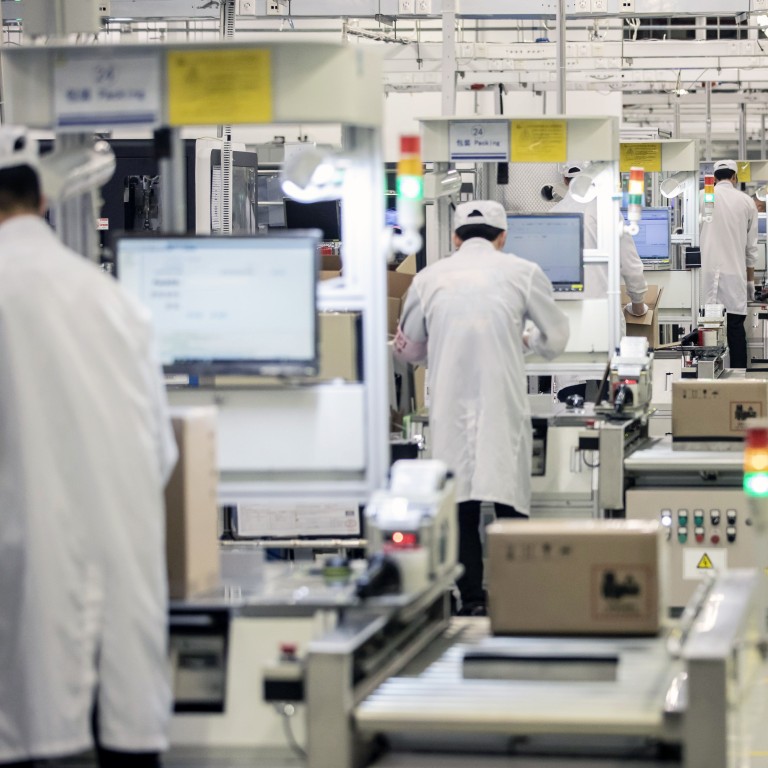 A robot passes employees working on a mobile phone assembly line at a Huawei Technologies Co. production base in Dongguan. Photo: Bloomberg
China's tech sector faces 'hangover after the party', with trade war and economic slowdown hitting employment
Tech sector demand for new hires down 25 per cent in first quarter from a year earlier, while jobs seekers up 37 per cent, meaning demand outpaces supply
Baidu, Tencent and JD.com are all 'optimising' their workforces, as analysts point to a sector in decline after years of expanding at an unrealistic pace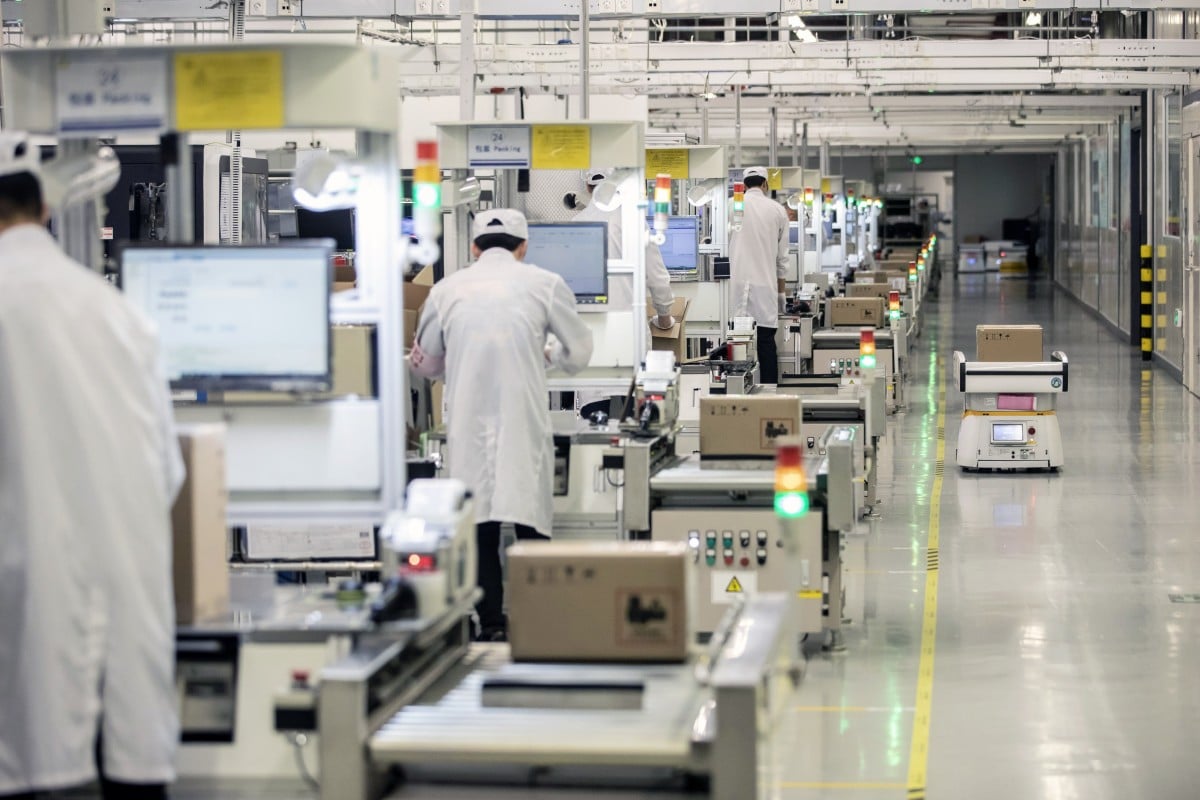 A robot passes employees working on a mobile phone assembly line at a Huawei Technologies Co. production base in Dongguan. Photo: Bloomberg
Yang Shao, a Shenzhen-based technology sector headhunter, sees a great deal of uncertainty in the current job market.
Far from the gung-ho hiring policies of recent years, tech companies are hesitating at the final stage of the recruitment process, wondering whether they can afford the candidate, or whether they really need them.
In some cases, companies fabricate vacancies just to talk to people and get a sense of the job market. This sort of behaviour happened before, but is occurring with greater frequency
"I have worked in the industry for six years. The job market now is less active than 2015/2016 [during the last major economic slowdown]," said Yang, who works for recruitment agency Michael Page and recruits a range of hi-tech professionals for big and small tech firms in the Guangdong city.
Once a booming industry that offered dream jobs to China's young talents, China's tech sector is now waking up to the sobering reality. Experts say it is time to focus on profitability, rather than the wild expansion of previous years, as China's economic growth slows and
Since late last year, the tech sector has seen many lay-offs, reports of cancelled bonuses, and most tellingly of all, a sharp decline in demand for new hires. It is a far cry from the years between 2015 and 2017, when the online and e-commerce sectors were the top industries in the China Labour Market Index, an indicator of job market activity co-developed by the Renmin University of China and job site Zhaopin.
But from the start of 2018, the index has fallen for five consecutive quarters. In the first quarter of this year, the latest available report, tech's recruitment demand was down 25 per cent from the previous quarter, while the number of jobseekers rose by 37 per cent.
A Beijing-based headhunter, focused on internet firms, said tech companies, including major ones like Kuaishou, one of China's leading video sharing platforms, had stopped recruiting through her firm since the end of 2018.
As well as freezing headcounts, big tech firms have opted to "restructure" operations to improve efficiency, which means shutting down loss-making departments and trimming back those that were expanding too fast. This has led to a series of lay-offs. Baidu, Tencent and JD.com have all announced staff "optimisation" measures and culls of expensive senior managers in favour of "younger talent".
Earlier this year, New York-listed NetEase, a Chinese tech giant operating across multiple verticals, slashed headcount at its e-commerce unit Yanxuan, its agriculture arm Weiyang, and its education technology unit, according to Chinese financial magazine Caijing.
In February, ride-hailing giant Didi Chuxing decided to cut 2,000 jobs. But the latest big lay-off came when Beijing-based second-hand car start-up Renrenche announced last month that it planned to cut up to 60 per cent of its staff, its second round of lay-offs this year alone.
The employment situation is exacerbated by the lack of financing options for small tech firms and start-ups. Erstwhile generous investors have tightened their belts, meaning that in the first half of this year, there was 37.2 billion yuan (US$5.4 billion) in successful financing, half the amount of the same period last year, according to a report from consultancy EO Intelligence.
China's weakening tech job market, stems from a number of factors, including a slowing economy and the ongoing trade war.
In June, a survey by 36Kr, a website tracking start-up fundraising, found that one-third of entrepreneurs said they had to approach more than 100 investors before they obtained sufficient financing.
"China's weakening tech job market stems from a number of factors, including a slowing economy and the ongoing
"Investors are also increasingly confronted by poor performance from prior investment rounds. An excessive exuberance had allowed many Chinese tech firms to focus less on profitability, and investment performance suffered. Now, in a slowing economy and with less friendly financing options, China's tech sector may be forced into a bit of belt-tightening."
The case of Shenzhen Costar Smart Tech, once a star of China's network and communication sector, is instructive. Founded in 2004, Costar, with a 1,000-strong workforce and 20,000 square metre (215,278 square feet) plant in Shenzhen's Baoan district, was once listed on the New Third Board, a Chinese equities exchange.
However, local suppliers have been protesting at its factory gates since Thursday, after the company ran up debts of up to 80 million yuan (US$11.6 million).
On Friday, Costar posted a notice to its 1,000 employees saying the factory would officially shut down due to declining profits. The staff would lose their jobs, and while the company is legally obliged to pay its workers compensation, the amount has yet to be confirmed.
Suppliers, however, have no such access to compensation. "Costar shut down the factory suddenly. It's an absolute swindle of more than 200 mainland suppliers," said Simon Song, a supplier who said suppliers are owed debts ranging from hundreds of thousands of yuan to several million.
"All the founders ran away. Our mainland suppliers have no way to contact the company. If the local authorities do not help us to reach Costar over the undischarged debts, many of us will also face capital failure and have to back-pay our workers," Song said.
Another supplier protesting, who wished to remain unnamed, said: "The risks of [not receiving] back payment is becoming bigger for suppliers in the tech industry. Besides Costar, other tech factories also owe us payments. We are becoming worried and will be cautious in the future."
The sector is in decline, after years of sprinting at full speed, said Jeffrey Towson, a private equity investor and professor of investment at Peking University.
"It seems to me that there is a pause, taking a breath, and resetting. You were growing so fast over the last three years. You did not have time to think about any of this. You were probably paying people too much, or hiring too many people, or you did not hire the best people. You were just trying to keep up with the growth," Towson said.
"When you look at sub-sectors" – such as electric vehicles, peer-to-peer lending, cryptocurrency mining and gaming companies, Towson said – "there is a bit of a hangover after the party."
This article appeared in the South China Morning Post print edition as: Party is over in mainland tech as new jobs dry up Party is over as mainland technology jobs dry up