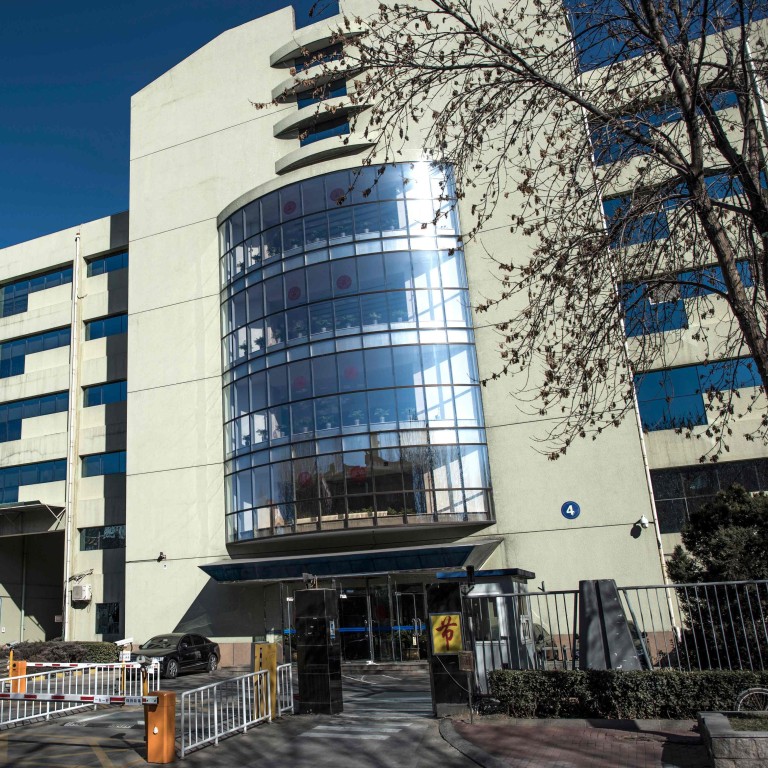 Exclusive

|
Ex-Tomorrow Group aide released as China speeds up downsizing of Xiao Jianhua's empire, sources say
Wen Yingjie, a top aide to the Chinese tycoon, was set free without trial in June after three years under investigation, three independent sources said
China's banking regulator said risks had been brought under control after it sold stakes in more than 10 institutions and took control of Baoshang Bank
China's plan to split up the business empire controlled by billionaire Xiao Jianhua appears to have gathered pace, with a former Tomorrow Group board secretary set free in June without trial after being under investigation for the last three years, three separate sources told the South China Morning Post.
Wen Yingjie, a top aide to Chinese tycoon Xiao, was released after charges of embezzlement were dropped, according to the three sources, who all spoke on condition of anonymity because of the sensitivity of the case. The Post was unable to reach Wen for comment.
Wen's reported release came soon after China's financial industry regulator gave a positive assessment of the progress authorities have made in
downsizing the Tomorrow Group
conglomerate founded by Xiao and based in Inner Mongolia's Baotou city, suggesting that Beijing is ready to wrap up the high-profile case.
One source, who was briefed on the development, said the release of Wen, who was placed under investigation several months before the Tomorrow Group founder, could open a new option for Xiao, although he could still be prosecuted.
In the best-case scenario, "Xiao could be treated in similar way to Wen after the required assets disposal at Tomorrow Group is done," the source said.
The China Banking and Insurance Regulatory Commission (CBIRC) said in a statement in early June that Tomorrow Group had sold its holdings in more than
10 financial institutions
as part of a state-mandated process of divesting assets to reduce financial risks. The CBIRC also confirmed that the financial institutions in which Tomorrow Group still owned stakes were in a stable condition.
"Given the efforts by all parties, the overall risks of Tomorrow Group … have been gradually brought under control," the regulator said in a brief statement on June 9.
It was the first time the regulator had disclosed information about the disposal of asset at the conglomerate since Xiao returned to mainland China in early 2017.
Baoshang Bank,
a regional bank in Inner Mongolia controlled by Tomorrow Group, was taken over by the PBOC and the CBIRC in May, with China Construction Bank assuming daily operations to protect the interests of customers and depositors. According to a central bank statement in early June, Tomorrow Group held an 89 per cent equity stake in the bank, although the bank's disclosure documents did not reveal the true ownership structure. Tomorrow Group misused the bank's funds for an extended period of time, regulators said, causing a credit crisis and forcing the takeover.
By using proxies, as in the case of Baoshang Bank, Tomorrow Group had grown into a vast conglomerate with direct or indirect control of dozens of Chinese financial institutions and listed companies. This posed a threat to China's financial stability in the eyes of Beijing.
China's stock market rout in 2015 and capital flight in 2016 further convinced Beijing that it had to limit the country's private tycoons and cut leverage in their heavily indebted empires, including Anbang Insurance Group under control of Wu Xiaohui, the Dalian Wanda Group controlled by Wang Jianlin and the HNA Group under control of Chen Feng and Wang Jian.
Xiao, the founder of ­Beijing-based ­Tomorrow Group,
left Hong Kong in January 2017
on the eve of the Lunar New Year for mainland China, where he is believed to have helped with one of the biggest investigations into deal making. Xiao has not been seen in public since, and no Chinese government agency has released any information about the Tomorrow Group founder.
The
Post
reported in September 2018 that Xiao could stand trial in
Shanghai "soon."
However, the process was delayed partly because of complications in the asset disposal process.
According to a letter written by Xiao and dated February 2019 that was seen by the Post, Xiao said he was happy to see that the asset disposal had caused "no bankruptcies, no massive lay-offs, and no public incidents".
In the letter addressed to Chinese investigators, regulators and his former aides, Xiao harshly criticised those who tried to profit from the asset disposal process and accused the unnamed parties of being opposed to "professional ethics".
Former Anbang chairman Wu was sentenced to 18 years in prison in May 2018, while the court also decided to confiscate 10.5 billion yuan (US$1.5 billion) of his personal assets, after he was convicted on fraud and embezzlement charges.