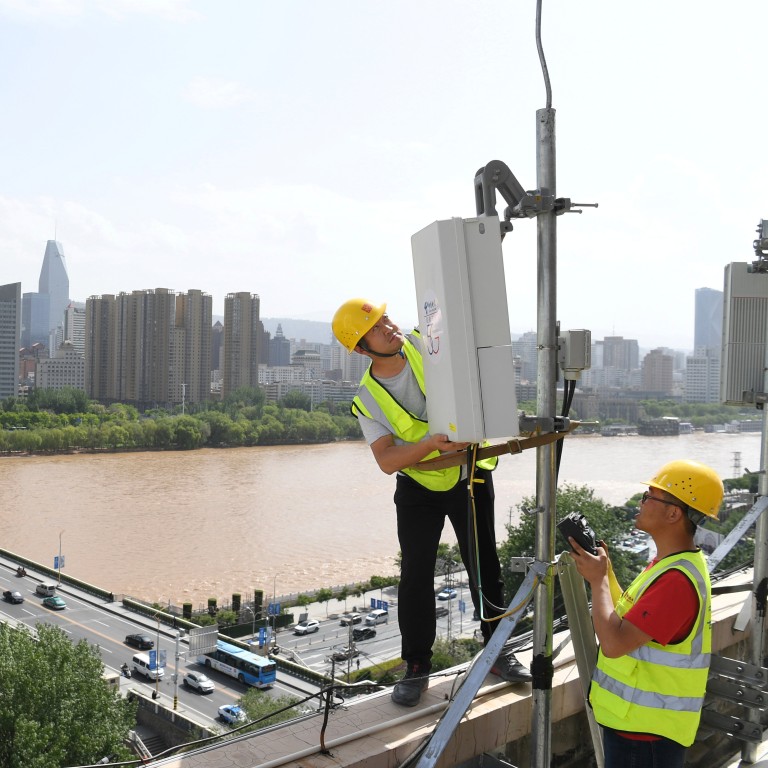 China's SOEs posted record profits in June, but second quarter profit growth slowed substantially
Net profits at central government-owned firms rose to 158.5 billion yuan (US$23 billion), up 8.4 per cent from a year earlier
But the net profit growth rate slowed to 8.6 per cent in the second quarter of 2019 compared to 18.6 per cent in the first three months
Net profits at China's state-owned enterprises hit record high of 158.5 billion yuan (US$23 billion) in June, a rise of 8.4 per cent from a year earlier, but net profit growth slowed substantially as the country's economic growth rate slid to its lowest reading on record.
For the first of half of 2019, the operating income of central government-owned firms reached 14.5 trillion yuan (US$2.1 trillion), a year-on-year increase of 5.9 per cent, according to data released by the State-owned Assets Supervision and Administration Commission (SASAC) of the State Council on Tuesday.
Accumulated net profit for the first six months hit 703.77 billion yuan (US$102 billion), an increase of 8.6 per cent year-on-year. Of the total of 96 central government-owned firms supervised by SASAC, 34 saw their net profit rise by more than 20 per cent, while net profits at 53 increased by more than 10 per cent.
In June, state firms owned by the central government recorded a net profit of 158.49 billion yuan (US$23 billion) and a total profit of 211.78 billion yuan, the highest level on record, according to SASAC. However, the profit growth rate slowed significantly in the second quarter.
"Judging from the growth rate, the net profit of state owned enterprises increased by 8.6 per cent in the first half of the year and the total profit increased by 6.7 per cent, which is indeed a slowdown from the first quarter," said SASAC spokesman Peng Huagang.
In the first quarter of 2019, the profits of central government-owned enterprises were 581.44 billion yuan (US$85 billion), a year-on-year increase of 17.9 per cent; the profits of state-owned local enterprises were 238.33 billion yuan, a year-on-year increase of 10.4 per cent, according to data from the Ministry of Finance.
SASAC said in the same month that total profit at central government-owned firms rose 13.1 per cent in the first quarter, compared to a year earlier.
Peng said that despite the slowing growth in profits, the rate of increase was within a "reasonable range" and within government expectations.
"Since the beginning of this year, telecom enterprises have been required to improve their speed and cut fees, while [electricity] grid enterprises were required to cut power prices. While promoting cost reduction, these steps had an impact on the [profitability of the] companies," Peng added. "In addition, the global economic and trade growth rates have slowed down simultaneously, the external economic environment has generally tightened, and the domestic economy is facing downward pressure. These factors also affected the growth rate of [state-owned] enterprises to a certain extent."
China's gross domestic product
growth rate slid to 6.2 per cent in the second quarter of 2019 from 6.4 per cent in the first quarter and was below the levels reported during the global financial crisis a decade ago, the National Bureau of Statistics said on Monday.
The world's second largest economy is in the midst of a trade war with the United States, who have charged that China is engaging in unfair trade practices, including subsidies and other preferential treatment granted to state-owned firms.
But China is reinforcing its
state-directed economic model
despite demands for change from Washington as it continues to consolidate its control over state assets, with the central government taking over controlling stakes in a number of local government-owned companies.
"Such restructurings have been ongoing for several years. There has been central government restructuring of local government-owned firms, there has been cooperation between central and local governments in the process, with state subsidiaries to local governments being restructured [as part of the process]", said Peng.
"SASAC encourages such exercises, this isn't an entirely one sided process … any capital [investor] in the market can take part in such exercises."