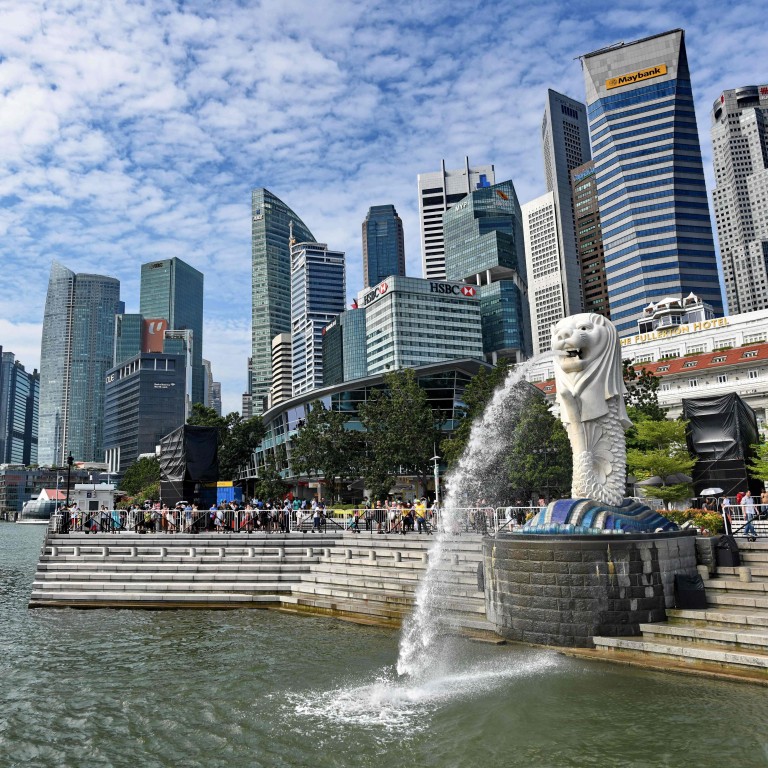 Singapore's economic downturn continues as US-China trade war wreaks havoc on Asia export hubs
The city state is considered to be a bellwether for the region and its trade malaise is indicative of weak demand elsewhere and bad news for China's economy
Singapore's total non-oil exports fell 17.3 per cent in June, adding to the surprise 3.4 per cent collapse in gross domestic product reported last week
Singapore's exports plunged to a six-year low in June, the latest in a series of brutal indicators showing China's slowdown and the trade war with the United States are wreaking havoc on the economies of Asia's trade hubs.
The city state's economy is considered a bellwether for the region as it is a transshipment hub, meaning that the goods that pass through its ports are generally bound for other final destinations. So if trade in Singapore is weak, it usually points to slowing demand elsewhere – often China, which reported its lowest
quarterly economic growth
on record on Monday.
Singapore's total non-oil exports fell 17.3 per cent in June, following a 16.3 per cent decline in May, driven by a 31.9 per cent slump in electronics exports last month. Imports fell by 4.8 per cent, while total trade fell by 7.2 per cent from a year earlier. Singapore is more dependent on trade than any other nation apart from Luxembourg, according to the World Bank, an indicator of the severity of the decline.
Non-oil exports from Singapore to China dipped 15.8 per cent last month, while those to Hong Kong fell 38.2 per cent – with many of the goods bound for Hong Kong eventually finding their way to mainland China. In May, exports to China had fallen 23.3 per cent and to Hong Kong by 25.7 per cent.
Added to the surprise 3.4 per cent collapse in gross domestic product (GDP) growth reported last week by Singapore for the second quarter of 2019, the trade figures make for grim reading.
The fact that Wednesday's data release showed that primary chemicals exports to China slumped 50.5 per cent in June is also bad news for China's manufacturing base, which has been under severe pressure in recent months.
Numbers released on Monday showed that China's industrial production – a measure of the output of the industrial sectors in the economy, including manufacturing, mining and utilities – grew by 6.3 per cent from a year earlier, but analysts have been sceptical about the apparent recovery, given the prolonged weakness in factory activity, along with
China's weak export and imports
in June.
Singapore's malaise is, therefore, indicative of a messy regional slump that has been gathering momentum over the first year of the US-China trade war. Unsurprisingly, those economies most heavily reliant on international trade – Singapore, South Korea and Taiwan – have been hit hardest, with analysts not expecting an improvement any time soon.
"Early indicators suggest that GDP growth slowed sharply across emerging Asia in the second quarter. Although most countries should stage a gradual recovery over the coming year, growth is likely to remain much weaker than the consensus and the International Monetary Fund expect," said Gareth Leather, senior Asia economist at Capital Economics.
Leather added that "the region is now expanding at its weakest pace since the global financial crisis", and that "Singapore and Taiwan appear to have barely grown at all in the second quarter of the year".
An independent analysis of leading economic indicators released by Japanese bank Nomura on Tuesday also pointed to troubled times ahead. The quarterly report used eight metrics which, combined, act as an early indicator for regional growth.
"Our leading index had rebounded from a very weak level in May, hinting that the worst may be over, but this proved to be a false dawn, as this update signals a renewed downturn in the leading index in August and indicates Asian exports should remain in the doldrums in coming months," said the bank's analysts.
The eight indicators include surveys of manufacturers from emerging markets, China's imports, and global semiconductor sales. These, Nomura claims, provide a snapshot for Asian exports that will occur in three months.
The analysts added that "the export picture should remain bleak in coming months, in line with a lack of progress on US-China trade negotiations, heightened global economic uncertainty weighing on global [capital expenditure which is the buying of fixed assets like property and vehicles], and signs that using trade protectionism as a weapon of foreign policy is spreading".
This article appeared in the South China Morning Post print edition as: Exports slump in Singapore looks bad for regional growth