China's handling of yuan backed by IMF despite Donald Trump's repeated charges of currency manipulation
International Monetary Fund says Beijing's handling of the Chinese yuan in 2018 was 'broadly in line' with the state of its economy
US President Donald Trump said at the start of July that the United States manipulate the value of the US dollar to offset competitive devaluation by China
Despite repeated accusations of currency manipulation from US President Donald Trump, the International Monetary Fund has found that in 2018, Beijing's handling of the Chinese yuan was "broadly in line" with the state of its economy.
The Washington-based fund, which is bracing for the departure of managing director Christine Lagarde in September, also lashed out at the impact of the US-China trade war, which is "weighing on global trade and investment, without materially affecting [trade] imbalances thus far", in a new report released on Wednesday.
The report estimated that "the announced and envisaged tariffs could reduce global growth by an additional 0.3 per cent in 2020", as the trade war moves into its second year.
However, on currency, the International Monetary Fund (IMF) found that including its current account surplus and exchange rate, China's external position had improved compared to previous years' assessments that it was "moderately stronger" than warranted.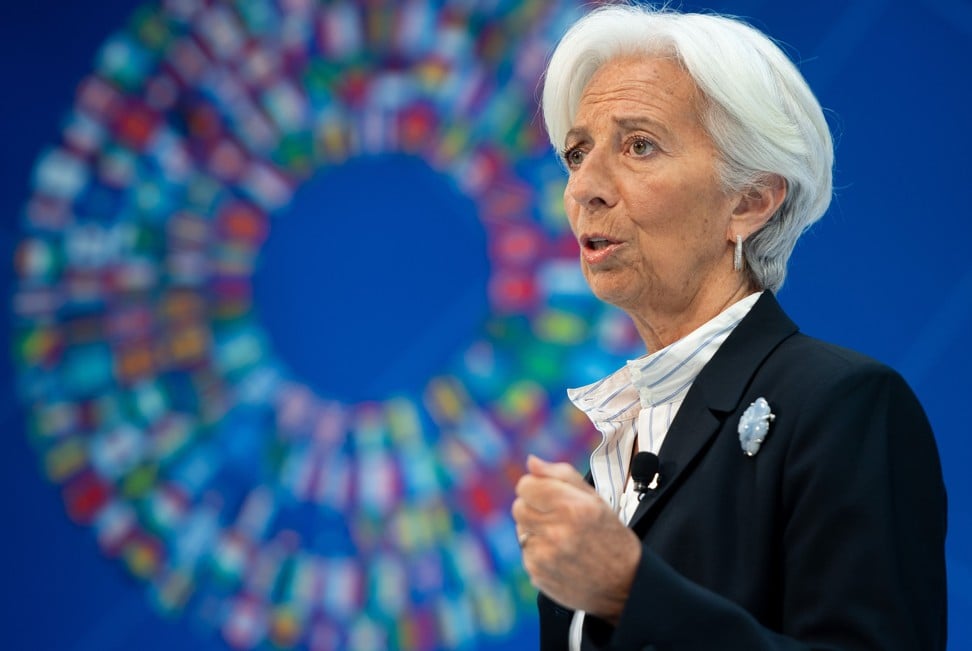 "After many years of excess current account surpluses, China's external position moved to become more broadly in line with fundamentals in 2018," said IMF chief economist Gita Gopinath.
The IMF's view contrasts sharply with Trump's, who suggested at the start of July that the United States manipulate the value of the US dollar to offset competitive devaluation by China.
"China and Europe playing big currency manipulation game and pumping money into their system in order to compete with USA," Trump said on Twitter. "We should match."
The value of the yuan has been a constant bone of contention for the US in its escalating trade conflict with China.
Washington has demanded that any trade deal include language promising that there will be no currency devaluation to gain a competitive advantage, mirroring a section included in the recently completed United States-Mexico-Canada Agreement, a new version of the North American Free Trade Agreement.
But despite Trump's complaints, the US Treasury Department's semi-annual currency report to the US Congress has never found that China met the criteria needed to be labelled a
currency manipulator.
The US Treasury Department is due to release a new assessment in October.
The IMF found that the yuan's average real effective exchange rate, as measured against a basket of currencies, appreciated by around 1.4 per cent in 2018 and depreciated around 0.2 per cent in the first five months of 2019.
"China's real effective exchange rate would be at the same level as warranted by fundamentals and desirable policies," the IMF said in its report.
The report could be viewed a second rebuke of Trump's China policy from multilateral agencies in 24 hours after a ruling by the World Trade Organisation (WTO) on Tuesday. It found in China's favour in a 2012 dispute over Washington's anti-subsidy tariffs on Chinese exports of solar equipment. The WTO said that the US had not complied with its rules and that if it did not remove the tariffs, it could face sanctions from China.
The Office of the United States Trade Representative (USTR) reacted furiously to the ruling, saying that it "undermines WTO rules, making them less effective to counteract Chinese state-owned enterprise subsidies that are harming US workers and businesses and distorting markets worldwide".
The statement said that "the United States is determined to take all necessary steps to ensure a level playing field so that China and its [state-owned enterprises] stop injuring US workers and businesses".
The yuan, meanwhile, has moved further away from the psychologically important mark of
7 to the US dollar
in recent months, with the government-set midpoint of the currency's permitted daily trading range set at 6.8827 on Wednesday.
The IMF did not find any indication that China intervened in the foreign exchange market last year. Its foreign exchange reserves declined by a modest US$67 billion in 2018, which was within normal range after adjusting for estimated valuation changes, returns on reserve assets and measurement margin of error, the report said.
The fund, however, repeated its call for China to "move towards a flexible, market-based exchange rate". As the transition proceeds, any intervention in the foreign exchange market should be limited only to "smooth excessive volatility".
The IMF urged China to continue domestic rebalancing towards consumption-based growth and to take further actions to address market distortions.
"Priorities include improving the social safety net, reform of state-owned enterprises, opening markets to more competition and creating a more market-based and robust financial system," it said.
China should also take steps towards attracting more inward foreign investment, while also ensuring the equal treatment of foreign and domestic investors, the fund added.
This article appeared in the South China Morning Post print edition as: China not using yuan as weapon, IMF finds