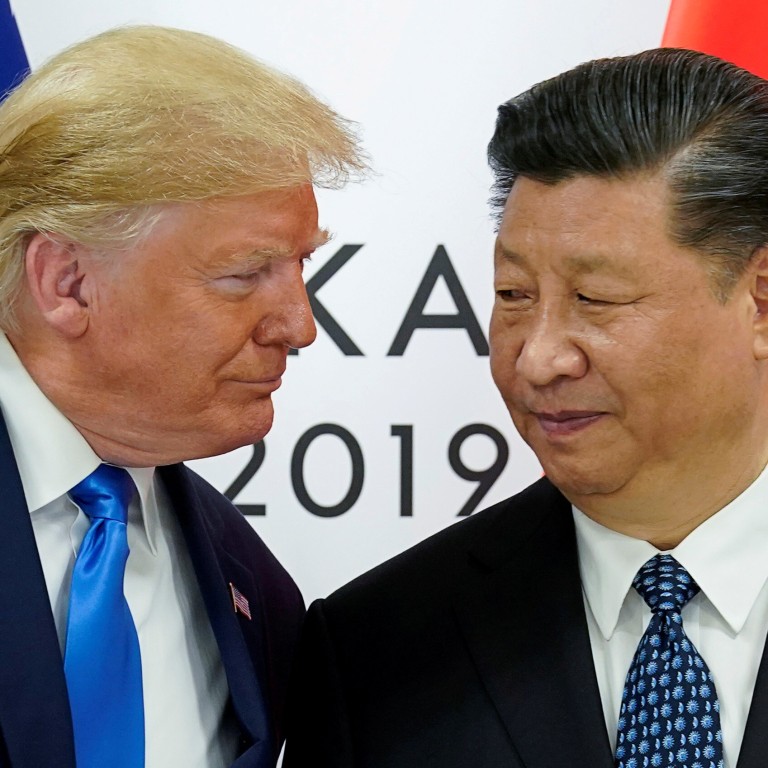 Exclusive
US trade war negotiators likely to visit China next week for first face-to-face talk since G20, source says
American delegation led by trade representative Robert Lighthizer and Treasury Secretary Steven Mnuchin are set to meet Vice-Premier Liu He
President Xi Jinping and US counterpart Donald Trump met at the G20 summit in Osaka, Japan, at the end of June and agreed to a trade war ceasefire
US negotiators led by trade representative Robert Lighthizer and Treasury Secretary Steven Mnuchin are likely to fly to China next week for the first face-to-face talks since President Xi Jinping and US counterpart Donald Trump agreed to a trade war ceasefire at the end of June, according to a source who is familiar with the matter.
The initial arrangements for the meeting in Beijing, according to the source who declined to be identified, came after the United States announced that it would offer exemptions to 110 Chinese products, including medical equipment and key electronic components, from import tariffs. In a goodwill gesture of their own, China also said that several companies would buy
American agricultural products
having already applied for exemptions from the tariffs imposed by Beijing.
An in-person meeting between Lighthizer, Mnuchin and Vice-Premier Liu He, who leads China's negotiation team, would be seen as a positive step towards reducing trade tensions between the world's two largest economies, although talks to reach a deal to end the year-long trade war are still expected to take a significant amount of time.
Since
Xi and Trump agreed at the G20
summit at the end of June to resume discussions, the top trade officials from China and the US have spoken by phone twice in July, including on Thursday.
Neither Beijing nor Washington have given an official indication of when the meeting would take place, but both sides have expressed a willingness. After the phone call last week, Trump said on Friday that US trade negotiators "had a very good talk" with the Chinese side, while Mnuchin confirmed face-to-face talks could follow.
Taoran Notes, a social media account affiliated with state-owned Economic Daily, noted in a commentary on Sunday that the last two phone calls could lead to a resumption of negotiations soon "if there are no major changes in the situation". The account also suggested that the negotiations could take place before the end of July.
Few details about the two calls were released, fanning speculation that the two sides are having a tough time in narrowing their differences, coupled with the addition of perceived hardliner and
Commerce Minister Zhong Shan
to the Chinese negotiating team.
Since the trade talks broke down in May, China has repeatedly demanded that the US lift all tariffs on Chinese products
levied by Trump administration
since early 2018 as a necessary condition to signing a trade deal. Beijing is also pressing Washington to further relax the trade ban on the supply of key components to telecommunications company Huawei.
An editorial on Monday from the state-owned Xinhua News Agency argued that China is happy to walk forward along with the US "as long as the US is willing to go back to communication on an equal basis".
"No matter how much uncertainty lies ahead of us, China will continue on its own path, do its own thing and strengthen its ability to handle risks and challenges," read the Xinhua editorial.
Hua Changchun, global chief economist at Guotai Junan Securities, a Chinese brokerage, said an in-person meeting would be a "relatively positive signal" for the bilateral trade relationship.
"Of course, we can't pin hopes on a single meeting solving all uncertainties," Hua said.
Wang Yong, a professor of international political economy at Peking University in Beijing, said China would push the US to remove all tariffs and ease the ban on Huawei, but it remains uncertain whether the upcoming talks would bear fruit.
"There are still many challenges and obstacles ahead and internal debates in both countries remain split on how to implement the consensus reached by the two leaders," said Wang.
This article appeared in the South China Morning Post print edition as: US tradenegotiators expected in China for talks next week