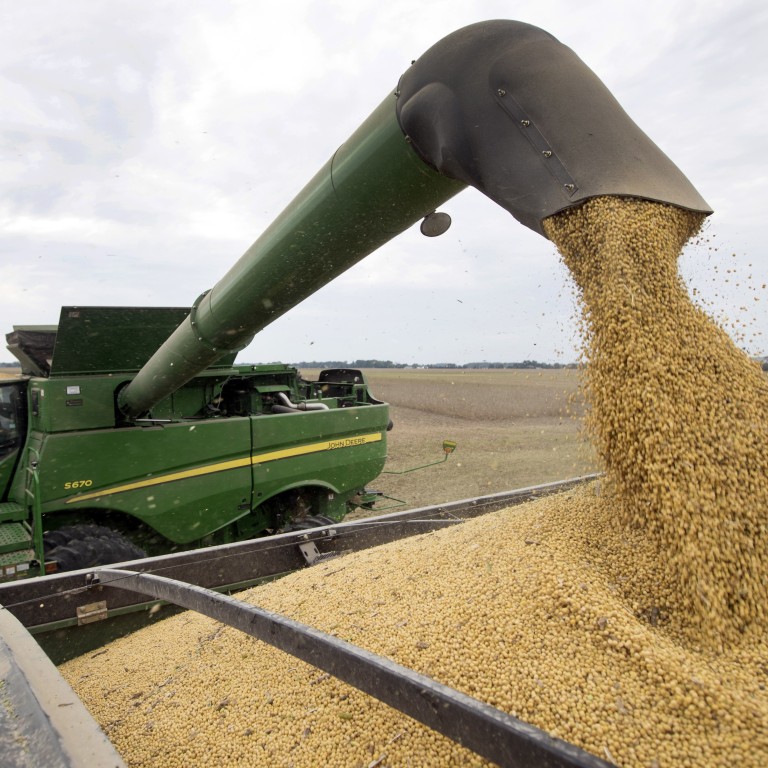 As US-China trade talks resume, how much demand does Beijing have for American farm goods?
US soybean exports have largely been replaced by those from Brazil, with the situation complicated by the impact of African swine fever
US trade representative Robert Lighthizer is set to lead a US team to Shanghai next week to meet with Vice-Premier Liu He and Commerce Minister Zhong Shan
With negotiators from China and the United States set to have their first face-to-face talks since May next week, the likelihood of a large Chinese purchase of American agricultural goods appears to be growing.
US President Donald Trump
met with technology executives in Washington on Monday, amid expectations that he will ease the ban on US companies supplying components to Chinese telecommunications giant Huawei. Chinese officials have said that an easing of the Huawei ban was a precondition for making large purchases of US farm goods.
China's state media reported on Sunday that Chinese firms have started making purchase enquiries to US agricultural exporters and applying for
exemptions from Beijing's tariffs.
Analysts are speculating as to the scale of potential purchases, which have fallen away significantly since the trade war began in July 2018.
US Department of Agriculture (USDA) data from last week showed that China had made a 51,072 metric tonne purchase of sorghum, despite the grain being subject to a 25 per cent import tariff. This was the largest weekly purchase since April, but also came in the same week that China cancelled a 9,853 metric tonne purchase of soybeans. China's imports of US soybeans have plummeted since the trade war began, but given the scale of its demand over recent years, soybeans are likely to be high on negotiators' agenda.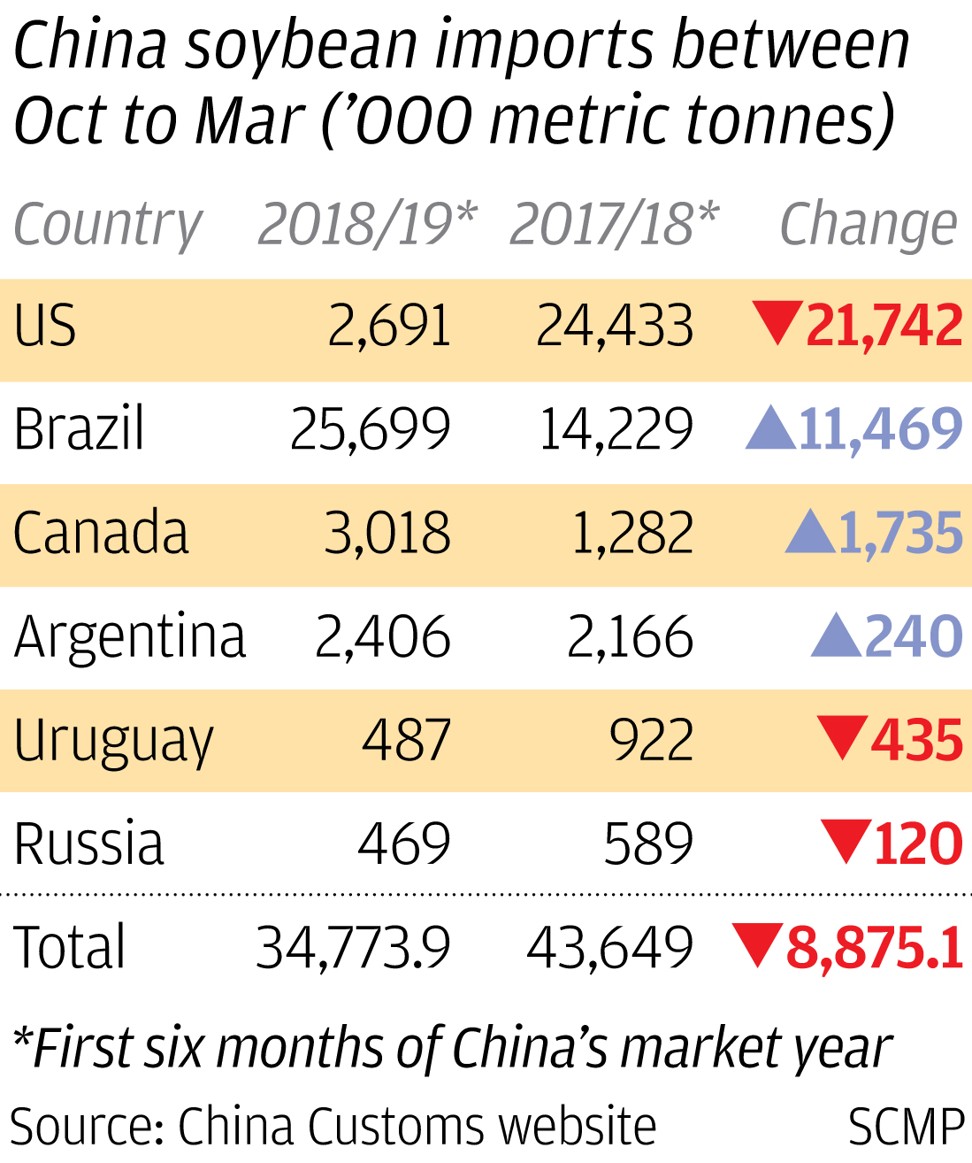 Speaking to reporters in Washington on Tuesday, US Agriculture Secretary Sonny Perdue confirmed that agricultural purchases were underway.
"As you all know, there has been a 20 million metric tonne commitment on soybeans. I think the latest numbers I saw this week, I think we were up to 13.67 [million], if I recall directly," Perdue said. "So they still have a ways to go, and that's what the president is reminding them of as well."
This is an improvement on the earlier part of 2019. Chinese Customs data shows that in the first six months of the marketing year, between October 2018 and March 2019, China bought just 2.7 million metric tonnes of US soybeans, around a tenth of the 24.4 million metric tonnes during the same period the previous year. Brazil, meanwhile, stepped up its exports of soybeans from 14.2 million metric tonnes to 25.7 million metric tonnes, effectively replacing US exports.
The situation is complicated by an outbreak of African swine fever, which analysts at Rabobank forecast could wipe out more than half of China's pig herd either through culling or disease. The bank has forecast that 200 million – around half of China's pigs – could be eliminated.
In part reflecting the effects of African swine fever,
China's total imports of soybeans
fell 8.9 million metric tonnes – or 20 per cent – in the October to March period, from a year earlier. Rabobank grain and oilseed analyst Lief Chiang estimated that the continuous spreading of African swine fever could wipe out up to 6 per cent from the China's soymeal demand this year. In China, 80 per cent of China's soybean imports are crushed to make meal for feeding to livestock, including pigs.
The outbreak, combined with readily available replacement crops from Brazil, means "there probably isn't a pressing need to secure more [soybeans] from the US", said Darren Cooper, senior economist at the International Grain Council.
"Initially the fall in imports was primarily driven by the impact of the US-China trade dispute and the fact that this dealt a supply shock to the system. However, [African swine fever] clearly dented domestic demand as hog inventories were significantly reduced."
The concentration of the global soybean trade between China as buyer and the US and Brazil as exporters is extreme.
According to a report from the USDA released in June, "no country had such a large share of any other major agricultural commodity" than China's demand for soybeans with 65 per cent of global demand in 2016/17, while "the 83 per cent share of soybean exports supplied by two countries – the US and Brazil – was higher than the share of exports" for any other major commodity.
This means that Brazil is the only exporter capable of supplying enough soybeans to replace the US supply, particularly given the fact that the world's fourth largest producer of the beans, Argentina, had its crop hit by drought. However, if negotiators were to strike a deal, US stocks could "easily" replace those of Brazil, Chiang said.
"It is just substitution among the exporting countries. If China agrees to buy more US soybeans as a goodwill gesture in the coming months, China could reduce the dependence of South American soybeans to some extent," Chiang said, adding that the third quarter of 2019 is the traditional export window for crops grown in the southern hemisphere, but the supply of US soybeans will become more important in the fourth quarter of 2019 and the first quarter of 2020.
Large stockpiles of unshipped soybean purchases have been piling up in American silos over recent months.
Total outstanding sales stood at more than 9 million metric tonnes in mid-July, according to Cooper from the International Grain Council, a record high. Of that, 5.2 million metric tonnes were officially declared to be Chinese purchases, with an additional 1.7 million metric tonnes likely to be China-bought through unofficial channels, he added.
It was reported in June that state-owned importer Sinograin, which manages China's soybean reserves, had requested a delay in shipments of cargoes from July to August due to storage issues. Others have speculated that the delay in exports was tactical as Beijing sought leverage in trade talks with the US.
"With less than two months until the end of the season [at the end of August 2019], this presents a big risk in that a portion of these could be cancelled or switched to the next marketing year. If that happens, it will swell stocks even more, to current above-average and record levels. For sure, this will have implications for storage costs [for US exporters]," Cooper added.
China has significant capacity to import other US crops, including sorghum, corn, bioethanol which is used for fuelling vehicles, and distillers grains with solubles, a by-product of ethanol used in animal feed, Chiang said.
"As for feed grains, Chinese purchases of several million metric tonnes of US corn and sorghum would make a big splash in the international market, but that would be small relative to China's large domestic supplies, especially of corn," he added.
Pork imports, meanwhile, could also be on the table, given the likely loss of a significant portion of China's pig herd, by far the biggest pork consuming market in the world. US pork exports to China were hit with a 62 per cent tariff after the trade war broke out in July 2018, but as China's national reserves dwindle later in the year, it could be forced to buy more.
"At the moment there is not much room to accommodate US pork," said Rabobank analyst Chenjun Pan. "But that could change in the autumn and fourth quarter, when we may see an increase. [The government] could take some action to remove tariffs, at least a partial removal."