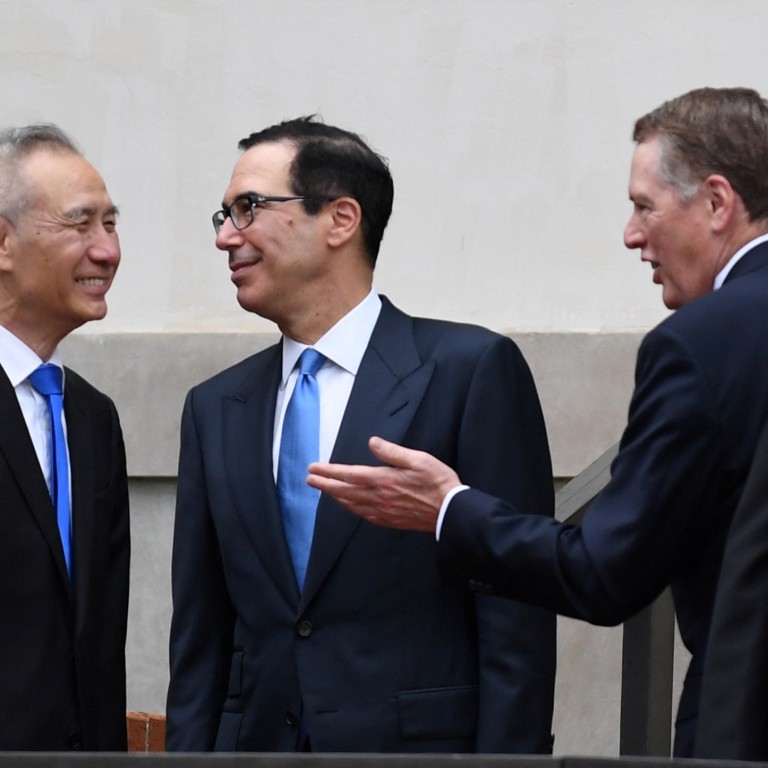 China, Donald Trump keep expectations low ahead of trade talks in Shanghai
Next round of negotiations – the first since early May – will be held at symbolic venue for bilateral relationship, the Xijiao State Guest Hotel
Chinese state media does not expect any big breakthrough this week, and US president says Beijing could hold out on a deal until after 2020 election
Chinese state media is playing down expectations for any significant breakthrough from this week's trade talks with the United States, while US President Donald Trump said Beijing could delay the deal until after the 2020 presidential election.
Washington and Beijing have confirmed that the next round of negotiations will be held in Shanghai on Tuesday and Wednesday – the first face-to-face meeting since talks on their year-long trade war collapsed in early May.
It will also be the first in-person meeting of top negotiators since Chinese President Xi Jinping and Trump agreed to resume trade talks at their summit in Osaka, Japan last month.
But on Friday, Trump told reporters he would not be surprised if China held out until after the US election to secure a trade deal. "I don't think personally China would sign a deal if I had a 2 per cent chance of losing the election," he said.
Vice-Premier Liu He and Commerce Minister Zhong Shan are expected to host US negotiators led by US trade representative Robert Lighthizer and Treasury Secretary Steven Mnuchin at the Xijiao State Guest Hotel in Shanghai – a deeply symbolic place in the two countries' bilateral relationship.
Visiting the Ministry of Industry and Information Technology on Thursday, Liu urged officials to improve China's manufacturing capabilities. "It's your inescapable responsibility … to develop China into a powerful manufacturing country," Liu said, according to a statement from the ministry on Sunday.
Zhong, meanwhile, arrived in Shanghai on Saturday, holding a meeting to mark the 100-day countdown to China's second import expo in November, according to a commerce ministry statement. The minister did not mention the upcoming trade talks.
An editorial in Global Times, a tabloid backed by People's Daily, said the negotiations were expected to be tough because "the gaps remain huge between the two sides".
"The trade war has become a de facto test of the China-US rivalry – Chinese and American diplomats are trading increasingly harsh words, while [other] frictions are erupting here and there," the editorial on Thursday read.
"It's agreed on both sides that … it's nearly impossible for the bilateral relationship to be restored to normal in the near future. As for when the two countries can reach a trade deal, the general consensus is that the negotiations will last for a fairly long period of time."
The tone of the Chinese newspaper editorial echoed caution from the US side, as well as analysts' views. Mnuchin said last week that the Shanghai talks would be followed up with a meeting in Washington as "there's a lot of issues" for the two sides to work out.
He said the Chinese side had chosen to hold the meeting in Shanghai because "there's a significance to them of the Shanghai Communique and the symbolism, obviously, of that important agreement".
Former US president Richard Nixon stayed at the Xijiao State Guest Hotel when he visited China in 1972, and it was there that he finalised the text of the Shanghai Communique – a key document for Beijing and Washington to establish diplomatic relations later that decade.
But China has not officially acknowledged that the venue was chosen for its symbolism.
Ministry of Commerce spokesman Gao Feng on Thursday said it was a "normal" arrangement and the negotiations would be held in Shanghai because of its "good conditions for holding the trade talks".
Gao also said China's purchases of agricultural products from the United States – widely seen as a goodwill gesture to help pave the way for Beijing and Washington to meet – were business decisions made by individual buyers and
not related to the talks
. Several Chinese companies have recently expressed interest in buying significant quantities of American farm products and have applied for tariff exemptions from Beijing, according to state media.
Taoran Notes, a social media account affiliated with the official Economic Daily, was also cautious about the outlook for the talks. In an opinion piece on Friday, it said China would not yield to US pressure, and called on Washington to remove all punitive tariffs on Chinese products.
"For now, it seems the US and China are not on the same page on this issue [lifting tariffs)," the opinion piece said.
It added that if Washington did not change its demands or stance, "there won't be good results – no matter how many rounds of talks or how many years [the two sides spend negotiating]".
Barclays economists headed by Jian Chang, chief China economist at the British bank, wrote in a note on Friday that the Shanghai talks would "likely involve trying to agree on where things stand and forming a starting point to keep the negotiations moving forward" with little prospects of engaging in "deep or substantive negotiations on broader structural issues".