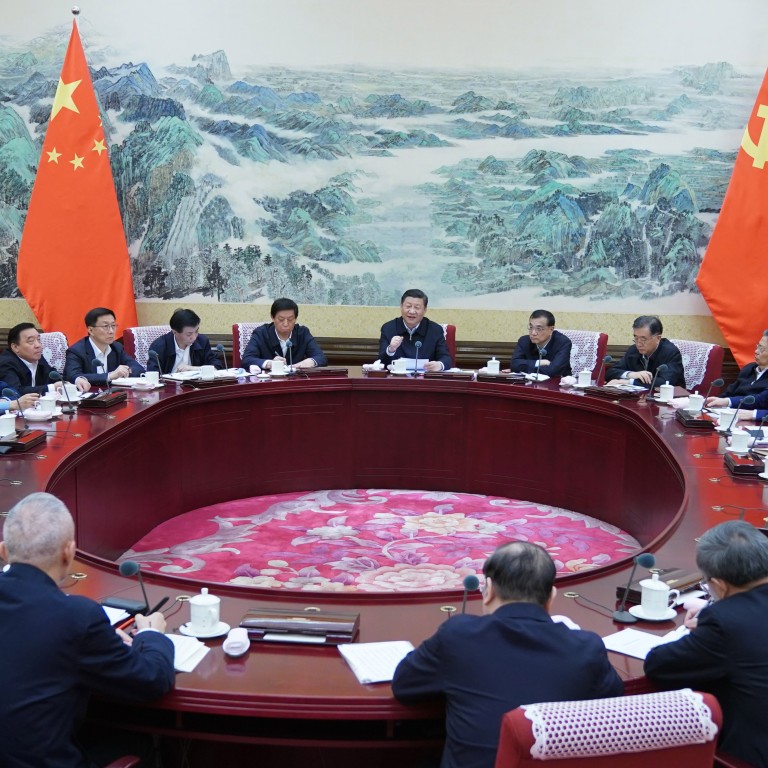 China can turn US trade war 'crisis into an opportunity', says top leadership, as Donald Trump tweets complaint
Quarterly Politburo meeting chaired by President Xi Jinping concluded China must rely on its domestic demand potential to manage 'new risks and challenges'
US president said that Beijing has not been 'coming through' in terms of buying American farm products or making progress on a deal to end the year-long trade war
China has the chance to turn "a crisis into an opportunity" with its response to the trade war with the United States, the country's top leadership said on Tuesday, even as US President Donald Trump complained bitterly that Beijing has not started buying American farm products.
The Politburo, the ruling Communist Party's top decision-making body headed by President Xi Jinping, concluded that China must rely on the country's domestic demand potential, including the vast countryside, to manage "new risks and challenges" and offset "growing downward pressure on economy", according to the official Xinhua News Agency.
The report on the Politburo's quarterly review of the economic situation did not mention any specific recommendations for additional fiscal or monetary stimulus to offset the affect of the trade war with the US which contributed to China's economic growth slowing to a record low of
6.2 per cent
in the second quarter of 2019.
China's leaders believe they can stabilise manufacturing investment, renovate old city neighbourhoods and build up the facilities that are urgently needed by Chinese cities, from car parks to refrigerated transport and warehouses, Xinhua reported.
"We must be good at turning a crisis into an opportunity by getting our domestic things done," the Politburo meeting said, according to Xinhua. "We will not use the property market to stimulate short-term growth."
The Politburo meeting in Beijing, which is also expected to have laid out economic plans, was held on the same day on which negotiators from China and the US resumed
face-to-face talks in Shanghai.
Minutes after the Xinhua report on the Politburo meeting was published, Trump took to Twitter to complain at length that China has not been "coming through" in terms of buying
US farm products
or making progress on a deal to end the year-long trade war.
China "was supposed to start buying our agricultural product now – no signs that they are doing so", Trump tweeted.
"That is the problem with China, they just don't come through. My team is negotiating with them now, but they always change the deal in the end to their benefit. The problem with them waiting, however, is that if & when I win [the 2020 presidential election], the deal that they get will be much tougher than what we are negotiating now … or no deal at all. We have all the cards, our past leaders never got it!"
Trump also said that China's economy "is doing very badly, worst year in 27 years" an apparent reference to China's economic slowdown. Earlier this month hours after the figures were released,
Trump goaded China
over its gross domestic product growth sliding from 6.4 per cent in the first quarter to the lowest reading since records began being kept in March 1992.
In contrast, China's leaders painted a much rosier picture with the figure falling within the range of Beijing's target growth rate for the year of 6.0 to 6.5 per cent.
"Major economic indicators were still within the reasonable range [in the first half]," added the Politburo meeting statement. "People's living standards and quality [of life] continued to improve."
Chinese Vice-Premier Liu He met US trade representative Robert Lighthizer and US Treasury Secretary Steven Mnuchin in Shanghai on Tuesday, with talks set to continue on Wednesday, however, expectations are low that there will be a quick end to the trade war.
The trade negotiations received little fanfare in Shanghai, and the two US trade negotiators have been kept out of public view having arrived in China earlier on Tuesday.
Larry Hu, chief China economist of Macquarie, said the meeting chaired by Xi on Tuesday showed Beijing's "confidence" in managing the domestic slowdown and external shocks.
"The economy is not bad enough to justify a large-scale stimulus," Hu said. "There probably won't be big surprises in the Shanghai talks. There's unlikely to be a breakthrough."
Zhang Jun, chief economist of Morgan Stanley Huaxin Securities, said that China's economic data is actually "OK" in Beijing's view, since the headline growth rate is still within the government target range.
This article appeared in the South China Morning Post print edition as: China can 'turn crisis into opportunity', leaders say