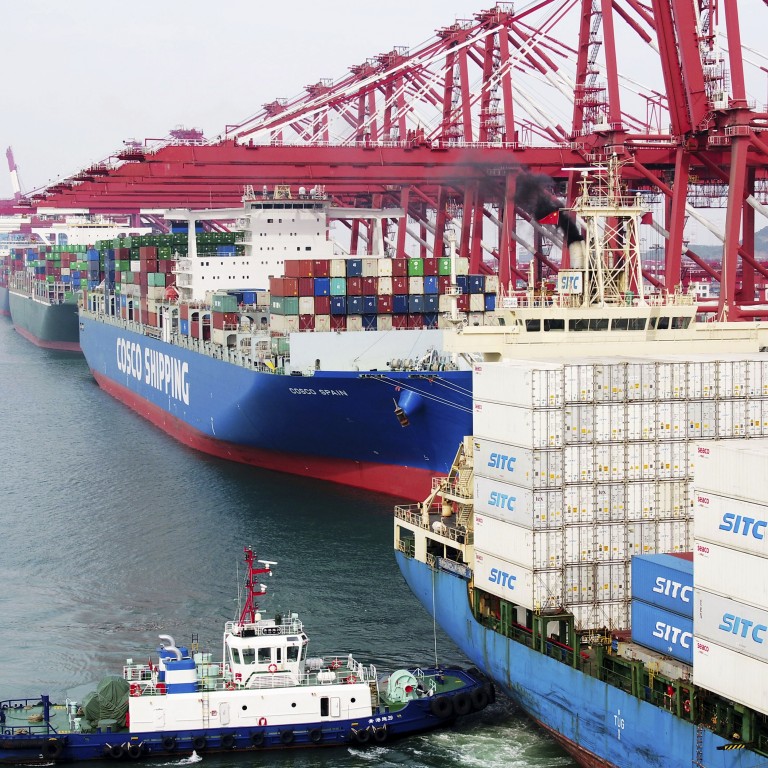 Donald Trump 'declares war on Christmas', as new trade war tariff leaves firms with little room to manoeuvre
The US president plans to impose 10 per cent tariff on US$300 billion of Chinese goods despite having agreed a 'truce' with Xi Jinping at the end of June in Japan
Goods targeted for September 1 increase are often given as Christmas gifts, including mobile phones, laptops, toys, and video game consoles
Exporters in China awoke on Friday to find they now have few ways to avoid US President Donald Trump's planned 10 per cent tariff on US$300 billion of Chinese goods, leading to the suggestion that he has "declared war on Christmas".
Trump took to Twitter to announce that almost all remaining Chinese imports to the United States would be subject to the duty from September 1, breaking the short-lived "truce" established after a meeting with
Chinese President Xi Jinping
at the G20 summit in Japan at the end of June. There has been no official confirmation of the new tariff.
Many of the goods on the fourth list of trade war tariffs are consumer products often given as Christmas gifts. Of the US$300 billion, mobile phones make up the largest portion at US$44.8 billion, followed by laptops at US$38.7 billion, toys at US$11.9 billion, and video game consoles at US$5.4 billion, according to US International Trade Commission figures.
"This time the list includes toys. So you might say the Trump Administration has now officially declared war on Christmas," said Jock O'Connell, an international trade adviser to research firm Beacon Economics.
The new tariffs "will impact all manufacturers", said a manager at Shenzhen-based Tongzhou electronics which makes LED, LCM and LCD modules, who gave his family name as Zhou.
"We only export a few products to the US – our biggest market are domestic and in Southeast Asia – but the new tariffs will increase the cost of our raw materials, which will force us to increase the price of our own products.
"I have friends who manufacture mobile phones. They told me that it will have a huge impact on their businesses."
With less than a month before the proposed deadline, the window to front-load – that is, dispatching shipments early to avoid the new tax – is narrow. It usually takes 17 days for
sea shipments
from China to reach the West Coast of the US and 27 days to New York on the East Coast.
"I shouldn't think this move would result in a substantial surge in imports," O'Connell added. "Even if your Chinese suppliers had goods on hand, you'd have only a couple of weeks at most to get them on a ship bound for a West Coast port."
When the Office of the United States Trade Representative (USTR) filed a notice of the previous increase in tariffs on US$200 billion of Chinese goods from 10 per cent to 25 per cent in May, there was some relief for companies that could prove they had made their purchases before the tariff was announced.
Some hope that goods at sea before that cut off point could potentially be exempt from the new tariff, if a similar pattern is followed this time around, but this is unconfirmed.
"There is definitely a short lead time," said Jennifer Diaz, a lawyer at Diaz Trade Law in Miami. "We will see if customs uses September 1 as an export deadline like they have previously."
Further complicating matters is the fact that US inventories and warehouses are already nearing capacity due to previous bouts of front-loading designed to beat earlier rounds of tariffs, particularly last year. US seaports are also in peak import season, with space already tight at many important hubs.
Isaac Larian, CEO of MGA Entertainment, the world's largest privately-owned toy company, said that the new tariff would "definitely effect" business and lead to "lower sales". He is looking for options to move more manufacturing out of China to avoid the tariffs, but "it is too late" to avoid the 10 per cent proposed by Trump.
In May, US inventories increased by 5.3 per cent year-over-year, showing that even if companies wanted to front-load, their capacity to store excess stock in the US would be limited.
"How much front-loading this time? It's hard to tell. It's just a month away and the warehouses are still full according to the Department of Commerce figures," said Cathy Roberson, president of consultancy firm Logistics TI. "I can imagine freight forwarders and perhaps larger shippers may be thinking about chartering planes to ensure capacity and on-time delivery, but it's going to be costly for them because of the short notice, and for forwarders, they are going to have to sell all that capacity fast before the deadline."
Shipping prices
have spiked in recent months as companies tried to get out ahead of any further escalation, and the latest tariffs will send prices still higher. According to Nick Bartlett, director at Hong Kong logistics consultancy CBIP Logistics, rates almost doubled in the past three months for container shipping between Southern China and the West Coast of the US.
Alternative options such as air freight are restricted to those exporters of "high value, low volume items", ruling out many of the items on Trump's latest hit list. Nonetheless, Bartlett said "there is a high likelihood there will be people trying to get products in the air or on the sea today, especially cellphones and laptops".
"That is going to cause absolute havoc," he added, noting that air freight from China to the West Coast of the US is typically four times more expensive than sea freight.
Nonetheless, those companies who can afford to ship by air will do so, sending those rates spiralling upwards, and potentially negating the benefit of transporting the goods before the 10 per cent tariff is imposed.
"There is still time to ship by air before September 1, but we expect to see a rush and it is vital that companies start planning right away. There is capacity now, but everyone is likely to have the same idea at the same time," said Phil Levy, the chief economist at Flexport, a freight forwarding company.
"In general, it takes about five to seven days from the time a shipment is cargo-ready in Asia to when it has entered into the United States.
"As a general rule, the more valuable the shipment, the more it's a candidate for air freight. But even successful exporters tend to be cost-sensitive – or especially successful exporters."
This article appeared in the South China Morning Post print edition as: Trump 'has declared war on Christmas'