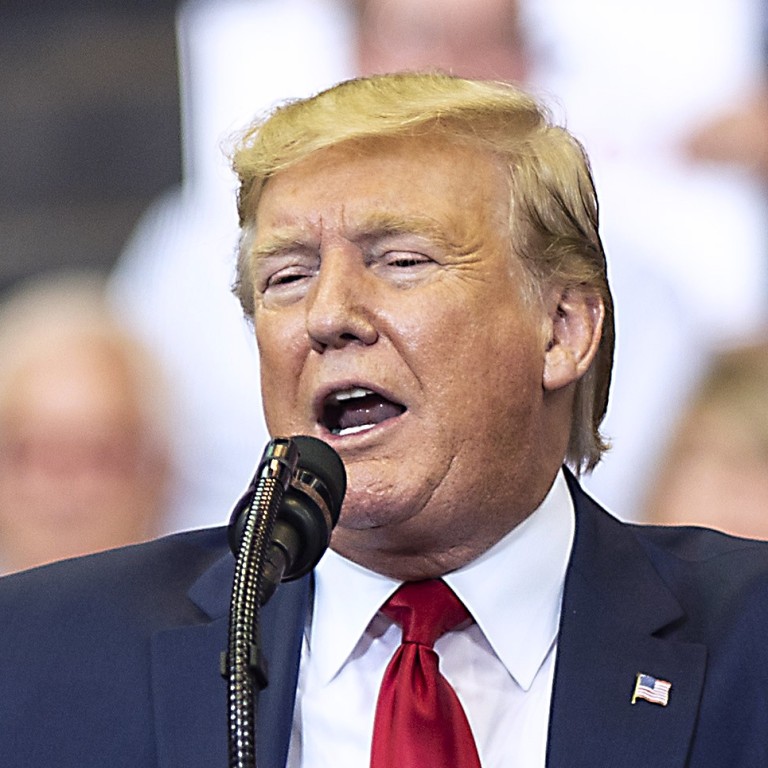 Donald Trump's tariff threat pushing China to make final make-or-break choice, analysts say
The US president has threatened to impose 10 per cent tariffs on the remaining US$300 billion in Chinese imports from September 1
Threat came less than 48 hours after the conclusion of a 'constructive' round of talks in Shanghai aimed at ending the year-long trade war
China is facing a make-or-break choice in the next four weeks after US President Donald Trump threatened to impose 10 per cent tariffs on the remaining US$300 billion in Chinese imports from September 1, analysts said.
One option is for China to concede to Trump by buying
farm products
from the United States and by agreeing to part of a
currently rejected version
of a deal to ensure the talks that resumed in Shanghai this week continue and the threatened tariffs do not materialise.
Another option is that Beijing can walk away from the negotiations because Trump's threat, in eyes of Beijing, goes against the truce agreed with Xi Jinping at the
G20 summit in Japan
and is a way of placing "maximum pressure" that destroys goodwill and trust.
China could also respond by cancelling orders placed for US farm products, increasing tariffs on US products and accelerating the launch of a unreliable entity list to sanction American firms.
The timing of
Trump's latest threat,
which came less than 48 hours after the conclusion of a "constructive" round of talks in Shanghai, might have caught Beijing off guard as China did not immediately announce any specific retaliatory plans.
Foreign Minister Wang Yi said that the tariffs are "not the correct way" to solve trade disputes, while Foreign Ministry spokeswoman Hua Chunying said that China will hit back with "necessary" countermeasures.
China's Ministry of Commerce also said in a statement that China will strike back and warned the US to "bear all possible consequences".
Li-Gang Liu, the chief China economist for Citigroup Global Markets Asia in Hong Kong, said Trump's decision has made him a less trustworthy "negotiation partner" for Beijing.
"When negotiations collapsed in May, [Vice-Premier] Liu He still flew to Washington to talk … it's hard to imagine that China would do it again if Trump is determined to raise tariffs," Liu said.
Zhou Xiaoming, formally a deputy permanent representative of China's mission to the United Nations in Geneva, said that Trump's new tariff plan could derail the newly resumed bilateral trade negotiations.
"It's hard to say whether China should go ahead to Washington in September as planned," he said.
The Shanghai negotiations, which involved a dinner on Tuesday and half a day of talks on Wednesday, did not result in any concrete deal, according to the statements from the two sides. The US said China had reaffirmed its commitment to buy US farm products, but China said such purchases were conditional and required the US to create "favourable conditions".
John Gong, a professor at the University of International Business and Economics in Beijing, said Trump's latest move could be a "negotiating tactic" to press China into buying US agricultural products.
"It won't start until September 1, and there's still a month to go," Gong said. "There's still room for manoeuvre … and [whether the tariffs will be implemented] depends on how China will respond."
Larry Hu, head of Greater China economics at Macquarie Group, said Beijing's leeway has been narrowed by the move, and that the Chinese leadership has to calibrate the new situation.
Trump's threat came days after the Politburo, which is China's top leadership group and is
headed by President Xi Jinping,
completed a key decision making meeting, charting economic policies for the second half of the year, which included ruling out big monetary easing or fiscal stimulus.
Chinese political elite, including retired politicians, are expected to gather in the seaside resort of Beidaihe in Hebei province soon to discuss the country's strategic challenges.
According to the Politburo, China will focus on boosting domestic consumer spending to manage external uncertainties. A year into the trade war, China's headline growth rate slowed to 6.2 per cent in the second quarter 2019, although still within the government's range of 6 to 6.5 per cent for the year.
Jiang Shan, a former official at the Ministry of Commerce, said China "is strong enough to deal with everything".
"Things will be OK. China's economy is not slowing down, it is restructuring," Jiang said.
This article appeared in the South China Morning Post print edition as: Beijing 'under pressure' to make final make-or-break choice