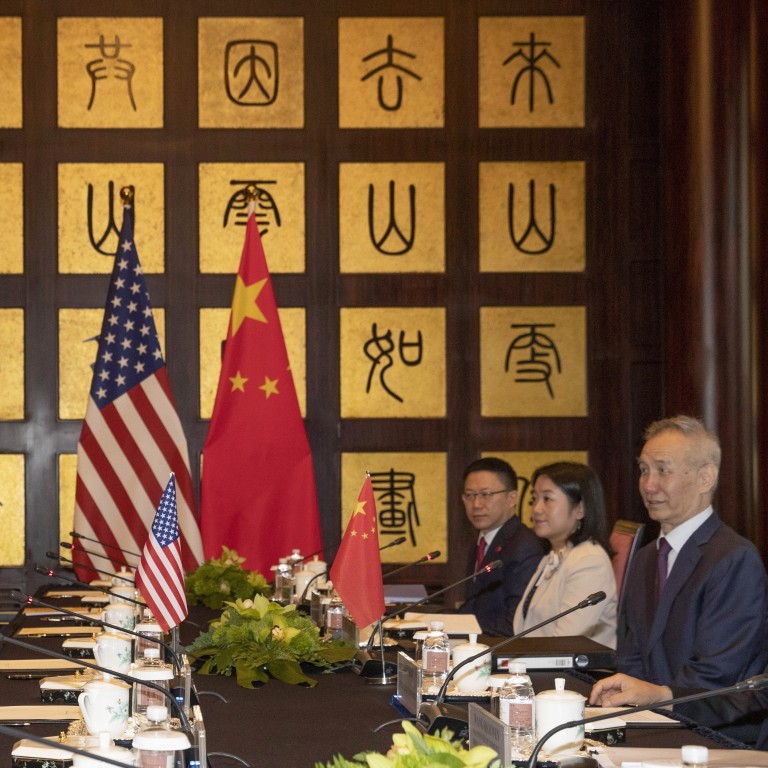 Donald Trump's new trade war tariffs seen as attempt to force China's hand in US talks
US president has threatened 10 per cent tariff on US$300 billion of Chinese goods from September 1, blaming Beijing for not buying American farm goods
Trade watchers suggest tariffs are less about agriculture and more of an attempt to force China's hand in negotiations which resumed in Shanghai this week
US president Donald Trump's vow to unleash a new 10 per cent tariff on US$300 billion of Chinese goods as of September 1 may be less related to China's failure to buy sufficient quantities of US agriculture products and more of an attempt to try to force China to make more concessions at the negotiating table, trade watchers suggested.
Clearly, only Trump and his closest advisers know the true reasoning behind the
surprising new tariff threat,
but analysts theorised that he was seeking to put maximum pressure on China to conclude a trade deal in the very near future.
"I think he is trying to put increased pressure on the Chinese to reach a good deal. As we know, tariffs are his main tool. He is also trying to show how tough he is, which is very popular with his base," said Orit Frenkel, executive director of the American Leadership Initiative, a Washington-based think tank, and a former director in the Office of the United States Trade Representative (USTR).
"First of all, it is not a guarantee that he will implement the tariffs – he has a history of threatening and then postponing or backing off. Secondly, one of his basic challenges is that he has asked China to make some concessions that it simply cannot make – like eliminating subsidies to its state-owned enterprises."
The latest available data from the US Department of Agriculture showed that at least as of July 25, Trump was partly right that China had not begun making large-scale purchases of
US farm products.
The numbers showed that while China did take shipment of previously bought soybeans, new sales were minimal. Indeed, June was the worst month for US soybean exports to China since 2004.
"There have been no sizeable purchases as alluded to by trade talks," said Rob Hatchett, senior economist at Doane Advisory Services, an agricultural consultancy. "China has not lived up to its promises."
China actually cancelled "considerable" volumes of pork purchases, Hatchett said – a surprising move at a time when forecasts project that more than half of China's pig population could be lost to disease or cull due to the outbreak of African swine fever.
Ministry of Commerce spokesman Gao Feng said on Thursday that both private and state-owned Chinese companies have started to buy
soybeans, pork and sorghum
from the US, although these purchases have yet to show up in official data.
Expectations for a lasting trade pact between the world's two biggest economies were low, and now they have hit rock bottom, with the US demanding material progress before a mooted follow-up round of negotiations in Washington in September. This will force China to choose between making concessions or retaliating – or possibly walking away from the talks altogether.
"The tariff escalation is the latest evidence that the negotiations are not going to come to the quick conclusion that looked possible in
May.
After China refused to provide the concessions that the US negotiators demanded in terms of industrial policy, agricultural purchases, and intellectual property policy, it is of little surprise the Trump administration ratcheted up the tariffs to put further pressure on China," said Benjamin Kostrzewa, a Hong Kong-based trade lawyer with Hogan Lovells, and former assistant general counsel at the USTR in Beijing during the Obama administration.
It has been reported that there were some division in Trump's inner circle, with US Treasury Secretary Steven Mnuchin recommending that the White House notify China before announcing the new tariffs. According to Bloomberg, Trump refused and tweeted out his plan in the Oval Office, in front of Mnuchin, US trade representative Robert Lighthizer and acting chief of staff Mick Mulvaney.
"There is likely support from others in the administration for the new tariffs," Kostrzewa added. "There has been an ongoing debate within the administration on how to approach the negotiations – strike a deal early to lock in gains and avoid further economic harm versus going for more expansive trade – but there is likely support [for the new tariffs] from people like Lighthizer, who have consistently supported a stronger position against China."
Meanwhile, the announcement of the new tariffs divided trade watchers along ideological lines, with Trump backers hailing them and detractors criticising them.
Dan DiMicco, former chairman of US steel giant Nucor and a long-time China critic, who served as a trade adviser to Trump during the 2016 election, claimed that contrary to most economists' views "there will be little or no impact on consumers, just as prior tariffs did not increase inflation".
"The president should go further and increase these additional tariffs from 10 per cent to 25 per cent on these remaining Chinese imports," said DiMicco.
"China has not agreed to stop stealing intellectual property. Instead it is getting more aggressive, likely encouraging North Korea's missile test, failing to follow through on agricultural purchases, and not making clear commitments to return to where negotiations were in May. Enough is enough! Markets will be fine."
By contrast, Susan Aaronson, senior fellow at the Centre for International Governance Innovation, a Canadian think tank, said "the tariffs have led to further disruption in rural areas, higher costs, fewer jobs, more addiction, more hopelessness, and fuelling of lies, that the other guy or woman is taking your job".
"But Trump has not delivered and does not know how to deliver – no strategy, a real enforceable outcome with China. Tariffs are his magic Swiss army knife that he can use against nations without asking for congressional assent."
This article appeared in the South China Morning Post print edition as: New Trump tariffs are another art of deal