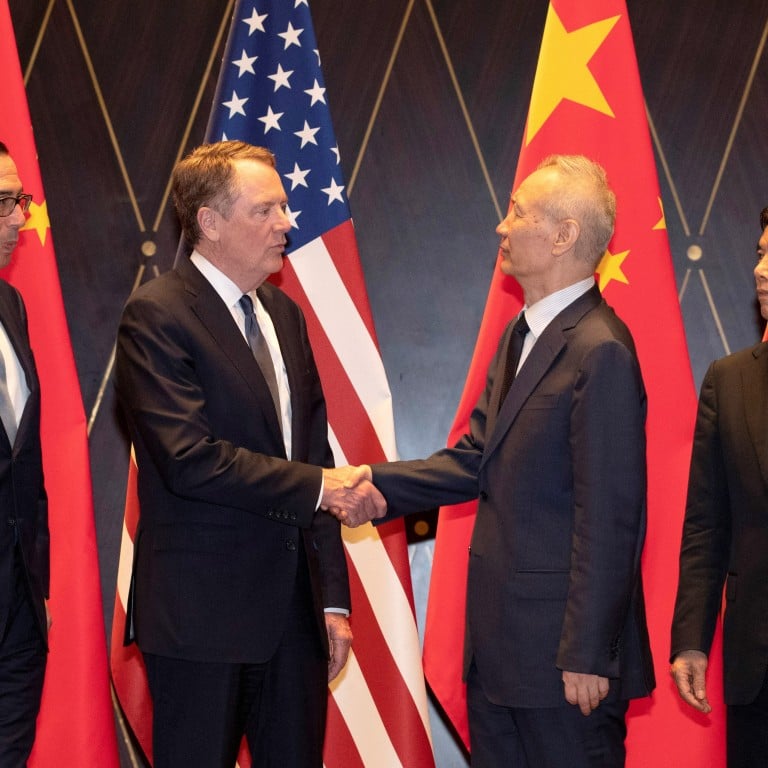 China's 'weaponised' yuan, report of suspended US farm purchases create grim outlook for trade talks
Beijing allowed the yuan to weaken beyond the political significant exchange rate of 7 to the US dollar on Monday morning
China has also reportedly cancelled orders for US farm products in response to Donald Trump's threat of increased tariffs on Chinese goods
China's move to allow the yuan to drop below the level of 7 to the US dollar to "effectively weaponise the exchange rate", coupled with a report of cancelled purchases of American farm products in response to the threat of increased tariffs from US President Donald Trump, create further uncertainty for future trade talks, analysts said.
On
Monday morning,
the yuan offshore rate dropped below the level for the first time since trading started in Hong Kong in 2010, while the onshore rate reached the lowest since April 2008, with the People's Bank of China (PBOC) blaming the "expectations of more tariffs".
The abrupt weakness of the yuan underlined China's ability to allow the yuan to depreciate to offset the effect of higher US tariffs after
Trump threatened on Friday
to impose a 10 per cent levy on US$300 billion of Chinese imports from the start of September.
The move raises the prospect of a currency war, dimming hopes for the world's two largest economies to continue talks which resumed in Shanghai last week. Earlier, it was reported that China had cancelled orders for farm products from the United States having vowed on Friday to make necessary countermeasures against the threat of tariffs.
"Beijing won't give in to Trump's maximum pressure," said Jian Chang, the chief China economist at Barclays. "Trump's threats will only make the talks more difficult."
Bloomberg News report on Monday morning that Beijing had asked its state-owned companies to suspend purchases of US farm products. If confirmed, this would anger further Trump, who has made the China's purchases of US agricultural products a clear gauge of progress in trade talks.
But Cong Liang, an official at China's National Development and Reform Commission, was quoted by China's state television on Monday as saying that China had placed orders for 14 million tonnes of US soybeans and that most of orders had been shipped or were scheduled for shipment. Only 300,000 tonnes remained to be arranged for shipment in September.
"In a statement likely to anger Trump, the PBOC has explicitly linked today's devaluation with the renewed tariff threat made by the US last week. In doing so, the PBOC has effectively weaponised the exchange rate, even if it is not proactively weakening the currency with direct [foreign exchange] intervention," said Julian Evans-Pritchard, senior China economist for Capital Economics.
True to form, Trump again accusing China of manipulating its currency to gain a competitive advantage for its exporters over America.
"China dropped the price of their currency to an almost a historic low. It's called "currency manipulation". Are you listening Federal Reserve? This is a major violation which will greatly weaken China over time!", Trump tweeted.
But Yi Gang, the People's Bank of China governor, denied in a statement on Monday evening that the central bank would use the yuan exchange rate as a trade war weapon, saying the yuan exchange rate's movement was "driven and determined by the market.
"As a responsible big country, China will … not engage in competitive devaluation or use the exchange rate for competitive purposes, and will not use the exchange rate as a tool to deal with external disturbances such as trade disputes," Yi said.
Yi's statement was published about half an hour before Trump's tweet alleging currency manipulation by China.
The level of
7 to the US dollar
has significant political meaning as it has long been regarded as a yardstick for gauging Beijing's determination to hold the yuan exchange rate steady as it has repeatedly defended that level in recent years.
At the end of 2016, amid strong capital outflows following the stock market meltdown in 2015, there were reports that the yuan had broken the barrier. This led to a statement from China's central bank condemning "irresponsible" media, while also threatening to hold relevant outlets accountable.
On this occasion, the PBOC said in its statement Monday morning that it had the ability to maintain a stable exchange rate at a "reasonable equilibrium" without specifying the level.
The drop on Monday morning "shows that China doesn't care about [US accusations of currency manipulation] any longer" and that Beijing now believes "the US will impose additional tariffs no matter what China does," said Ding Shuang, chief Greater China economist at Standard Chartered Bank.
Ding added that China's decision to attempt to offset the effect of US tariffs showed that Beijing has "no intention to pay the bill for the US actions with its own [foreign exchange] reserves [to defend a stronger exchange rate]".
China's Ministry of Commerce made no comment on the report that China had suspended purchases of US farm products.
"This can be interpreted as a strong signal from Beijing to pressure Washington on trade negotiation," said Tai Hui, a strategist at JP Morgan Asset Management for Asia-Pacific.
Taoran Notes, a social media account associated with the official
Economic Daily
newspaper that has been used by Beijing to manage expectations during the trade talks, said over the weekend that China should reconsider its purchase of
US farm products.
"China has been purchasing US agricultural products, but this goodwill and sincerity has been always neglected. In this situation, is it still necessary to continue the purchases?", it asked.
Beijing is unable to match Washington in a tit-for-tat tariff war because China buys far less from the US than the US buys from China. However, if Trump's plan goes ahead and virtually all Chinese products become subject to punitive tariffs, it would encourage Beijing to inflict pain on US companies and products using non-tariff methods. China, for example, is drafting an "unreliable entity list" to sanction foreign firms it deems hostile.
"There are still chances to turn things around before September 1," added Barclays chief China economist Chang. "But China has to make its own stance clear in the face of Trump's threats."
This article appeared in the South China Morning Post print edition as: Beijing playing hardball with US in latest moves