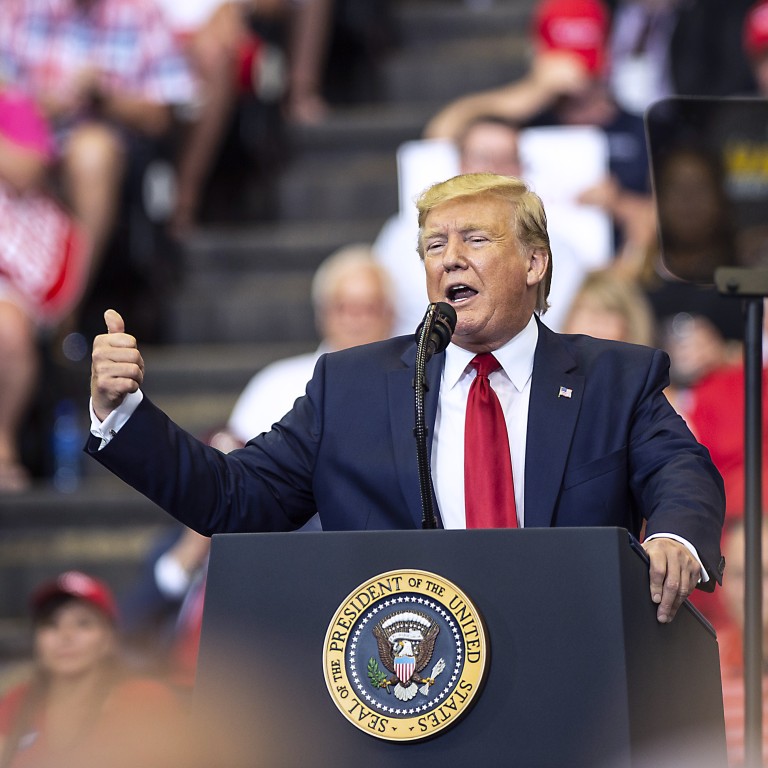 China disputes Donald Trump's claim over US farm product purchases
Senior economic planner says agricultural orders have been placed, but if they are down it is due to market conditions, not politics
US President Donald Trump threatened extra tariffs from September 1, partly because China is not buying enough US produce
Beijing has attempted to explain to the United States that China has been purchasing American farm products in recent past weeks, in an effort to undermine one of US President Donald Trump's reasons for threatening additional tariffs on Chinese products.
Trump tweeted last week that China had agreed to buy agricultural products from the US in "large quantities" but China "did not do so", as one of the factors underlying his decision to levy a 10 per cent levy on US$300 billion in Chinese imports not already subject to tariffs, from September 1.
Trump's threat, which caught Beijing off guard, was also based on China's failure, according to the president, to stop sales of fentanyl to the US. A commentary run by Xinhua News Agency on Sunday said Beijing had already done its part in controlling fentanyl and the US "only has itself to blame" for the opioid crisis.
Cong Liang, secretary general of China's powerful economic planning agency, the National Development and Reform Commission, was quoted by the official Xinhua News Agency on Monday as saying that the accusation China was not buying enough US farm products "lacked factual basis", although Cong did not name the US president.
Cong said China had been sincere in purchasing US farm products, especially since the summit between Trump and Chinese President Xi Jinping in Osaka at the end of June, and that any shortfall in Washington's expectations was for market reasons, not political considerations.
Cong told Xinhua that, in the month from the Osaka summit to July 27, a total of 2.27 million tonnes of US soybeans were shipped to China, with another 2 million tonnes scheduled to be shipped in August.
After the August shipment, Cong said, only 300,000 tonnes of US soybeans had been ordered by China – out of a total purchase of 14 million tonnes – for shipment in September.
Cong said Chinese enterprises had also stepped up orders for US products after July 19, following a phone conversation between the two sides' top negotiators.
As of last Friday, China had placed orders for 130,000 tonnes of soybeans, 120,000 tonnes of sorghum, 75,000 tonnes of hay, 60,000 tonnes of wheat, 40,000 tonnes of pork, 25,000 tonnes of cotton, 5,700 tonnes of dairy products, and 400 tonnes of fresh fruits and 4,500 tonnes of processed fruits, he said.
Cong noted that China's new soybean orders – at 130,000 tonnes – were much smaller than previous purchases that were usually in "millions of tonnes". However, demand for soybean was weak in China these days, Cong said, and Chinese enterprises were reluctant to import a lot of soybeans.
At the same time, Cong added, the quality of US soybeans was lower than imported Brazilian soybeans, in terms of protein and oil, although the prices were very close.
"In the Chinese market, US soybean lacks price competitiveness and that's why the transaction volume is small," Cong was quoted as saying.
The Chinese official did not mention whether the Chinese government had told its state-owned enterprises to suspend imports of US farm products. Bloomberg News reported on Monday that Beijing had instructed its state firms to suspend purchases of agricultural products, citing unidentified sources, but this has not been confirmed by the Chinese government.
China has also allowed the
yuan to weaken
beyond the sensitive level of 7 against the US dollar, in a sign that Beijing is taking a tough stance against Washington and trying to use the currency rate as a weapon to offset Trump's tariffs.
Trump responded in a tweet on Monday that "China dropped the price of their currency to an almost a historic low. It's called 'currency manipulation.' Are you listening Federal Reserve? This is a major violation which will greatly weaken China over time!"