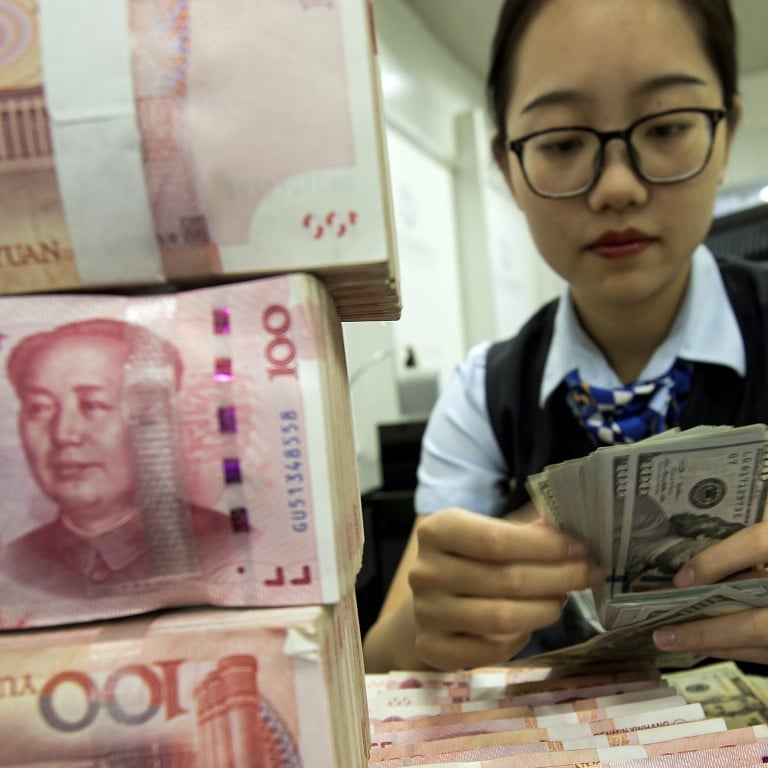 Donald Trump could be 'laying groundwork for more tariffs' by labelling China a currency manipulator
There is no direct US legal provision linking currency manipulation with tariff imposition, but it does free the US president up to take more unilateral action
Other courses of action include a ban on US government procurement from China, an end to trade talks and an investigation by the International Monetary Fund
The decision by the United States government to label China as a "currency manipulator" offers the White House greater scope to act unilaterally against Beijing, which could lead to a further escalation of trade war tariffs, analysts said.
The US Treasury made the announcement – which sent global markets into a tailspin – after the Chinese yuan depreciated below
7 to the US dollar on Monday
for the first time since 2008, saying that the devaluation gave China an "unfair competitive advantage in international trade".
Within US law, there is no direct provision linking
currency manipulation
with the imposition of tariffs. However, under Section 701 (c) of the Trade and Facilitation Enforcement Act of 2015,
US President Donald Trump may bypass traditional courses of action, where it is judged that currency manipulation has "an adverse impact on the United States economy greater than the benefits of taking remedial action", or where it "would cause serious harm to the national security of the United States".
More conventional courses of action, according to the law, include a ban on US government purchases from China, a request for "rigorous surveillance" of China's exchange rate and macroeconomic policies by the International Monetary Fund, as well as a reassessment of whether the US should even be involved in trade negotiations with Beijing.
"The currency manipulator designation does not specifically provide for the application of punitive tariffs, but it does not preclude them, either," said Stephen Olson, a former trade negotiator with the Office of the United States Trade Representative and a research fellow at the Hinrich Foundation.
"And this is an administration that has taken a very broad view on executive authority to apply tariffs. So it's entirely possible that the currency manipulator designation could be laying the groundwork for additional tariffs."
China's decision
to allow the yuan to drift below the psychologically important value of 7 to the US dollar for the first time in more than a decade came after the US announced plans to impose a new 10 per cent tariff on almost all remaining Chinese imports, valued at US$300 billion, from September 1.
"The United States calls China a manipulator, so according to its rules, the next step is to punish it. That means it will add tariffs," predicted Yu Yongding, a senior Chinese government adviser and a fellow at the Chinese Academy of Social Sciences.
The tariff was announced by
Trump on his Twitter account
after trade negotiations last week in Shanghai were perceived to have failed to yield sufficient results in his view. The general consensus is that this was typical of the executive authority used by Trump during his time in office with regard to trade policy. He has acted relatively unilaterally on the imposition of tariffs on China, as well as duties on the global steel and aluminium industries.
"It is the end of the World Trade Organisation-led trading era," said William Marshall, a Hong Kong-based trade lawyer at Tiang & Partners. "The Japan-Korea [trade] dispute really confirms it. Japan no doubt felt empowered by Trump's unilateral action. There will be more of this kind of thing to follow."
Marshall added that of all the punitive measures available to the US government under the 2015 act, the sections on government purchases are most significant, since it may allow the US to enact an outright ban on Chinese companies bidding for US contracts, a move which was previously restricted by the World Trade Organisation. "It is a big win for China hawks," he said.
Arthur Kroeber, founder and head of research at Gavekal Dragonomics, suggested that the US Treasury's move shows that Trump is "no longer very interested in seeking a deal" to end the trade war.
"In practical terms the label does not mean much – the relevant law requires a year of consultations followed by rather minor sanctions. But the manipulation label provides political cover for the imposition of more tariffs, whether or not the administration creates the legal fig leaf of a rule making currency manipulation grounds for anti-dumping duties," he said.
While this is the first time the US has designated another nation as a currency manipulator since 1994, when China again fell foul of the US Treasury, Trump has been threatening to do so since before the 2016 election. On the campaign trail, Trump pledged to brand China a currency manipulator "on day one" in office and to counter that with a 45 per cent tariff, a figure which analysts do not recognise from any US legal precedent. However, most expect that more tariffs will now follow.
"Every hour that goes by is one more acceleration or one more escalation. I do not know exactly what they are going to do, but presumably this has always been touted as the basis for further tariffs," said Patrick Chovanec, chief strategist at Silvercrest Asset Management. "I think for a lot of investors, it is very disconcerting because all of a sudden something that they've never really thought of before is suddenly on their radar screen again in a big way."
Tony Nash, the CEO of research firm Complete Intelligence, said that Trump is unlikely to change trajectory at this point and that the issue is "not about Chinese yuan in isolation".
"You are talking about subsidies, non-tariff barriers, currency, everything, and everything [Trump's] talking about is related to the well-being of American workers," Nash said. "Trump has started bundling things that you cannot unbundle."
This article appeared in the South China Morning Post print edition as: Manipulator accusation 'could lead to more US levies'