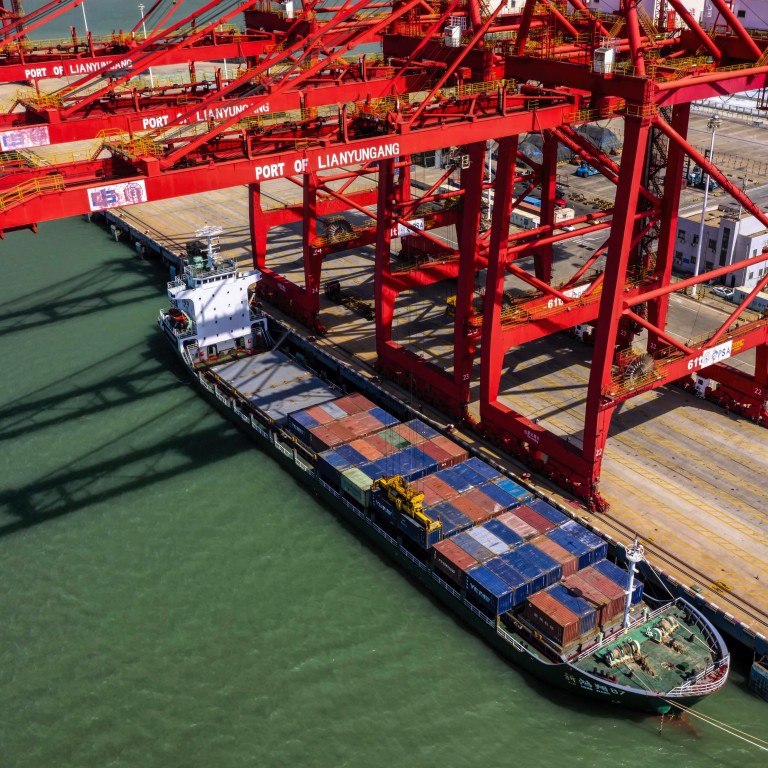 China's exports post surprise growth in July despite dramatic escalation in US trade war
Exports grew by 3.3 per cent year-on-year in July, two full months after US President Donald Trump ratcheted up trade war tariffs on US$200 billion of Chinese goods
The data marks the anniversary of the US-China trade war, but does not factor in the latest threat of a 10 per cent tariff on US$300 billion of Chinese goods
China's external trade reported surprising stability in July, with exports growing 3.3 per cent and imports shrinking at 5.6 per cent, which was slower than analysts expected.
Exports, having dropped by 1.3 per cent in June, beat the median forecast of a Bloomberg poll of analysts who had suggested a 1.0 per cent decline. This is despite July being the second full month under which China's exports to the United States faced a higher tariff of 25 per cent. July's total exports were US$221.53 billion.
July was the only month in which exporters enjoyed a relative truce in trade war escalation, after President Xi Jinping and US counterpart Donald Trump agreed to a pause in new tariffs at the G20 summit in Osaka at the end of June.
Imports, meanwhile, fell by 5.6 per cent in July, according to data published by the General Administration of Customs in China on Thursday. This was above the analysts polled by Bloomberg, who had expected a 9 per cent slump. July's total imports were US$175.47 billion
China's overall trade surplus was US$45.06 billion in July, down from US$50.98 billion in June. This was ahead of the median poll by Bloomberg, which had predicted a balance of US$42.65 billion.
In a week when the trade war escalated and threatened to morph into a fully blown
currency war,
this was some good news for Beijing. It comes at a time when both the US and China seem to be entrenching their positions, gearing up for a bitter and sustained stand-off, indeed, President Xi has warned the Chinese people to expect a period of hardship.
More talks are expected to take place in
Washington in September,
but few harbour substantial hopes that a deal to end the trade war will come any time soon.
Last week, Trump also announced a further 10 per cent tariff on US$300 billion of Chinese goods as of September 1, but this has yet to be confirmed by the Office of the United States Trade Representative, Washington's trade authority. The effects of this tariff, should it be confirmed, could take months to filter into the economic data.
Nonetheless, the trade war - which began in earnest in July 2018 - has gnawed away at trade between the world's two largest economies. Last month, exports from China to the US dipped 6.5 per cent, while imports fell 19.1 per cent.
China's trade surplus with the US was US$29.98 billion last month, which was a 0.4 per cent decrease on a year earlier, and a 6.5 per cent decrease on June. This is a piece of news that will doubtless be well received by the White House. The US' trade deficit with China has long been a major bugbear of Trump, who railed against it on the 2016 election trail.
The overall increase in exports runs counter to a series of data which had suggested that a slump was in store. In the purchasing managers' index for June, in which manufacturers are asked a series of questions about their outlook, producers were negative about new export orders. The gauge was 46.9 in July, slightly up from 46.3 in June, but below the 50.0 mark that signifies positivity.
Furthermore, June's inflation numbers suggested that China's production prices are flatlining. In June, the producer price index, the price charged to buyers from producers at the factory gates, was 0.0 per cent, suggesting that China's manufacturers are unable to receive the prices they want for their goods. July's inflation figures will be available on Friday, and analysts are expecting it to have dipped into deflationary territory.
There is a likelihood that some front-loading occurred, with exporters sending their goods to market ahead of potential new tariffs from the US, however, with warehouses and inventories across
America reaching capacity
due to previous bouts of front-loading, there was minimal room to manoeuvre on this front.
China's import slump is persistent and points to continuing lags in consumption and manufacturing. Retail sales, however, have remained surprisingly robust, growing 9.8 per cent in June, largely due to the Chinese government's efforts to pump stimulus into the economy to boost spending.
Overall, the picture remains bleak.
The Chinese economy
grew by 6.2 per cent in the second quarter of the year, the weakest rate since modern records began in March 1992, with analysts expecting worse ahead for a nation facing severe headwinds on multiple fronts.
Additional reporting by Sidney Leng