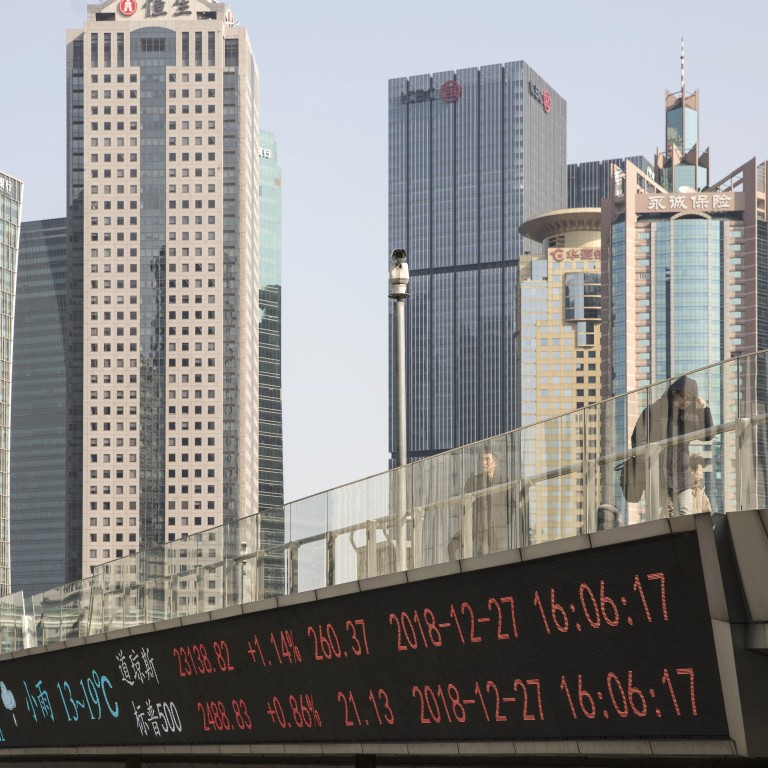 China paints rosy picture of foreign investment despite Donald Trump's claim 'thousands' of firms are leaving
Foreign direct investment (FDI) into China in July rose 4.1 per cent from a year ago to US$8.07 billion, according to China's Ministry of Commerce
US President Donald Trump claims companies are fleeing China because of tariffs imposed by his administration over the last 16 months of the trade war
Foreign investment in China accelerated in July despite trade tensions with the United States, contradicting claims from US President Donald Trump of an exodus of investors.
In July, foreign direct investment (FDI) into China rose 4.1 per cent from a year ago to US$8.07 billion, a higher rate from the 3 per cent rise seen in June, according to data released by China's Ministry of Commerce on Tuesday.
In yuan terms, FDI increased to 54.82 billion yuan (US$7.8 billion) in July, 8.7 per cent higher compared to a year earlier, also picking up slightly from an 8.5 per cent rise in June.
As many as 3,919 new foreign-invested enterprises were incorporated last month, according to the calculations based on figures from the commerce ministry.
On Saturday,
Trump claimed
that "thousands" of companies were fleeing China because of US tariffs imposed by his administration over the last 13 months of the trade war.
"They must stem the flow," the US president tweeted, insisting that Beijing "badly" wanted a trade deal after the latest round of talks in Shanghai in July failed to yield any significant progress and after Trump's threat to impose 10 per cent levies on US$300 billion of Chinese goods from September.
Indeed, this is a notable trend among international companies, with many moving part of their production lines to other countries such as Mexico or Vietnam to avoid tariffs, but also rising costs in China.
However, in the first seven months of the year, the aggregated FDI into China rose 7.3 per cent to 533.14 billion yuan (US$75.4 billion), or 3.6 per cent to US$78.8 billion, accelerating from 7.2 per cent and 3.5 per cent in the first six months of the year, the commerce ministry's data showed.
The ministry did not disclose the growth rate of direct investment from the US, a figure that has been missing from the data for the last two months. The growth rate of investment from Hong Kong, which has been China's largest source of foreign investment, was also not disclosed.
Investment from Germany and South Korea increased by 72.4 per cent and 69.7 per cent respectively between January and July.
Pan Gongsheng, a deputy governor of the People's Bank of China who is in charge of financial markets, wrote in a commentary piece published on Monday that FDI into China still had great potential for development, as the business environment in the country had further improved.
"The liberalisation and facilitation of cross-border trade and investment will have a greater improvement," he said.
Xin Guobin, vice-minister of Industry and Information Technology, said in July that Beijing was not surprised some foreign manufacturing companies had opted to relocate from China, but that there was only a limited number of firms who had left.
"The impacts on China's economic growth, industrial upgrading, and employment are overall under control," he said. "It is just normal operations of enterprises [to pursue regions with lower cost], and [that is] in line with the objective laws of industrial development."
South Korea's Samsung and Japan's Olympus and Epson have already closed factories in China, and are believed to be considering withdrawing completely from the Chinese market.
Retailer Carrefour, along with Tesco and Wal-Mart, are also in the process of selling significant stakes in their Chinese operations.
This article appeared in the South China Morning Post print edition as: investment rises despite trade warincoming investment rises 4.1pc