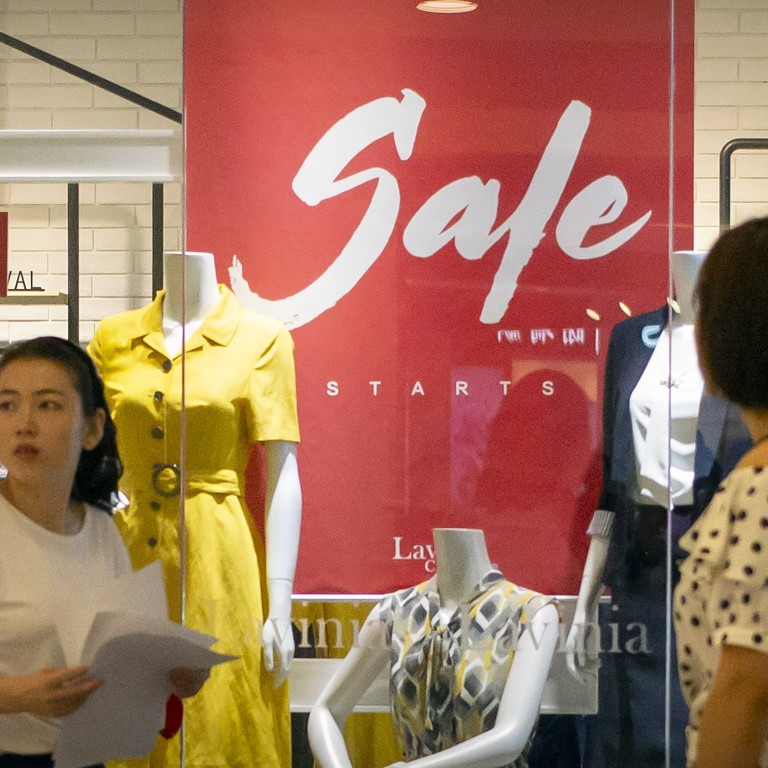 China slowdown persists as industrial economy posts worst growth since February 2002
Industrial production – a measure of China's industrial sectors including manufacturing and mining – grew by just 4.8 per cent in July
Retail sales, a key metric of consumption in the world's most populous nation, grew 7.6 per cent in July, down from 9.8 per cent growth in June
China's industrial production in July grew at its lowest rate since February 2002, with the retail sector also taking a further hit amid a sharpening slowdown sparked by the US-China trade war.
Industrial production – a measure of the output of the industrial sectors in China's economy, including manufacturing, mining and utilities – grew by 4.8 per cent in July from a year earlier. This was down from 6.3 per cent in June, which had improved from May's 5.0 per cent growth rate.
The July reading was well below a poll of economists conducted by Bloomberg, which had forecast 6.0 per cent growth.
A general malaise has persisted over the last 13 months, during which the Chinese economy has been beset by US tariffs. Over the same period, the trajectory of most of China's important economic indicators has been of declining growth.
In addition, retail sales, a key metric of consumption in the world's most populous nation, grew by 7.6 per cent in July, down from 9.8 per cent growth in June, and well short of economists' prediction of 8.6 per cent growth.
Consumption has been a big concern for policymakers in Beijing. In all but one month in 2019,
China's imports
have declined in an unprecedented trend for a country used to enjoying huge trade growth. This indicates that demand is weak in China, among both individual consumers as well as producers importing parts and components.
While the government has taken a
number of steps
to encourage consumer spending – such as discounts and subsidies for purchases of household goods and loosening of monetary policy to encourage bank lending – they have not had the intended effect so far.
Analysts expect
consumer spending to slow further for the rest of the year due to the trade war tensions.
The National Bureau of Statistics (NBS) also released data for fixed asset investment – spending on physical assets like real estate, infrastructure or machinery – which grew by 5.7 per cent in the first seven months of the year. This was down from 5.8 per cent in the January-June period. The Bloomberg poll had forecast no change.
Liu Aihua, a spokeswoman for the NBS, blamed the poor data on "inter-month volatility" for the poor data. "The economy in July continued to perform within the reasonable range, sustaining the momentum of progress in overall stability," she said.
However, the broader picture is one of an economy struggling on multiple fronts. Despite 12 rounds of face-to-face negotiations, the trade war with the United States appears to be no closer to a conclusion. Prospects of a deal remain gloomy, with both parties reported to be entrenched in their positions. Further talks are planned for September, but expectations for the outcome remain low.
US President Donald Trump on Tuesday moved forward with plans to place a new 10 per cent tariff on Chinese goods. While initially mooted as a blanket tariff on US$300 billion of goods starting September 1, its implementation will now be staggered, with US$130 billion of the tariffs coming in September.
The remaining US$155 billion, which includes consumer items such as laptops, smartphones, video game consoles, and toys, will now have a tariff reprieve until December 15.
"We're doing this for the
Christmas season
, just in case some of the tariffs would have an impact on US customers," said Trump.
This message – contradicting Trump's previous claims that tariffs do not negatively affect American consumers – is likely to lead to another bout of
front-loading
, with US buyers rushing to order more goods made in China in time to beat the levy. However, with already high inventories and capacity issues in American warehouses, companies may be restricted in just how much advance buying they can do.
Furthermore, the new tariff comes on top of 25 per cent levies on another US$250 billion of Chinese goods, which has placed huge pressure on the world's second largest economy's manufacturing base.
Within the industrial production figures, manufacturing grew by 4.5 per cent in July, down from 6.2 per cent in June, and mining by 6.6 per cent, down from 7.3 per cent in June.
This article appeared in the South China Morning Post print edition as: slowdown deepens as trade war takes toll