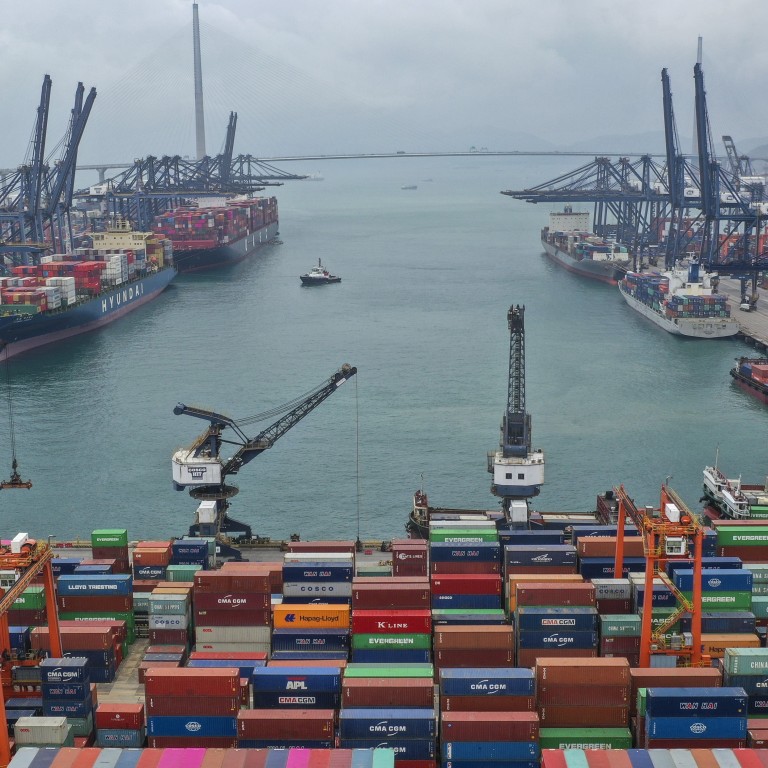 Hong Kong protests could threaten city's status as an international shipping hub, analysts say
China could move to grant further autonomy to mainland ports managing in and outbound shipments, in order to accelerate economic integration with Hong Kong
Shanghai has already upgraded and expanded free-trade zone with focus on shipping, with analysts expecting further relaxation of rules throughout China
Hong Kong's status as an international shipping hub could be under threat, should China fast-track plans for economic integration due to the ongoing anti-government protests, analysts said.
While Beijing has never spoken publicly about the
economic consequences
of the escalating protests over the past two months, a widely shared view within China is that the central government should reduce its reliance on Hong Kong as its key financial and logistics gateway to the rest of the world.
This could result in mainland ports having greater autonomy in managing the shipment of goods into and out of China, analysts said.
China this month
upgraded and expanded
a free-trade zone in Shanghai, which covers an area about the Hong Kong Island and Kowloon combined, with the ambitious goal of becoming "China's bridgehead integrating into a globalised economy by 2035".
According to the plan, Shanghai free-trade zone will conduct trials on international ship registration and opening up new international maritime routes. In addition, it will allow foreign ships to use Yangshan port as a transit hub for containers shipping.
The new relaxations build on a move in 2016, when China eased cabotage rules – that is, the right to operate transport services – in Shanghai to allow foreign-flagged vessels to engage in domestic shipping, and pave the way for Shanghai to become China's free port.
Dr Collin Wong Wai-hung, associate dean of the School of Decision Sciences at the Hang Seng University of Hong Kong, estimated Hong Kong could lose all transshipment rights in the non-Pearl River Delta region, which could translate into a loss of 2.4 million container twenty food-equivalent units (TEU) – a measurement of standard container sizes. Should China fully relax cabotage rules in other parts, this could dent Hong Kong's annual container throughput (the cargo passing through the port) by 14 per cent.
"If you look at this instance, Beijing saw the benefits of such relaxation to the Shanghai free-trade zone, but it would also have a negative impact on other ports. We looked at other countries which have implemented similar changes, there were cases in which some shipping operators had to shut down their business, the same also happened to port operators. I believe after consideration [the central government] thought Hong Kong port should retain its transshipment business," Wong said.
The Chinese central government had been conservative in changing cabotage rules across the country so that the chosen few ports, including Hong Kong and Shanghai, could boom. In 2017, after consulting academics, the shipping industry and port operators including those from Hong Kong, Beijing decided not to roll out free ports across the country, despite appeals from many local ports.
The logistics industry contributed 3.2 per cent of Hong Kong's gross domestic product and 180,600 jobs in 2017, while transport services made up 29.2 per cent of Hong Kong's service exports in 2017, according to Hong Kong government statistics.
The ongoing protests in Hong Kong could
trigger Beijing
to fast-track economic integration with Hong Kong to tighten control and reduce economic impact, said Adam Ni, a China researcher at Macquarie University in Sydney.
Hong Kong's importance as a bridge between China and the outside world has waned. Prominent cities such as Shanghai and Shenzhen have taken some market from the former British colony, which has positioned itself as a business-friendly hub for international finance and trade, with its own legal system.
"More dependency would make the Hong Kong population less inclined to resist Beijing's rule, but also hollows out support among business for upsetting their growing business interests with mainland China. I believe economic integration will be fast tracked because it helps with enhancing control and reducing economic grievances, which is an important factor in the current unrest," Ni said.
Peter Levesque, chief executive of Modern Terminals, a member of the Hong Kong Seaport Alliance, a coalition formed by four container terminal operators in January, said that Hong Kong port needed to complement the Greater Bay Area in taking advantage of the cabotage restrictions in mainland China.
"It means the port cluster would have 65 million containers of throughput. By coming together as Hong Kong Seaport Alliance, we want Hong Kong to complement the Greater Bay Area in that port cluster," said Levesque in June.
This article appeared in the South China Morning Post print edition as: Hong Kong port 'at risk' if Beijing steps up integration