Trade
Get more with myNEWS
A personalised news feed of stories that matter to you
Learn more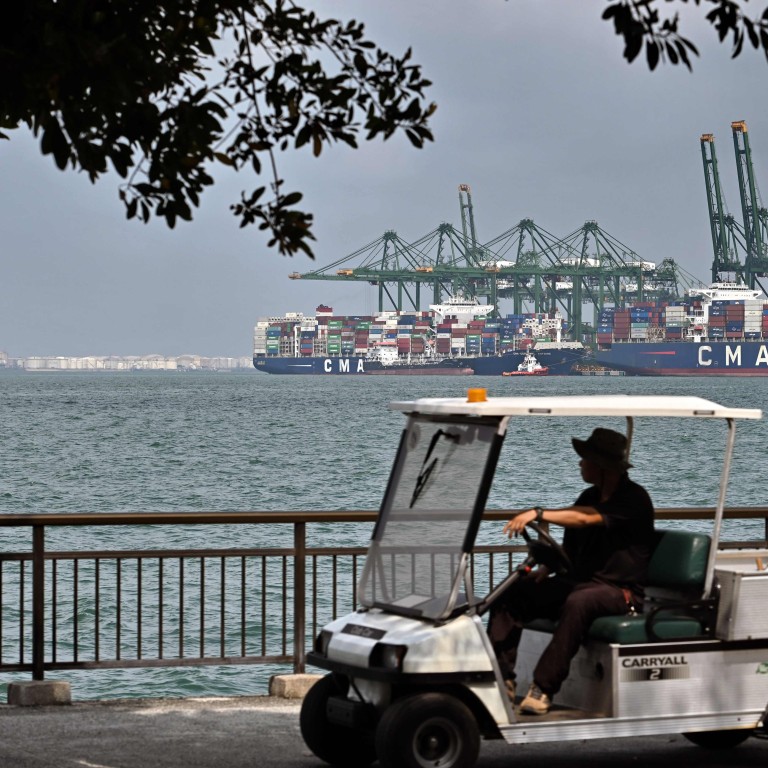 Trade war and globalisation backlash pushing trading nations to the economic brink as recessions loom
Two of the world's most famous trading nations, Germany and Singapore, are facing recessions later this year, largely due to slowdown in global trade
Donald Trump era has helped create increasingly tough time for nations reliant on exports, with further storm clouds on the horizon
Three years of full-blooded backlash against globalisation have pushed both Germany and Singapore to the brink of recession, highlighting the increasingly dire situation facing the world's trading nations.
Singapore, along with Hong Kong, has long been championed as Asia's beacon of free commerce and relaxed business rules. On Friday, however, its non-oil exports for July were reported to have fallen by 11.2 per cent from a year earlier, better than the expected 15.3 per cent drop, but still a fifth successive monthly decline, and a sign of how exposed it is to the troubled trading environment.
Only Luxembourg relies more on trade than Singapore, with the value of goods that were traded through the Port of Singapore last year worth 326 per cent that of the city state's entire economy.
The trade data followed Tuesday's news that second quarter gross domestic product
(GDP) growth in Singapore
was minus 3.3 per cent on a quarterly basis, down from 3.8 per cent growth in the first quarter of 2019. Should it shrink again next quarter, as is expected by many analysts, Singapore will be in a technical recession.
Singapore's pain has been shared by Asia's other export hubs such as Taiwan and South Korea, whose economic woes stem largely from their exposure to China and its slowing growth and intensifying trade war with the United States.
The problems, though, are not just limited to Asia, as on Wednesday, it was announced that Germany's GDP contracted by 0.1 per cent in the second quarter, with analysts expecting Europe's largest economy to also be in technical recession by the end of September.
"GDP growth was weighed down by the industrial sector and the weakness was concentrated in foreign trade," said Aline Schuiling, a senior economist at Dutch bank ABN Amro, on the Germany economy. "Looking forward, we expect the recession in Germany's industrial sector to intensify in quarter three."
Like Singapore, Germany is disproportionately exposed to trade disruption as its exports as a portion of GDP ratio is roughly twice as high as the Eurozone's average.
With 7.1 per cent of its exports going to China, it is heavily vulnerable to the slowdown in the mainland economy. The biggest buyer of German goods is also the US, meaning that if the trade war continues between Beijing and Washington to dampen global demand, Germany will continue to feel the impact.
"As the Chinese economy matures and economic stimulus becomes less effective, growth rates in China will decline. And as a result, data from [South] Korea, Germany and other countries will show more negative developments," said Stefan Legge, economics lecturer at the University of St Gallen in Switzerland.
After the 2008 financial crisis, trading nations were often held up as model economies, while Britain and US were slated for being too dependent on intangible services, particularly finance.
But with the anti-globalisation movement that helped usher in the presidency of Donald Trump, and the wave of protectionist policies that followed, these countries are first in the line of fire.
"Trade has not been a positive story for all of 2019," said Nick Marro, global trade lead at the Economist Intelligence Unit. "You have that political angle, the backlash against globalisation, which really is manifested in US trade policy. This is kind of the consequence of that type of populist response."
For export-oriented economies, further storm clouds are on the horizon. On Thursday, the World Trade Organisation downgraded its Goods Trade Barometer, which flags changes in trade growth two to three months ahead of official data by analysing export orders, raw material and component deliveries, and air and sea freight volumes.
With 100 as a baseline break-even point, the barometer is now at 95.7, suggesting a tough third quarter for world merchandise trade.
Meanwhile, shipping giant Maersk, which operates one-fifth of the world's sea cargo, warned on Thursday that the US' 10 per cent tariff on US$300 billion of Chinese goods could "result in a reduction of up to 1 per cent" of global container demand in 2020", when fully implemented in December.
"The biggest change that we'll start to see from now is that countries and companies can no longer rely on traditional trade growth drivers," added Marro. "What we thought were safe assumptions [about trade] are no longer the case."
This article appeared in the South China Morning Post print edition as: Storm clouds gather for trading nations