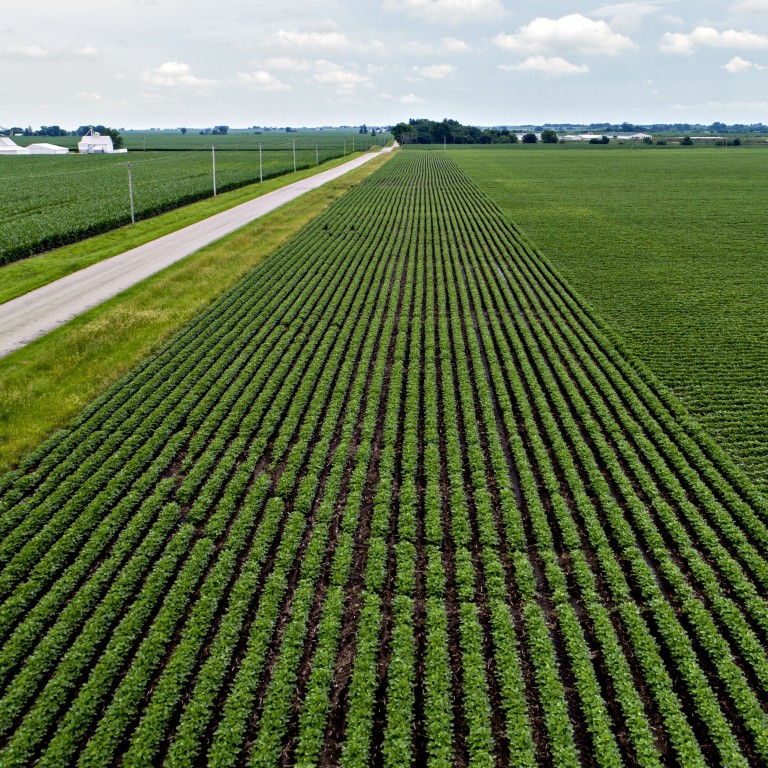 US trade war dominates agenda at China's premier soybean conference as American imports plummet
Industry insiders are eyeing increasing domestic output and imports from Russia to fill gaps left by shrinking imports from the United States
Over 800 delegates attended the fourth edition of the China Soybean Industry International Summit Forum in Harbin, Heilongjiang province
China's trade war with the United States was the biggest theme at a soybean industry gathering attended by over 800 growers, traders and officials in the city of Harbin in Heilongjiang province last week, with tariffs seriously disrupting the flow of agricultural products between the two countries.
With imports from the US having plunged, China's soybean industry insiders debated with an unusual sense of self-importance how to boost domestic output, while also seeking alternative long-term suppliers,
such as Russia,
to fill the gap.
"In the thousands of years of Chinese history, soybeans have never been so closely watched by the whole world and by state leaders in various countries as they have today," China Soybean Association president Yang Baolong, who is also chairman of the state-owned Heilongjiang Agriculture Investment Corporation, told the fourth annual China Soybean Industry International Summit Forum.
"Soybeans are only a symbol, and we have to protect ourselves during the war … the nature of the China-US trade tensions is a contest between big powers."
China this month suspended
purchases of US farm products, including soybeans, after US President Donald Trump threatened to levy additional tariffs on more Chinese products, because in his view, China has not been buying enough US agricultural products.
Shi Yong'ge, the president of the Jiusan Group that produces half of China's soybeans from its base in Heilongjiang, said that China's 25 per cent tariff on US soybeans have made them uncompetitive in the Chinese market, and that his group has turned to Brazil and Argentina for more supplies.
"The China-US trade friction is a long war, and it will continue to weigh on the Chinese soybean industry," he said.
Chinese customs data showed that between October 2018 and March 2019, China bought just 2.7 million metric tonnes of US soybeans, around a tenth of the 24.4 million metric tonnes bought during the same period a year earlier.
Brazil, on the other hand, nearly doubled its soybean exports, from 14.2 million metric tonnes to 25.7 million metric tonnes.
Dmitry Rylko, the director general of the Moscow-based Institute for Agricultural Market Studies, said that Russia's soybean exports available to China would be limited.
Gai Junyi, a leading Chinese scientist on soybean plantation and an academic at the Chinese Academy of Engineering, said that China should consider planting more of the crop to boost domestic output.
China Soybean Association president Yang added that Beijing should view soybeans as importantly as wheat or corn, even suggesting that China should change its rural land system so that big farms can emerge.
But Jiusan Group president Shi countered that China should rely on imports, since limited farmland should be saved for growing grain.
"The primary purpose of food supply security is still about avoiding hunger, but soybeans, as a source of protein, are about better nutrition," Shi added.
Yang Guangjun, the director of soybean sales at the state-owned China Grain Reserves Corporation, said that his company would pay more for soybeans with a higher protein level, suggesting that China seeks to improve the quality of its limited domestic soybean supply.
Zhang Liwei, head of the forecasting division at the National Grain and Oil Information Centre, said that China does not need to worry about its soybean supply for 2019 partly due to reduced demand stemming from the outbreak of African swine fever that has reduced the levels of livestock.
"The epidemic of African swine fever will reduce the demand for soybean and soybean meal … the supply from Argentina is still sufficient," he said.