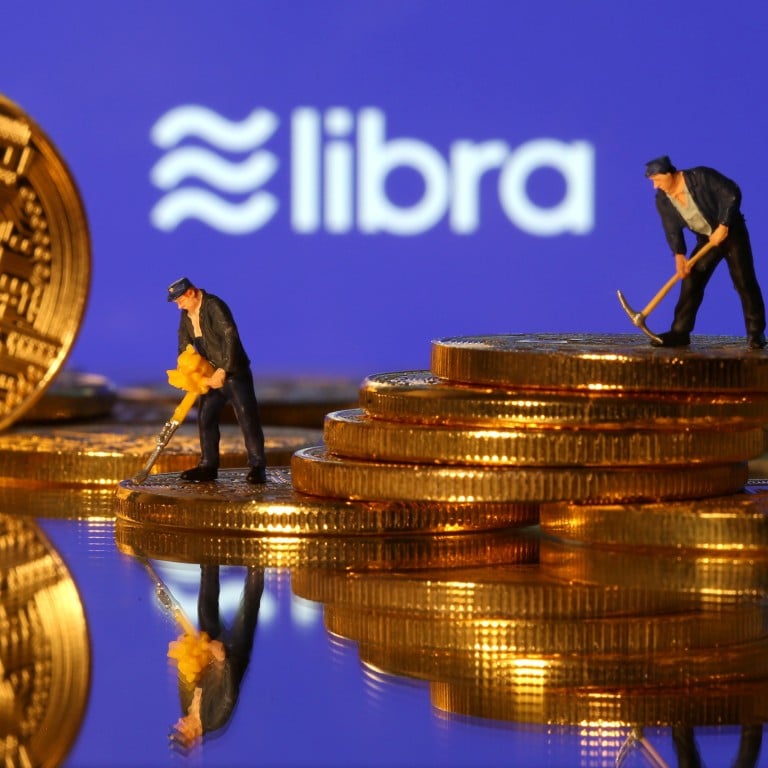 Facebook's Libra set to face competition as China races to launch digital currency, official media says
'China Daily' reported on Tuesday that the time is 'almost ripe' to introduce a government-backed digital currency, citing experts close to the central bank.
The launch of Libra was tentatively scheduled for the spring of 2020
China's central bank is racing to release its own digital currency ahead of Facebook's Libra, according to mainland Chinese media.
China Daily
reported on Tuesday that the time is "almost ripe" to introduce a
government-backed digital currency
, citing experts close to the People's Bank of China (PBOC).
Yang Dong, director of the Research Centre of Finance Technology and Cyber Security at Renmin University of China, told the state-backed newspaper that China's digital currency is inspired by Facebook's Libra.
"Further testing is needed before officially launching the Chinese digital currency, gaining inspiration from Libra," said Yang.
The digital currency will be tested in non-governmental and cross-border scenarios, with multiple parties, including private and state-owned companies, involved, Yang added.
The China Daily also referenced comments made last week by PBOC deputy director of payments Mu Changchun, who said that the digital currency would be controlled by the central bank, and would be able to be used to make payments in "commercial establishments" including retail outlets.
The digital currency will be 100 per cent backed by the reserves that Chinese financial institutions are required to pay to the central bank, according to Mu. He added that, to some extent, Libra's structure is similar to the one designed by the PBOC for its digital currency and electronic payment system.
Shao Fujun, chairman of China's UnionPay and a former PBOC official, told the China Daily that the various ways the government-backed digital currency would be able to be used are still under discussion.
"It will have lots of positive impacts including tracking the money flow in economic activities and supporting the implementation of monetary policy," Shao said.
According to a white paper published by
Facebook, Libra
is designed to be a stable digital currency that will be fully backed by a reserve of real assets. Libra could be used to buy merchandise and transfer money and savings on Facebook, while owners would also be able to convert it into local government-issued currency based on exchange rates.
The launch of Libra was tentatively scheduled for the spring of 2020, but concerns expressed by global central banks and governments have raised doubts about the time frame. Facebook is first likely to have to satisfy regulatory requirements in all the countries in which it plans to launch Libra.
But China, who previously said that Facebook's new currency would be required to comply with all current Chinese laws regarding money laundering and fraud even though Libra would not be available because access to Facebook is blocked, is likely to be the first country to introduce a government-backed digital currency.
Leonhard Weese, president of the Bitcoin Association of Hong Kong, believes the launch of a government-backed digital currency by the PBOC could be part of a plan for China's monetary system to become less dependent on commercial banks while fending off growing competition from mobile payment apps provided by companies such as Tencent and Alibaba. Alibaba is the owner of the South China Morning Post.
"With this currency, they'd have a single ledger for all transactions and balances, essentially everyone who has yuan [would] hold that yuan with the PBOC directly," said Weese.
"You might hold it in your bank or in your WeChat wallet, but every time you transfer it, that it is a database entry with the PBOC. So they can see everything everyone is doing all the time. More importantly, [they can] tightly control how much money is circulating."
Last month, the Group of Seven industrialised nations, known as G7, called for urgent regulatory measures and other types of action to address serious concerns over Facebook's proposal to launch Libra.
The group opposed the idea that companies could have the same means as nations to create payments without the control and obligations that accompany the privilege.