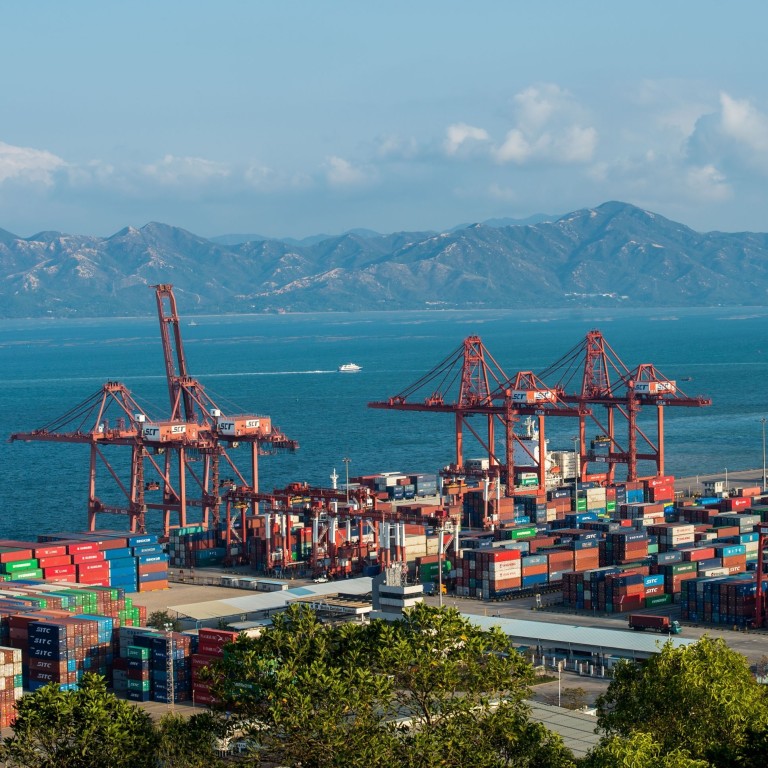 China's free-trade zones fail to shine despite Beijing's desire to lure global investors
The new free trade pilot zones have been unable to match the success of Shenzhen in the 1980s and the Pudong area of Shanghai in the 1990s
Government eyes improved policies in Shanghai and Shenzhen as China seeks to integrate further into the global economy
Dalian's determination to woo foreign investors to the port city in northern China is spelt out clearly by a sign saying "you can only say yes and you are not allowed to say no" that hangs in a local governments business service centre.
Staff are encouraged to process business registration applications to help the local government's efforts to translate its status as a free trade pilot zone, which was granted by Beijing in March 2017, into a pro-business and investor-friendly international port that can play a central role in the regional economy.
"Whatever the other [free trade] zones are offering, we can do it better here for sure," said Zhang Hongguang, a deputy with the Dalian free-trade zone management committee.
But the results have not been encouraging as foreign direct investment in Dalian plunged 17.6 per cent in 2018, according to official data.
Zhang, though, insists the free trade pilot zone is not only about granting market access for foreign investors, but also testing the limits of what China can do to help businesses.
"Our goal is to be the leader in the Northeastern region in reforms," she added.
The Dalian free trade area is one of three areas designated in Liaoning to test free trade practices, with the province one of the 12 regions containing such zones after the programme started in Shanghai in 2013.
But as Dalian's experience shows, the success of China's free-trade zone in attracting foreign business has been less than hoped.
Most of the zones have an area of about 120 sq km, or the combined size of Hong Kong Island and Kowloon, and are intended to make life easier for foreign investors compared to the rest of mainland China. For instance, the negative list of sectors in which foreign investment is restricted or prohibited is shorter, while making cross-border payments is easier.
The province of Hainan is an exception in terms of size as the entire island of nearly 34,000 sq km has been designated as a free-trade zone.
The idea behind the zones came from China's own success having designated four special economic zones, including Shenzhen, in early 1980. Some of the trials first implemented within the zones, including accommodating foreign investors and selling land use rights, later became nationwide policies. China's development of the Pudong area of Shanghai into a financial hub is seen as another success.
However, most of the free trade zones have achieved only mixed results, partly because the autonomy of local authorities to run the zones has been greatly reduced under Beijing's centralised control. China's draconian controls over the capital flows, for instance, has thwarted the dream of the Shanghai free-trade zone to become "an international financial centre by 2020".
The United States government, in particular, has complained about China's restrictions on foreign firms and state dominance in some industries. The European Chamber of Commerce in China, a business lobby group representing companies in the European Union, also said that a survey of member companies published in May showed the relevance of free trade zones remained "limited" because of the extensive list of off-limit sectors on China's negative list.
"[Businesses] prefer their operations to be determined by market factors, such as pricing, costs and proximity to suppliers and customers, rather than gaining access to preferential policies restricted to a certain zone," the report said.
In the Shanghai free-trade zone, the country's first, foreign investment growth has declined in each of the last three years. According to Shanghai government data, foreign investment growth in its free-trade zone fell 3.5 per cent to US$6.77 billion in 2018, compared with a 13.5 per cent rise to US$7.02 billion in 2017. In 2016, foreign investment amounted to US$6.18 billion, a rise of 28.2 per cent from 2015.
Overall in Liaoning, foreign direct investment plunged more than 80 per cent from US$27.42 billion in 2014 to US$4.9 billion in 2018, due in large part to cuts from Japanese and South Korean firms.
The mediocre performance of the free trade zones, though, has prompted Beijing into action, with new policy guidelines for Shenzhen issued by the central Chinese government last week addressing areas such as immigration of talent, health care and greater autonomy in making local laws. The
Shanghai free trade pilot zone
also doubled in size this month and received an upgrade, including better tax incentives and import duty exemptions.
China's State Council also decided on Wednesday that all designated free trade zones would start to roll out a campaign to cut business red tape from December 1.
In Dalian, the local government last week promised generous rewards for those who provided ideas and proposals on how the free-trade zone could "innovate". If the proposal is endorsed by the Liaoning government, the reward would be 100,000 yuan (US$14,200), while a proposal endorsed by the central government that becomes a nationwide policy would be worth 200,000 yuan, according to an announcement published on the Dalian free-trade zone website.
But China has yet to fully relax capital control within the free trade zones, and many foreign businesses believe such restriction will continue to hamper appetite for expansion.
In a response to the Greater Bay Area development plan, the Chinese government's scheme to link the cities of Hong Kong, Macau, Guangzhou, Shenzhen, Zhuhai, Foshan, Zhongshan, Dongguan, Huizhou, Jiangmen and Zhaoqing into an integrated economic and business hub, the American Chamber of Commerce in Hong Kong said authorities should ease capital controls to allow more cross-border investment.
The US business lobby group based in Hong Kong also pressed the Chinese government to "clearly define the meaning of opening and related policy measures to achieve breakthroughs".
This article appeared in the South China Morning Post print edition as: Dalian says 'yes' as it talks up trade zone