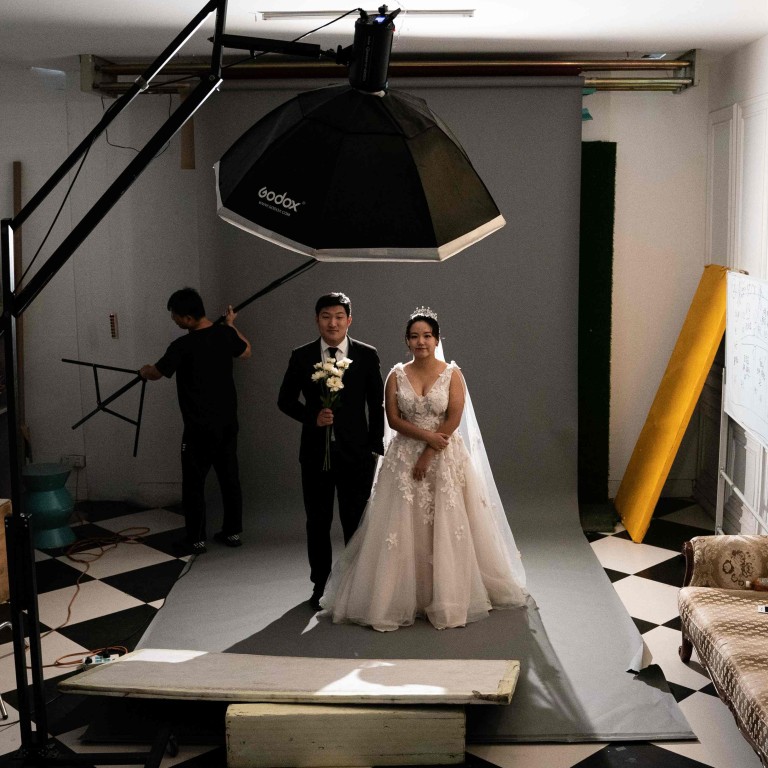 China's lowest marriage rate in 11 years in 2018 adds further obstacle to bid to boost consumer spending
The number of marriages fell 4.6 per cent in 2018, with the trend continuing at the start of 2019, with a 7.7 per cent drop in the first six months of the year
China is seeking to boost spending to aid its ailing economy, but lower birth and marriages rates, coupled with an ageing population, are thwarting efforts
Marriages in China hit an 11-year low last year, posing an additional challenge to efforts to boost consumption, stabilise the economy and tackle the nation's looming demographic problems.
A total of 10.14 million couples were married in 2018, down 4.6 per cent from the previous year, while the marriage rate dropped to 7.3 per 1,000 from 7.7 per 1,000 last year, according to the Ministry of Civil Affairs.
The trend continued in the first half of 2019, with the number of marriages dropping 7.7 per cent from a year earlier to 4.98 million.
The declining marriage rate, which has fallen steadily from the recent high of 9.9 per cent in 2013 as the younger generation avoids marriage due to financial concerns amid the weakening economy. Combined with a
declining birth rate,
spell trouble for the world's most populous nation and second largest economy.
Liang Zhongtang, a senior researcher with the Shanghai Academy of Social Sciences and a former government adviser, attributed the drop in the marriage rate to the decline in the size of the younger population as a result of the strict one-child policy, which was in place from the 1970s until the end of 2015, as well as growing pressure on personal finances.
"Many dare not to get married or have children," said Liang, who lobbied for several years for the government to abandon the notorious birth control programme.
"China has about 300 million migrant workers, who, due to low wages, weak job security and lack of access to social services, are not well integrated into cities."
A cautious mindset concerning marriage, which is common among the country's middle class, is a headache for Beijing policymakers, who are working urgently to find ways to boost household consumption to help stabilise the economy which grew by
6.2 per cent in the second quarter of 2019.
"I hope the standard of living will improve. All my friends agree that [a couple's] economic condition is the foundation of a good marriage," said 26-year-old Cecelia Hu, a single Beijing-based public relations professional, who keeps a large portion or her salary for either savings or investments.
Private consumption accounted for more than 60 per cent of growth in the second quarter of 2019, with its contribution having risen significantly in recent years as part of the country's efforts to rebalance the economy away for the previous investment and export growth model. However, to offset the impact of the China-US trade war, the government is counting on continued strong consumer spending.
To support consumption, the government cut personal income taxes last year, while also implementing several consumer purchase subsidies this year. However, these moves have not yet been able to reverse the slowdown in the economy.
Retail sales growth
slowed sharply to 7.6 per cent in July from 9.8 per cent in June, while sales of passenger cars, an important purchase item for a middle class Chinese family, dropped 11.6 per cent to 1.5 million units last month, the 13th straight monthly decline.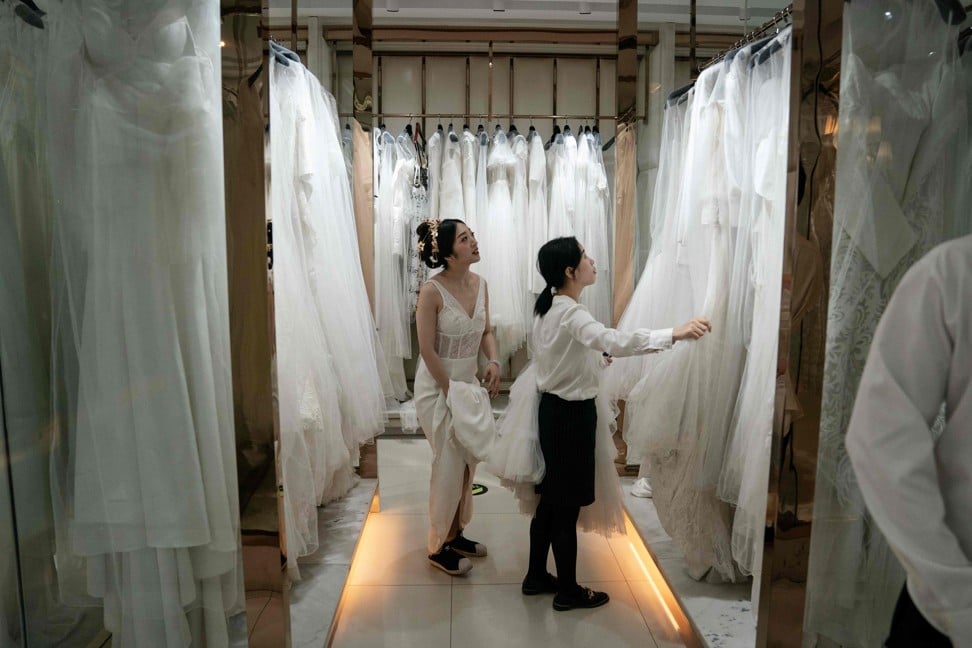 Xia Dan, a researcher with the Bank of Communications, said the demographic changes, as seen in the decline in the marriage rate, birth rate and a
rapid ageing of the population
in general, have been major factors in reshaping the consumption landscape, with a lower marriage rate leading to less consumption.
A typical Chinese wedding involves a large amount of spending, including purchases of expensive items including cars, home appliances and jewellery, as well as related services such as wedding planning, catering and travel. Chinese wedding-related spending is estimated to be as large as 1.8 trillion yuan (US$254 billion) per year, according to the Qianzhan Industry Research Institute.
But, most importantly, property remains high on the shopping list for a majority of newlyweds, Xia noted, with that in turn supporting the property development and building materials industries as well as sales of related goods including furniture and home appliances.
"Although the value-added of the property sector is only 6.6 per cent of national gross domestic product, its actual contribution could be as high as 20 per cent. It is certainly a pillar industry," added Xia.
Last year, the China Association of Social Workers created pilot marriage consumption subsidy fund in selected cities including Taiyuan, Datong, Hangzhou, Wuhu and Tongling. This provided newlyweds with small subsidies, roughly 5 per cent of a product's value, if they bought selected products, with 95 million yuan (US$13.4 million) distributed through the scheme in the northern province of Shanxi alone in 2018.
However, it has been unable to halt the longer-term downtrend in marriages as registrations dropped by 1,160 to 31,325 in Taiyuan, the capital of Shanxi province, last year.
Fewer marriages also means fewer children, exacerbating the country's growing problems of a rapidly ageing population and rapidly declining labour force.
Although the Chinese government reformed the one-child policy in 2016 to allow couples to have two children, the number of newborns has continued to fall as births fell to 15.23 million last year, the lowest since China abandoned the one-child policy.
It also marked the lowest official birth rate in China since the 11.87 million in 1961, the last year of China's great famine, during which millions of people starved to death resulting in a plummeting birth rate.