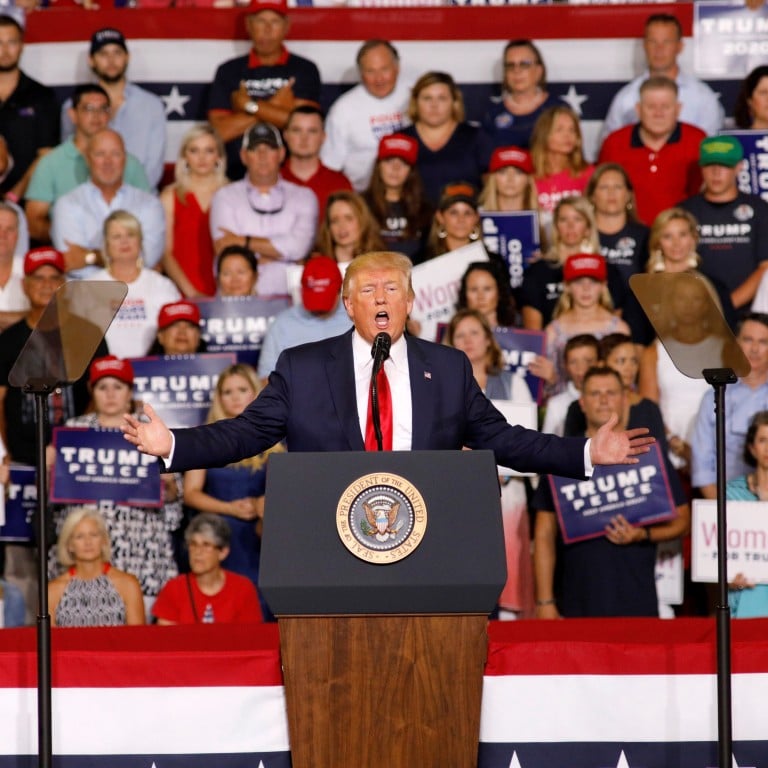 Donald Trump's 2020 presidential campaign set to be hit by his own China trade war tariffs
Fuyang Jiahao, a small factory north of Shanghai, are busy producing flags with slogans including 'Trump 2020' and 'Keep America Great'
Last week the US president announced a wide range of tariff increases on Chinese imports, including national flags and other articles made from textiles
US President Donald Trump's escalation of the trade war with China could soon be about to come home to roost, with large quantities of materials for his 2020 presidential campaign set to be hit with import tariffs.
Workers at Fuyang Jiahao, a small factory in Fuyang city about 600km north of Shanghai, are busy producing flags with slogans including "Trump 2020" and "Keep America Great".
But with national flags and other articles made from textiles set to be subject to a
new 15 per cent tariff rate
from September 1, Trump's own campaign could soon be paying more for its goods imported from China.
"Our production has not yet been affected," said Yao Dandan, the owner of the Fuyang Jiahao Flag Company.
"[The trade war] is an issue between countries. We have no choice. It will certainly have an impact on us. Sales could be affected if tariffs are imposed on [our products]."
Yao's factory, which produced the vast majority of Trump banners in 2016, employs about 70 workers and reported an annual sales revenue of around 20 to 30 million yuan (US$2.1 to US$4.2 million) last year.
The factory has produced "hundreds of thousands" of Trump flags and banners since the first order for the 2020 campaign was made in May last year, Yao said, with US businesses accounting for around a third of its overall orders.
"Our sales remain good. It's even better than the 2016 [US presidential campaign]," he said.
The factory has yet to increase its prices, with Yao adding that with prices already quite low, the cost of the tariff increase would most likely be shared by both exporters and overseas clients.
But, if the tariffs have an impact on its US business, Fuyang Jiahao will need to seek orders from new clients.
"We'll need to target global clients, trying to find more businesses in Greece, Russia, Australia and so on," added Yao.
Products made in China have been targeted for Trump during the trade war, which has been ongoing for more than a year, and shows no sign of an immediate easing after both Beijing and Washington escalated trade tensions at the end of last week.
After
China announced plans
to impose retaliatory tariffs of 5 to 10 per cent on US$75 billion worth of American products, Trump said that he plans to raise the tariff rate on US$250 billion of Chinese imports from 25 per cent to 30 per cent from October 1, and the tariff on US$300 billion of goods from 10 per cent to 15 per cent starting on September 1.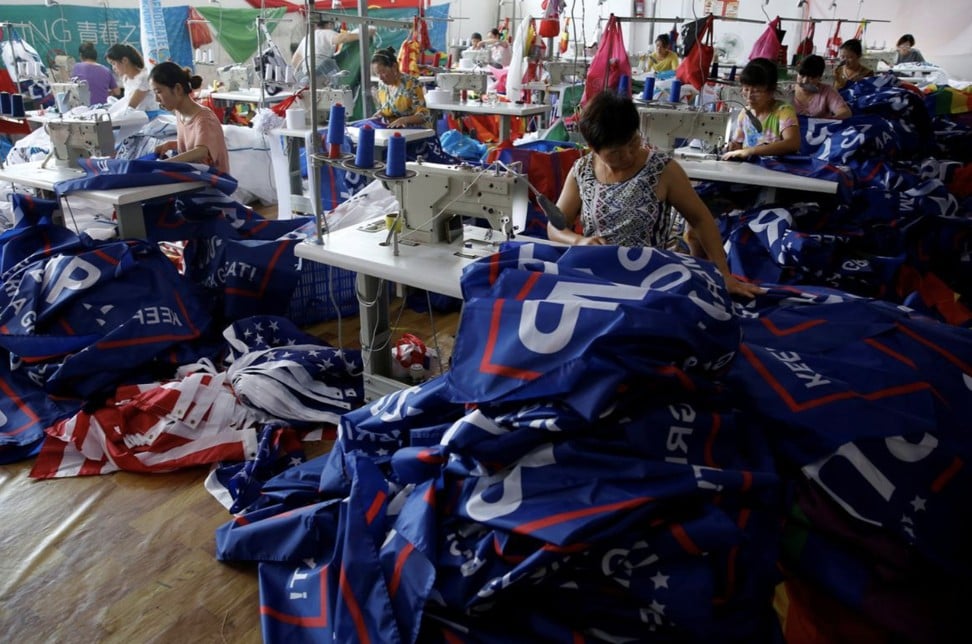 Analysts expect that the new tariffs, if introduced, would cut China's growth by around 0.2 percentage points this year.
"In an environment of mutual distrust, US complaints and demands are wide-ranging and extending beyond economics, while China is increasingly preparing itself for long-term economic tension with the US rather than aiming to achieve a deal," said Louis Kuijs, head of Asia economics at Oxford Economics.
"Even assuming some offset from more policy support, we now expect China's [gross domestic product] growth to fall substantially below 6 per cent in 2020."
China has attempted to stabilise the economy with a 2 trillion yuan (US$281 billion) tax cut plan, higher government spending on infrastructure and purchase incentives for certain consumer products.
In particular, the government has focused its support on small and medium-sized enterprises, which account for the majority of the country's growth and employment, but are most vulnerable to external shocks, including the trade war.
This article appeared in the South China Morning Post print edition as: Trump campaign products to be hit by his own tariffs