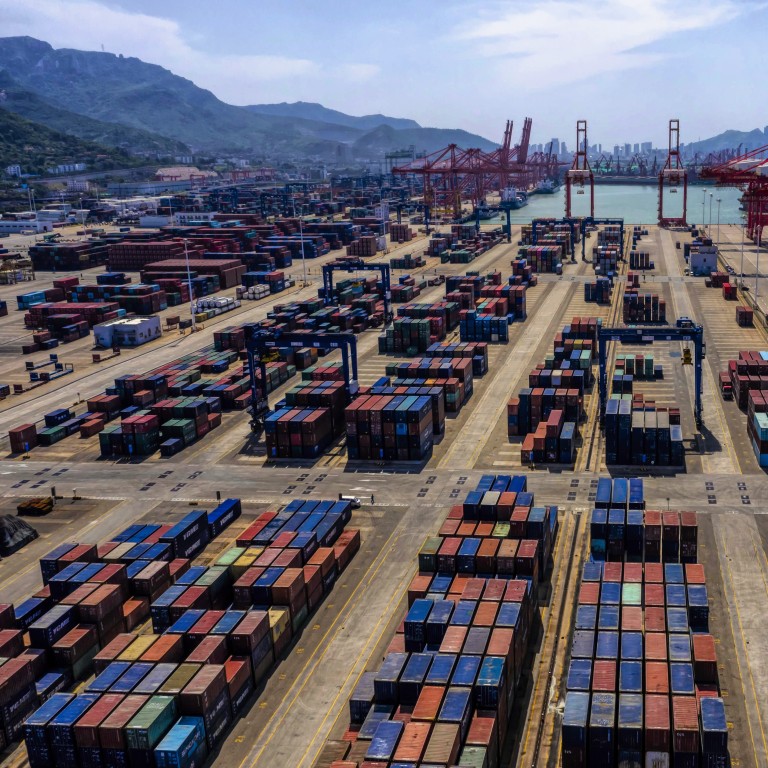 China seeks to change economic landscape as Donald Trump escalates US decoupling risks
President Xi Jinping decides China's economic efforts should concentrate on major cities, while also building up complete and modern value chains
Decisions from China's supreme economic policy decision making body follows the US extending current and planned tariffs on US$550 billion of Chinese imports
President Xi Jinping made two strategic decisions this week that could redefine China's economic landscape in the coming decades as risks of decoupling from the United States continue to rise.
China should first focus its domestic economic efforts on activities in "central cities and city clusters", a major shift from the traditional idea of even distribution across big and small cities.
Xi also called for an upgrading of China's industrial supply networks to forge value chains that are "autonomous, controllable, safe and effective" by taking advantage of the country's extensive manufacturing apparatus and a vast national industrial production system that is able to produce virtually everything from Christmas tree decorations to aircraft carriers.
"China is the world's largest manufacturer and is the only country in the world possessing all industrial sectors. Industry and technological collaboration between upstream and downstream enterprises is needed to build innovation-based and high value-added industrial chains," read a statement following a meeting of the Central Financial and Economic Affairs Commission on Monday, published by the official Xinhua News Agency.
While the statement from the commission, China's supreme economic policy decision making body, did not mention the US or the trade war directly, the meeting chaired by Xi came only days after US President Donald Trump publicly called upon American businesses to find alternatives to China, a development that could threaten its place in many global value chains.
Analysts said the decision-making meeting, which was attended by three other Politburo Standing Committee members – Premier Li Keqiang, ideology chief Wang Huning and Vice-Premier Han Zheng – showed that China's top leadership has reached consensus on how to prepare for the possible worst-case scenario stemming from the US trade war.
Ding Shuang, chief Greater China economist at Standard Chartered Bank in Hong Kong, said China "is being forced to make arrangements for the worst-case scenario" after
Trump escalated trade tensions
on Friday by extending current and planned tariffs on US$550 billion of Chinese imports by 5 per cent.
"The US tariff hike at the weekend has strengthened [China's] view that Trump is not credible and indicated the urgency to counter such risks," Ding said.
Ding added that China's centralised political system gives its advantages in planning how to fight the trade war, such as resource mobilisation and long-term economic planning.
According to the statement from the meeting, China "must leverage its institutional advantage to concentrate resources to accomplish large undertakings".
Robin Xing, chief China economist at Morgan Stanley, said that the new focus on economic development in major cities is a new way of thinking among Chinese leaders.
"It's quite different from the tone in the past decade that highlighted small towns and low-tier cities in western regions," Xing said.
China's three major city clusters of the Yangtze River Delta led by Shanghai, the Guangdong-Hong Kong-Macau Greater Bay Area and the Beijing-Tianjin-Hebei economic zone represent most of the nation's economic output and are its most economically vibrant areas.
Concentration on big cities would unleash consumption potential and create more room for investment in infrastructure, 5G telecommunications and logistics, Xing said.
The country is also eyeing ways to boost consumption by its middle class to stabilise the economy after growth hit a 27-year low of 6.2 per cent in the second quarter of 2019.
On Tuesday,
China's State Council
announced a list of 20 measures to improve consumer spending, including encouraging night markets, e-commerce, trade-in incentives for purchases of new appliances and a relaxation of car purchase restrictions in major cities.
This article appeared in the South China Morning Post print edition as: Xi seeks to change economic focus as tensions escalate