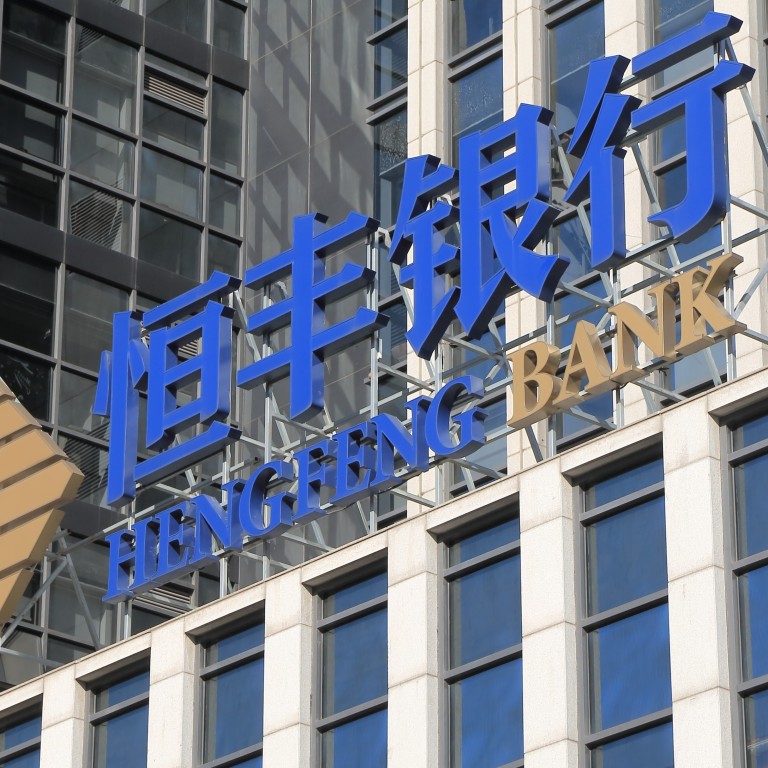 China calls on local governments to 'defuse the bomb' of troubled small banks
Beijing lays out road map for rescuing troubled small and regional banks as risks of problematic lenders have started to emerge amid economic slowdown
Move comes after Baoshang Bank, Jinzhou Bank and Hengfeng Bank all ran into trouble in recent months
China is in the process of drafting a road map to "defuse the bomb" of problematic small and regional banks after three crisis rocked the world's second biggest economy in the last four months, according to an official Chinese newspaper.
If a regional bank runs into trouble, such as a liquidity shortage or technical insolvency, it is expected that the bank itself, the local government, and financial regulators in Beijing work together to rescue it, according to the Economic Information Daily, a newspaper run by the official Xinhua news agency.
In particular, the local government should shoulder the main responsibility for restructuring a lender that has run in trouble and provide "funding and taxation" support.
The People's Bank of China, the country's central bank, is working to distribute the guidelines, the newspaper reported. The central bank prefers mergers or restructurings of troubled banks over bankruptcies, and it will "use different policies to defuse the bomb" on a case-by-case manner, the newspaper said.
China's small and regional banks, which in some cases serve as the financing arms of local governments, are particularly vulnerable to the current economic slowdown after excessive lending to projects favoured by local officials, with some becoming time bombs in China's financial system.
In May, China was forced to take over Baoshang Bank in Inner Mongolia, the country's first bank failure in more than 20 years, as its credit risks were seen as too high to ignore.
A few weeks later, Jinzhou Bank, based in China's rust belt province of Liaoning, received a bailout by China's biggest bank, the Industrial and Commercial Bank of China, and China's top state-owned asset management firms, while Hengfeng Bank, based in Shandong province, was bailed out by China's sovereign wealth fund.
Iris Pang, chief Greater China economist for ING Bank, said that it is quite normal in other countries for banks to sell loans to other banks to reduce their capital requirements, or solicit additional investment to meet minimum standards.
"The risk exposure [from Chinese small banks] is not surprising. Since the Chinese authorities have long anticipated it and reserved lots of regulatory tools, there won't be a domino effect," she said.
"But it's important to solve individual cases quickly to prevent their spillover to other institutions."
The woes of the three lenders, who were previously regarded as good performers, raised questions over how many more out of the country's 1,427 rural commercial banks, 134 city commercial banks and 1,616 village banks were in the same financial positions and in need of restructuring or a bailout.
The China Banking and Insurance Regulatory Commission, the bank regulator, has found a broad range of problems, such as "granting loans to irregular property development projects and local government financial vehicles", the embezzlement of funds, incorrect classification and disposal of non-performing loans as well as conducting illegal off-balance activities.
The report from the banking regulator did not name any specific bank, but it urged in a statement published on Friday that "all local small and medium-sized banking institutions must take responsibility to resolve their risks".
At the same time, Beijing's plan to require local governments to reform the financial system comes at a time when their revenues are falling and debts are rising.
In the first half of 2019, before the redistribution of tax revenue from Beijing, the fiscal accounts of all provincial authorities, except Shanghai, were negative. Tax revenue growth has declined due to the broad economic slowdown, while revenues from land sales, a major income source for local governments, has also dried up.
In all three major bank rescue efforts this year, funds from the central rather than from local governments, financed the efforts. The China Construction Bank contributed funds to resolve the Baoshang Bank failure, while the Industrial and Commercial Bank of China led the recapitalisation of Jinzhou Bank, and Central Huijin Investment bailed out Hengfeng Bank.
Yulia Wan, Moody's senior banking analyst in Shanghai, said China's banking sector remains stable as the central bank stepped in to provide liquidity.
"Many of the small banks remain weak links in China's financial system," Wan said. "The recent actions have shown that financial system stability remains the government's overriding priority."
This article appeared in the South China Morning Post print edition as: Beijing drafts plan for bank crises