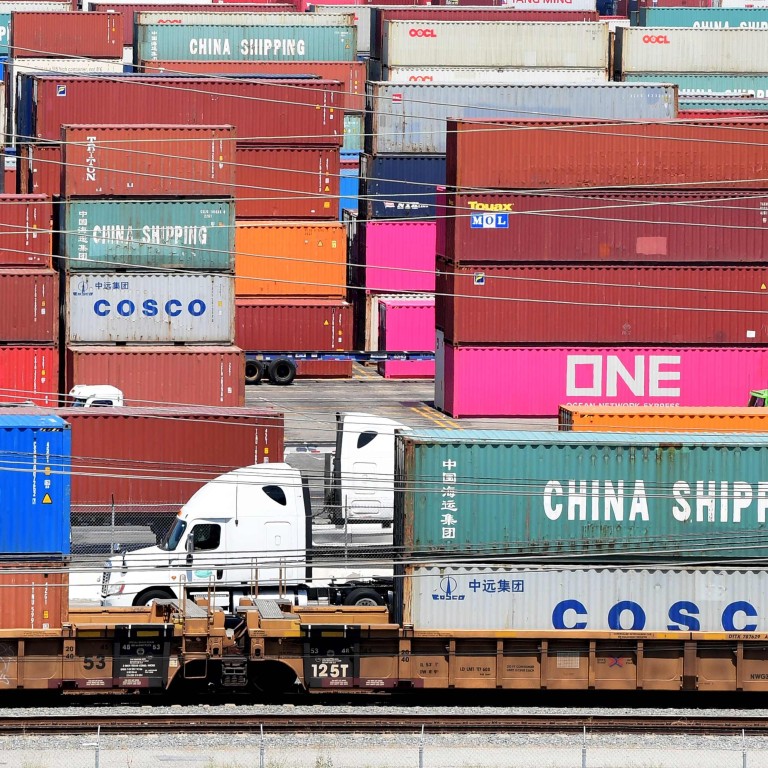 China-US trade war: latest tariffs take effect as sides seek to get talks back on track
Washington levies punitive duties on US$110 billion of Chinese goods as first tranche of Beijing's tariffs on US$75 billion of US imports take effect at noon on Sunday
Donald Trump says negotiations will resume in US capital this month but China yet to confirm such a plan
A new round of punitive tariffs imposed by the United States and China took effect on Sunday in the latest escalation of their 14-month trade war, and as the two sides continued to struggle to reach agreement on a possible resumption of negotiations.
The measures came into effect at 12.01pm Beijing time, 12.01am in Washington.
The US levied a new 15 per cent tariff on about US$110 billion worth of Chinese products, including clothing, food, household goods, Bluetooth ear buds and televisions. It is the first tranche of a two-part duty on US$300 billion worth of imports – or virtually all of the Chinese goods that have yet to be hit – with the second round set to take effect on December 15.
US President Donald Trump said last month he would delay implementing tariffs on the second batch of goods – which includes phones, laptops and other consumer electronics – to prevent American shoppers being hit with price rises during the Christmas season.
He announced the new tariffs on August 1 after the latest round of trade talks in late July in Shanghai failed to produce a breakthrough.
In response, Beijing said it would raise existing tariffs on US$75 billion worth of US goods – including soybeans – by between 5 and 10 per cent, in two steps, on Sunday and again on December 15, in line with the US schedule.
The move also included the introduction, on Sunday, of a new 5 per cent tariff on crude oil imports from the US and the reinstatement of a 25 per cent duty on US-made cars. A 5 per cent tariff on American car parts will take effect on December 15.
Meanwhile, Washington is seeking public feedback on Trump's proposal to raise the tariff rate on US$250 billion of Chinese imports already subject to the penalties to 30 per cent from 25 per cent from October 1, the day on which Beijing will celebrate the 70th anniversary of the founding of the People's Republic of China.
Despite the escalation of the trade dispute, Trump told reporters on Saturday that "as of now" the face-to-face talks scheduled to take place in Washington later this month were still on.
China, however, has yet to confirm the negotiations will resume, with the commerce ministry saying on Thursday that the two sides were "
still discussing
" whether a Beijing delegation would travel to the US capital.
Ministry spokesman Gao Feng said China had lodged a "solemn representation" over Trump's plan to increase tariffs on all Chinese products, but said that Beijing had "sufficient means" to retaliate against any further increases.
"The most important thing now is to create the necessary conditions for continuing the negotiations," he said. "What should be discussed now is that the US must call off its plan to impose [additional] tariffs on US$550 billion worth of Chinese products to avoid a further escalation in the trade dispute."
Shi Yinhong, a professor of international relations at Renmin University in Beijing, said China had no choice but to fight on.
"Either surrender or fight. China has to fight. No deal is better than a bad deal," he said. "If it wants to show its sincerity in the trade talks, the US has to make substantive concessions on some issues that are unacceptable to China. Then we would definitely respond."
Meanwhile, People's Daily, the mouthpiece of the Chinese Communist Party, said in a commentary on Sunday that the US tariffs would not affect China's development, and that its markets remained a big draw for foreign companies.
"A decoupling from China is a decoupling from opportunity, a decoupling from the future," the article said.
On Saturday, China's state broadcaster CCTV warned Trump against using the unrest in
Hong Kong
as a bargaining chip in the trade talks. The report came after the US president said on Friday that China's response to the anti-government protests had been restrained as it did not want to jeopardise the negotiations.
This article appeared in the South China Morning Post print edition as: Bilateral tariff salvo deepens trade war