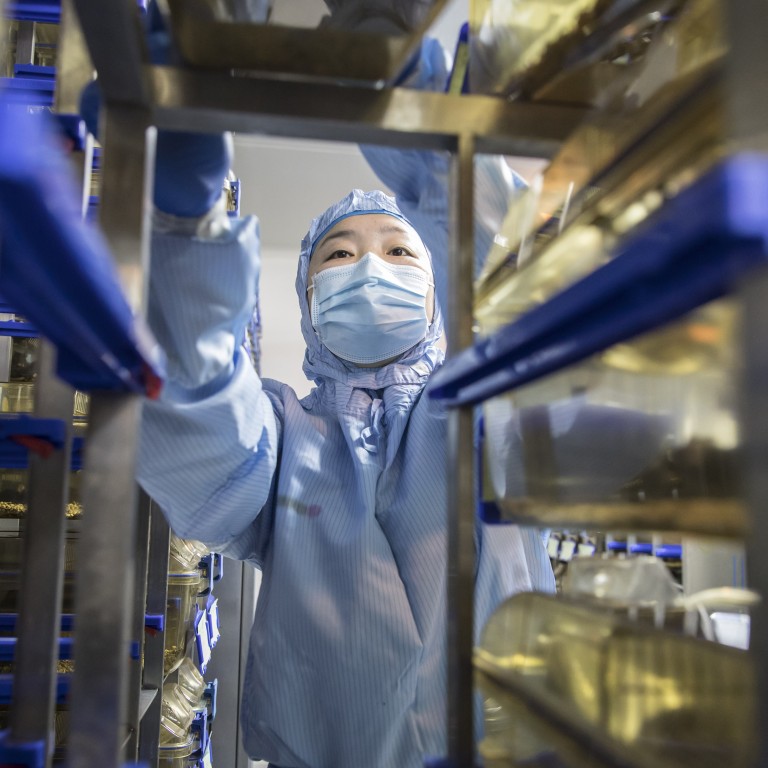 China's spending on research and development up 11.8 per cent to US$275 billion in 2018
Total represents 2.19 per cent of nation's gross domestic product, but government actuary says investment has yet to yield any 'breakthrough' results
Report by OECD, based on figures for 2017, says China still lags average of its 36 members in terms of R&D spending as a percentage of GDP
China's spending on research and development rose by 11.8 per cent last year to 1.97 trillion yuan (US$275 billion), its third consecutive double-digit annual rise, Beijing said.
Businesses were the main driver of the growth, accounting for more than 77 per cent of the total, followed by the government and its affiliated bodies, and universities, according to a report published on Friday by the National Bureau of Statistics (NBS) and the ministries of finance, and science and technology.
Despite the strong headline growth figure, spending as a proportion of the country's gross domestic product – known as the "intensity" – increased only marginally in 2018, to 2.19 per cent, from 2.15 per cent a year earlier.
Faced with slowing economic growth, Beijing in March set a target to increase the intensity figure to 2.5 per cent this year as it seeks to reduce its dependence on manufacturing and heavy industry, and become a centre for hi-tech under the "Made in China 2025" plan.
Spending on basic research (11.8 per cent), applied research (18.5 per cent) and experimental development (10.9 per cent) all rose significantly in 2018, the report said.
On a geographical level, the provinces of Guangdong and Jiangsu topped the spending charts, followed by Beijing municipality in third.
Li Yin, an actuary with the NBS, said that although China's spending on research and development had risen steadily in recent years it had yet to yield any "breakthrough" results that would help the country to achieve its technological goals.
"To that end, China has to increase its financial support and improve its policy support to encourage further investment in [research and development]," he said.
According to a report released last month by the Organisation for Economic Cooperation and Development (OECD), China was second-biggest spender on research and development in absolute terms in 2017, after the United States.
However, while spending rose by 7.9 per cent in the year, the annual increase was its weakest since 1995 and suggested "a marked slowdown in investment".
The report said that because of its slower economic growth in the year, China's research and development (R&D) intensity figure actually rose in 2017 – to 2.13 per cent from 2.11 per cent a year earlier – but continued to lag the average (2.37 per cent) for the group's 36 member nations.
Based on recent trends, "China would no longer be converging in R&D intensity with the OECD average within the next decade," it said.
Nonetheless, the country overtook the combined intensity figure for the 28 members of the European Union in 2013 and was closing in on France, it said.
This article appeared in the South China Morning Post print edition as: R&D spending reaches 1.97 trillion yuan