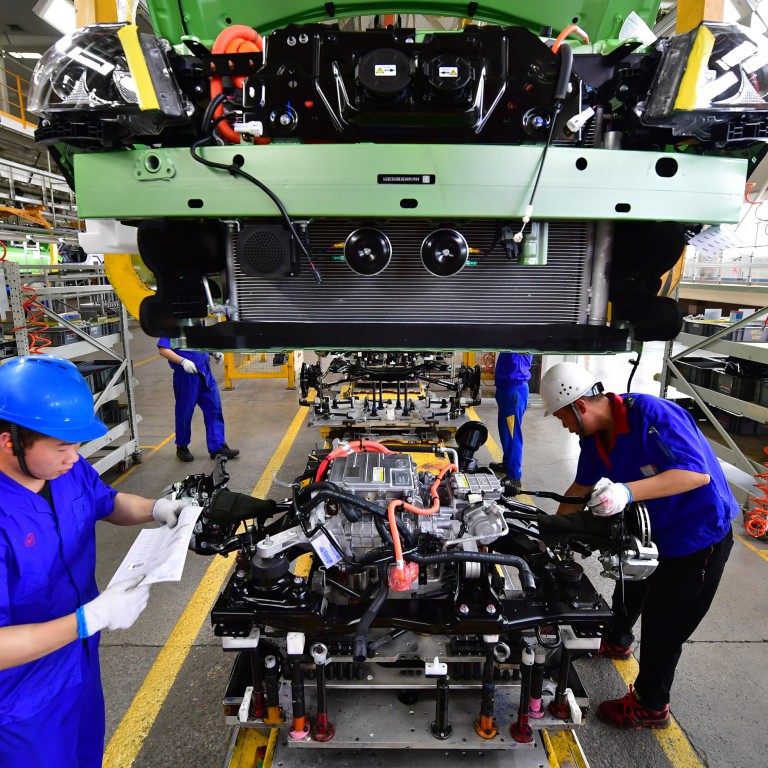 China needs to rev up stimulus measures to repair broken down car sales, analysts say
Sales have fallen for 13 straight months since July 2018, and look set to fall for a 14th in August despite three measures already introduced intended to boost purchases
Consumer income growth is slowing and levels of debt are rising as China's economy slows due to the effects of the trade war with the United States
As China's car sales head towards an expected 14th consecutive monthly decline in August, calls have been made for additional and more powerful purchase incentives after three previous measures intended to boost purchases have so far failed to halt the longest down cycle on record in the world's largest auto market.
Since July 2018, sales of passenger vehicles have fallen for 13 straight months on year-on-year basis, and while figures for August have not yet been released, preliminary data suggests they fell for a 14th consecutive month, according to the China Passenger Car Association, an industry group that tracks weekly data reported by car manufacturers.
This is despite Beijing having rolled out three measures intended to boost purchases, with the latest coming last week from the State Council which asked local governments to loosen or abandon purchase limits put in place to reduce air pollution, to provide support for purchases of new energy vehicles and to open up the second-hand car market.
"There are a series of reasons for stalled sales: tighter terms for vehicle financing, the increased popularity of ride-sharing and a heightened environmental sensibility. But a more tenuous economic outlook is also at play. No matter the country, households don't extend themselves when the future is uncertain," said Carl Tannenbaum, chief economist from financial services firm Northern Trust.
Car sales are a key component of overall Chinese consumption, accounting for roughly 10 per cent of total retail sales, which grew 8.3 per cent in the first seven months compared to a year earlier. Excluding cars sales, this growth would have been higher at 9.2 per cent.
The automotive sector's output also accounts for more than 10 per cent of the country's gross domestic product (GDP), with China's growth rate slowing to 6.3 per cent in the first half of the year amid the trade war with the United States.
A common gauge of the growth potential for China's car market is ownership per thousand people, which rose to 170 last year, although still well below 800 in the US and over 600 in Japan.
By a broad measure, the ownership ratio could be more than 200 if official figures included unregistered, non-standard vehicles such as motorcycles, according Li Wanli, a former official from the Ministry of Industry and Information Technology.
China, though, could be reaching its ownership ceiling, and since the government has invested so much in expanding public transport, and with Chinese cities already so densely populated, it has been argued that it is not appropriate to compare the situation in the country with the US or Japan.
The economic stimulus measures released in June by the National Development and Reform Commission (NDRC), China's economic planning agency, were watered down extensively from a draft made public in April. The final measures not only removed a mandated increase in new car registrations in places that currently restrict car purchases, but also took out specific purchase incentive tax cuts for rural consumers who buy new vehicles with smaller engines.
The more modest version of the stimulus plan led economists at Japanese bank Nomura to conclude that "Beijing may have realised that there is little room to provide further stimulus to the auto sector", particularly following the government's very aggressive effort to boost car sales from 2015 to 2017 by sharply cutting the purchase tax.
Economists also link the outlook for car sales to home purchases, in part because many residential homes for sale also come with a parking space.
But starting from last year, the influence of the real estate market on car sales has weakened, according to research from Hua Changchun, an economist at Guotai Junan Securities.
"The key factors are still disposable income and tax incentives. If the preferential tax policy for [car] purchases is not adjusted, the real improvement in car consumption needs to be lifted by [an improvement in] the disposable income of consumers," Hua said.
According to Hua's estimate, an increase of 10,000 yuan (US$1,400) in disposable income could increase car sales by about 310,000, while a percentage point increase in the household debt-to-GDP ratio would reduce car purchases by 44,000.
According to the National Bureau of Statistics, disposable income in China grew by 6.6 per cent in the first half of 2019, down from 6.8 per cent in the first quarter. The household debt-to-GDP ratio surged from 53.2 per cent to 54.3 per cent, based on data from National Institute for Finance and Development. In addition, short-term loans to households, used mainly for consumption, dropped 16 per cent in the first seven months of the year compared to a year earlier.
Beijing's conundrum is that easing credit may help to prompt consumers to buy new cars in the short term, but that would lead to a further surge in household debt.
"To boost car sales, the government's stimulus has to be made up of two parts: making sure you are able to buy [by loosening car purchase limits] and making sure the purchase is affordable [by cutting the purchase tax and boosting lending]. But ultimately, it's down to the consumer's purchasing power," said Xu Jianwei, senior China economist at French bank Natixis.
The central government has so far avoided giving specific orders to local authorities to cut purchase taxes, provide subsidies or loosen car purchase limits partly because local government fiscal revenues have fallen sharply after Beijing ordered nationwide business tax and fee cuts earlier this year, leaving little room to pay for new incentives, Xu added.
In its latest stimulus plan announced last week, Beijing left the decision on whether to increase registration quotas to the local governments of nine cities and regions that have instituted such restrictions.
Guangzhou opted to increase its quota by 100,000 from June to the end of 2020, while Shenzhen increased its quota by 40,000. Beijing, the only city that has restricted purchases of new energy vehicles in addition to traditional cars, has so far not announced any plans to loosen its restrictions.
This article appeared in the South China Morning Post print edition as: stimulus in question as car sales set to decline again