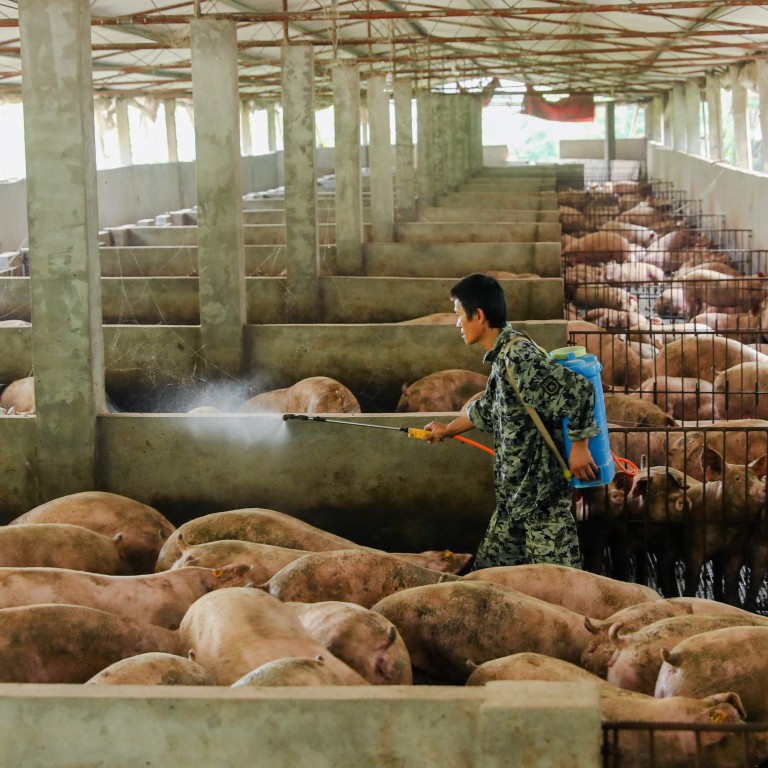 China's pork prices starting to 'scare' consumers as discontent soars
Across China, prices have doubled since July, reaching record highs of 30 to 33 yuan per kilogram, surpassing analyst expectations
Beijing has implemented policies to offset increases but it is expected to take years to restore stocks after African swine fever outbreak led to 1 million pigs being culled
As is the case across China, complaints about rising pork prices are constant and loud in Xinfadi, the biggest meat market in Beijing.
"Comrades, pork prices really scare me!" a customer in his 60s yells to the crowd, with another responding: "A few days ago when I came here, the price of ribs was 16 yuan for half a kilo. Today it's 25 yuan."
The irony, and possibly the
cause for the concern,
is that Xinfadi mainly deals with wholesale buyers but also sells directly to consumers, offering the lowest pork prices in the capital city.
Prices for food products, especially pork, are one of the major indicators used by Chinese citizens to informally gauge their financial well-being, and at the moment, that well-being is being eroded rapidly.
Across China, pork prices have doubled since July, reaching record highs of 30 yuan (US$4.20) to 33 yuan per kilogram, surpassing analyst expectations. The last time pork prices reached similar levels, in June 2016, they peaked at 31.56 yuan per kilogram, according to the Ministry of Agriculture and Rural Affairs.
But on this occasion, prices are expected to continue to rise until the end of the year and into the Lunar New Year holiday season at the end of January, when pork is traditionally at the centre of family feasts. And while the government is implementing policies to offset the price increases, it will take years to build the supply of pigs back up to their previous levels after the outbreak of African swine fever in August led to the culling of hundreds of thousands of pigs and breeding stock to stop the spread of the virus, analysts said.
Last week, a video of a group of shoppers fighting over a large piece of fresh pork during the opening of American warehouse retailer Costco's first store in Shanghai went viral across Chinese social media.
In July, China's live pig stock stood 32.3 per cent below a year earlier, according to data from the Ministry of Agriculture and Rural Affairs, after the African swine fever epidemic forced the country to slaughter at least 1 million pigs.
Pork is by far the most popular meat consumed in China, and data from Beijing-based financial news outlet Caixin shows that each person in China consumes about 55kg of it every year.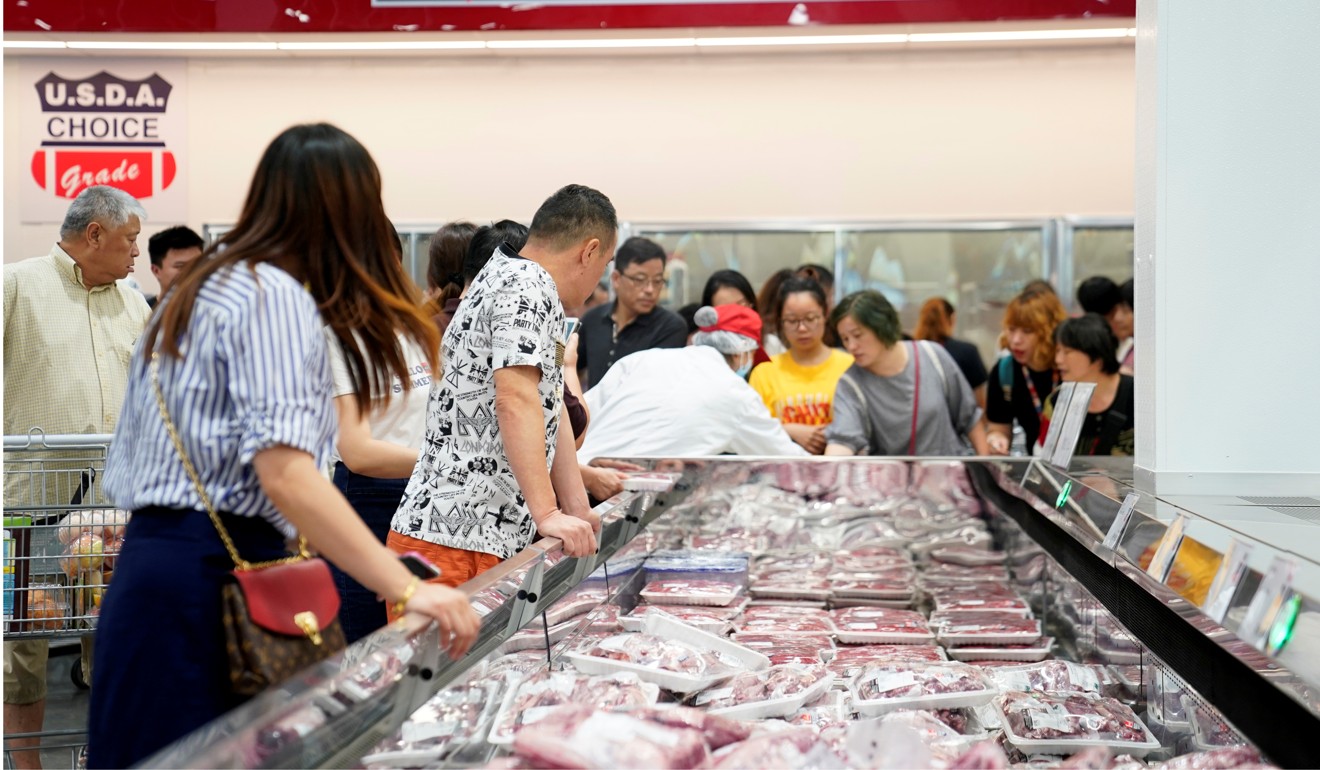 The sharp drop in supply caused pork prices to soar and is now a growing source of public discontent, with Beijing responding by rolling out a series of emergency remedies.
One such remedy would reverse a 2016 policy that restricted pig breeding in eight southern provinces to large farms and closed more than 150,000 smaller farms to increase efficiency and protect the environment.
At a cabinet meeting in August, Premier Li Keqiang ordered local governments to stop demolishing small pig farms while also lifting restrictions on small-scale pig farming in the countryside.
Li also told local governments to provide subsidies to large pig farms to "effectively increase the population of live hogs", while also setting local pig quotas.
But around three years of moves to eliminate smaller farms has also led to discontent, with one article about the policy change published on WeChat after Li's speech generating over 100,000 largely negative views in 24 hours.
"We won't breed [pigs] any more, even if there is compensation and support," one online user wrote in a typical response to the article. "I had to bury [dead pigs] by myself due to African swine fever this year, without a penny of subsidies. I'm nearly bankrupt, how can I raise pigs again?
"I invested millions of yuan to build a pig farm in 2000, but [they] demolished it in 2018, [and only] gave me 100,000 yuan as compensation. Now I am 60 years old but have to carry cement at a construction site [to make money], with a lot of debts to be paid off."
In the near-term, lower supply – exacerbated by the trade war with the United States – will mean higher prices.
"Given the situation, we can expect the price to continue to go up and at the same time, consumption to go down," said Chenjun Pan, senior analyst for animal protein at Rabobank. "This basic mechanism will help to slow down the rise in pork prices."
The ongoing trade war with the US adds another element to upwards pressure on food prices. On September 1, China imposed an additional 10 per cent tariff on US farm imports, resulting in a 72 per cent duty for imported US pork. China also recently cancelled a large purchase of 14,700 metric tonnes of US pork, according to data from the US Department of Agriculture.
"American pork imports account for less than 0.2 per cent of Chinese output, so the trade dispute with the United States will have no impact on pork supply and pork prices in China," Xin Guochang from the Ministry of Agriculture and Rural Affairs told state-run CCTV two days before the additional tariff was imposed.
Beijing is also taking steps to increase the supply of pork and hold down its prices with one city in the Guangxi autonomous region and two cities in Fujian province having already started offering discounts.
In Guangzhou, capital of south China's Guangdong province, the government said it would release 16,000 tonnes of
frozen pork from its reserves
this month at a price of 10 per cent below the market level. The meat will be sold to supermarkets, schools, cafeterias and restaurants.
It said it also planned to increase the number of pigs in the city to 400,000 by the end of the year, and by 2025 establish four pig-farming bases, with a goal to produce 450,000 hogs a year.
China has already paid out more than 2 billion yuan in consumer subsidies to ease the price burden on consumers since April.
Ministry of Commerce spokesman Gao Feng said last week that the government would soon release frozen pork reserves into the market to ease the supply shortage.
But at Xinfadi market pork dealers are still pushing prices up with colder weather expected to result in an increase of pork consumption.
"The price will be higher tomorrow since the Mid-Autumn Festival is getting near," a vendor said to a middle-aged woman, persuading her to double up on her purchase to ensure adequate reserves.
This article appeared in the South China Morning Post print edition as: Pork prices spook consumers as discontent soars