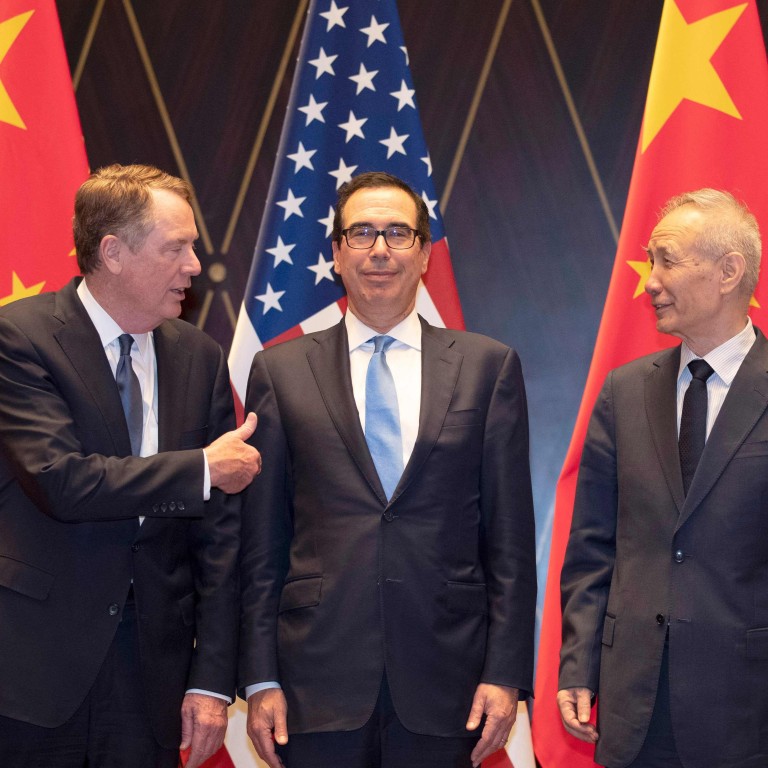 US must concede final 20 per cent of demands to agree trade war deal with China, leading Chinese expert says
Jin Canrong, an international relations professor at Renmin University of China in Beijing, says China had agreed to 80 per cent of a deal as far back as May
'Between 60 and 70 per cent' chance of Chinese President Xi Jinping and American counterpart Donald Trump agreeing a deal in November if US can lower demands
Chinese President Xi Jinping and US counterpart Donald Trump could reach a deal to end the ongoing trade war by their next scheduled meeting in November, but only if Washington is able to drop the final 20 per cent of American demands currently on the table which are impossible for Being to agree to, according to a leading Chinese expert.
China has already agreed to 80 per cent of demands for a trade deal, but the final portion of Washington's demands are seen by Beijing as an infringement on its sovereignty, said Jin Canrong, an international relations professor at Renmin University of China in Beijing, on his social media account.
Jin believes the odds are "between 60 and 70 per cent" that China and the US can reach a trade deal by the time Xi and Trump are likely to meet at the Asia-Pacific Economic Cooperation summit in Chile, but only if the US can lower or even drop certain demands.
"It's not a 100 per cent thing, and it's possible that the negotiations will collapse," Jin warned. "The major reason is that China has already offered to make huge concessions."
China had already agreed to about 80 per cent of US demands before the bilateral
talks came to a halt in May,
including "buying US goods, opening markets to US investors and making policy improvements in certain areas", Jin said.
According to Jin, who did not reveal the source of his information but is known to be well-connected in Beijing, the final 20 per cent includes completely abandoning the "Made in China 2025" industrial policy programme, a plan to cut the share of the state in the overall economy from 38 per cent to 20 per cent, as well as an implementing an enforcement check mechanism that would allow the US to dig into the books of different levels of the Chinese government.
"The Politburo would never agree to these terms," Jin said, referring to China's supreme decision-making body. "It would be forfeiting sovereignty and humiliating the nation."
"For the US, the choice is zero or 80 per cent [of what it wants]," Jin said. "The option of getting 100 per cent doesn't exist … my conclusion is that the US has to give up the final 20 per cent [of its demands]."
China's top trade envoys, led by Vice-Premier Liu He, are expected to fly to Washington early next month to start a new round of face-to-face trade talks with their US counterparts led by trade representative Robert Lighthizer and Treasury Secretary Steven Mnuchin.
The US and China have already imposed
significant tariff increases,
which came into affect at the start of September, with further increases threatened for October and December. In particular, China's Ministry of Commerce has publicly urged the Trump administration to reverse the tariff increase on US$250 billion of
Chinese imports scheduled for October 1
– the 70th anniversary of the founding of the People's Republic of China – to facilitate the talks.
Politico reported on Friday that China made a peace proposal in the most recent phone call with top US trade officials last week to buy a modest amount of US agricultural goods if Washington eased export restrictions on Chinese telecommunications equipment maker Huawei and postponed the tariff increase set for the beginning of next month.
If agreed by both sides, this could produce a "mini-deal" before the end of the year, both US and China experts speculated in a conference in Beijing on Friday, according to Caixin magazine.
Beijing and Washington have both kept the details of any negotiations shrouded in secrecy, but last week China's Ministry of Commerce said that communications between lower-level trade officials would intensify this month to lay the groundwork for "substantive progress" in the October talks. The Office of the United States Trade Representative also said that deputy-level meetings will take place in mid-September to pave the way for "meaningful progress".
On Friday, Larry Kudlow, the director of the White House National Economic Council, said that the trade war with China may take a long time to resolve.
"The stakes are so high. We have to get it right. And if that takes a decade, so be it," he said.
White House trade adviser Peter Navarro, meanwhile, was quoted by Yahoo Finance as saying on Friday that the US would stick to its original demands.
"We had a deal. We had a 150 page plus agreement that was in these seven verticals that dealt with each of these issues plus enforcement. It was negotiated over 11 negotiating sessions and including commas and paragraphs. And that's the basis for moving forward," Navarro was quoted as saying, referring to the tentative trade deal text from early May. "But the Chinese walked away from that. And in many ways, this deal will be determined by what the Chinese want to do."
The 12th round of face-to-face talks between China and the US took place in Shanghai at the end of July.
"A good international treaty should be like this: there will be complaints from both sides but both sides will feel it is acceptable," Jin said. "If one side is extremely happy with a deal and is eager to share it with the press while the other side is depressed, this kind of deal would just be a piece of scrap paper because the unhappy side would renegade on it for sure."
This article appeared in the South China Morning Post print edition as: Deal 'possible' if U.S. yields enough