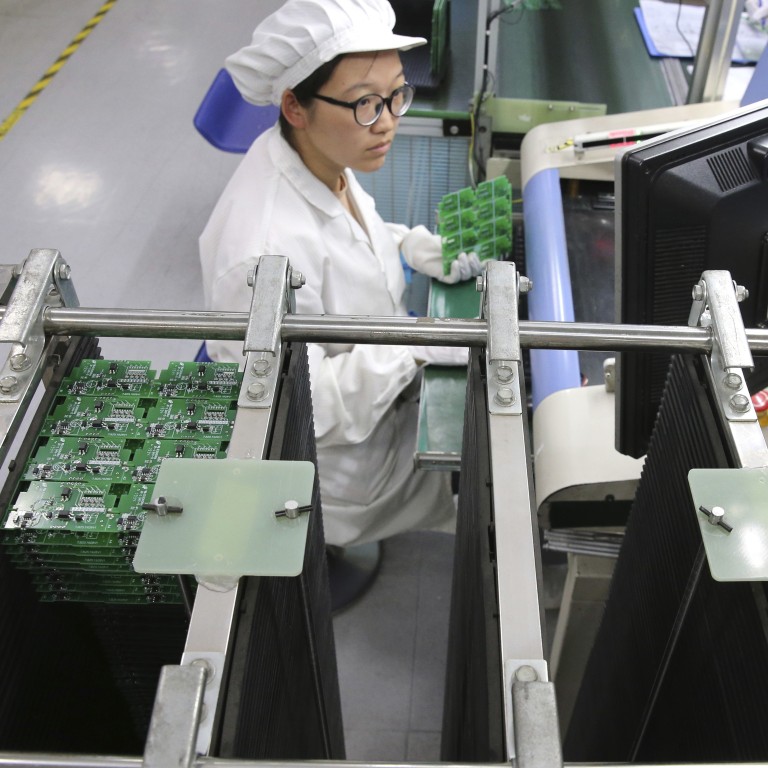 China's consumer price index remains flat despite almost 50 per cent spike in cost of pork
The consumer price index (CPI) rose 2.8 per cent, unchanged from the previous month's rate as a 23.1 per cent rise in pork prices continued to fuel inflation
China's producer price index (PPI), reflecting the prices that factories charge wholesalers for their products, fell 0.8 per cent in August
China's consumer price index remained flat in August despite pork prices rising close to 50 per cent from a year earlier, drawing some ridicule from online users.
The consumer price index (CPI) rose 2.8 per cent in August, unchanged from the previous month's rate as a 23.1 per cent rise in pork prices from July continued to fuel inflation, according to the National Bureau of Statistics (NBS). This was slightly higher than the 2.7 per cent analysts' forecast in a Bloomberg survey.
The spread of African swine fever has led to
rising pork prices
and over 1 million pigs being culled since June. The NBS said pork prices rose 46.7 per cent compared to a year earlier, while overall food prices rose 10 per cent.
The NBS said the CPI was "basically stable" as non-food prices rose by only 1.1 per cent. Clothing prices rose 1.6 per cent in August while housing inflation edged up 1.0 per cent, although the cost of transport and communication fell 2.3 per cent last month.
However, the official data, which put the headline inflation figure within the government's target of 3 per cent, has been met with strong scepticism from the public.
One commentator on Chinese social media site Weibo wrote that the CPI figure is untrustworthy as the Chinese government is trying to keep it below its 3 per cent target.
Another commentator from the Guangxi autonomous region said that local pork prices have more than doubled in the last year and wondered whether the official figures have underestimated the real inflation picture.
The government has prioritised boosting pork production and guaranteeing pork supplies as an important political task ahead of the 70th anniversary of the founding of the People's Republic on October 1.
"Consuming half the world's pork, China's favourite meat is a big deal, and its management a constant, major test of governance and transparency," said Diana Choyleva, chief economist at Enodo Economics, according to fintech research network, Smartkarma.
China's pork imports are expected to almost triple this year, according to the state-backed Yicai Media Group.
Meanwhile, China's manufacturers have again been forced to drop their prices for a second consecutive month with the country facing escalating trade tensions with the United States and weakened domestic demand. Data from the NBS showed that the producer price index (PPI), reflecting the prices that factories charge wholesalers for their products, fell 0.8 per cent in August.
PPI deflation had already been hinted in other indicators showing a slowing industrial economy. The official
manufacturing purchasing managers' index
– a gauge of sentiment among factory operators – slipped to 49.5 in August from 49.7 in July, with both input and output price sub-indices softening. A reading of below 50 indicates that activity in the sector is contracting.
Several economists have cut their forecasts for gross domestic product (GDP) growth in 2020 to below 6 per cent as a result of increasing risks from the
trade war with the United States
and fears that Beijing's stimulus approach is insufficient.
Morgan Stanley downgraded its GDP growth rate forecast to 5.8 per cent in the fourth quarter of 2019 from 6.0 per cent should the US enact the new 15 per cent tariff on US$300 billion of Chinese goods on September 1 and December 15, and impose the tariff increase on the existing US$250 billion of goods from 25 per cent to 30 per cent on October 1.
Last Friday, the People's Bank of China announced that it would cut the
reserve required ratio,
the amount of reserves banks are required to hold at the central bank, to inject about 900 billion yuan (US$126 billion) of fresh liquidity into the banking system and support corporate lending.
"With demand-side pressures on prices increasingly subdued, we think that further monetary easing is on the horizon," said Julian Evans-Pritchard, senior China economist at Capital Economics.
Evans Pritchard expected consumer price inflation to accelerate in the coming months as pig stocks continue to fall and the drag from lower oil prices eases.
With last Friday's reserve required ratio cuts showing that rampant food price inflation was not a barrier to monetary easing, he said, "we continue to anticipate further loosening in the next few quarters as demand-side pressures remain muted and factory-gate deflation deepens."
This article appeared in the South China Morning Post print edition as: Mainland CPI flat, despite 50pc rise in pork prices