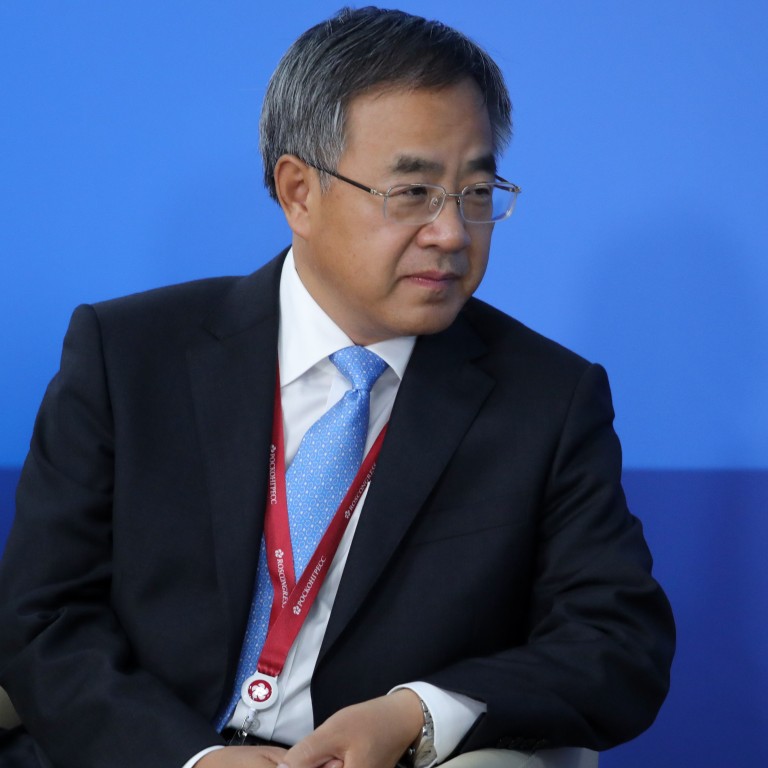 Hong Kong protests and US trade war no longer China's top priorities as spiralling pork prices dominate agenda
Vice-Premier Hu Chunhua heading Beijing's efforts with latest data showing pork prices rose 46.7 per cent in August compared to a year earlier
Issue could even undermine next month's 70th anniversary of the founding of the People's Republic
Stabilising pig production amid rapidly rising pork prices has overtaken the 14-month trade war with the United States and the three months of political unrest in Hong Kong as China's top priority, with Vice-Premier Hu Chunhua overseeing the sensitive topic that could stretch to undermining next month's 70th anniversary of the founding of the People's Republic.
The sharp rise in pork prices has hurt the world's second largest economy, topped mainland media coverage and stoked outspoken public concern in recent weeks.
In response, China's State Council issued new guidelines on Tuesday urging local governments and various government departments to boost pork supply.
"Pig farming is an important industry that matters to the nation's plan and people's living. Pork is the main meat for most Chinese residents," said the State Council. "[Pork production] has significant meaning in terms of ensuring people's lives, stabilising prices, keeping stable economic operation and maintaining overall social stability."
The
consumer price index
released on Tuesday reinforced the bleak picture as the data showed that pork prices rose 46.7 per cent in August compared to a year earlier, almost double the 27.0 per cent rise witnessed in July.
In the same way that Vice-Premier Liu He has been assigned to handle trade talks with the US, and Vice-Premier Han Zheng appointed to oversee the mainland's response to the Hong Kong protests, Vice-Premier Hu's agenda is now topped by the urgent need to control soaring pork prices.
Last week Hu, one of China's four vice-premiers, inspected pig farms and slaughter houses from Heilongjiang province on China's northern border with Russia to Sichuan province in the southwest, urging local governments to do whatever is necessary to increase the supply of pork.
According to a leaked document on boosting pig and pork supply seen by the
South China Morning Post
, Hu told a national conference on August 30 that it was not only an economic but also a political imperative to ensure a sufficient supply of pork, a staple meat on every
Chinese dinner table.
"If people can't access or be able to afford pork [in 2020], when China will become a comprehensively well-off society, it will seriously affect the achievements of a well-off society and hurt the image of the party and the state," said Hu, according to the document.
Environment Minister Li Ganjie said last week that it is "a critical political task now to safeguard live hog production and ensure pork supply".
The ministry is now prohibiting local governments from creating "no pig zones" in the name of environmental protection in a marked U-turn in policy after China closed hundreds of thousands of pig farms in recent years to safeguard local conditions.
Other government agencies, from the Ministry of Transportation to the China Banking and Insurance Regulatory Commission, have also been mobilised to help boost the supply of pork. The banking regulator has told banks not to turn down any loan applications from a pig farm, while highway toll fees will be waived for trucks carrying pigs or frozen pork.
China's National Development and Reform Commission, the economic planner, said on Monday that it will provide subsidies of up to 5 million yuan (US$700,000) to any pig farm that seeks to rebuild or expand existing facilities or relocate from areas where breeding is still forbidden due to African swine fever.
Beijing's scramble comes a time when the price of pork in many places has
doubled in August
alone thanks to a plunge in supply, causing a loud public outcry.
There were 69 times more mainland media articles related to "pork" than "China-US trade" as of the end of last week, according to the Baidu Index, a Chinese online search tracking service equivalent to Google Trends. Online search traffic for the keyword "pig" also overtook searches for "China-US trade" and "Hong Kong issue" during the week ending September 8.
Local governments have already made moves to boost pig farming with provincial authorities in Jiangsu province publishing a plan that it will increase its pig population by over 6 million by the end of 2022.
Shandong, a major pig farming province, said that it will ship 2.8 million pigs to other parts of the country this year, a number that will rise to 3.2 million in 2020 and 4.2 million the following year to help boost the national supply.
China consumed about half of the world's pork in 2018, but over 95 per cent was sourced from domestic supply.
Prices of pork are one of the major indicators used by Chinese citizens to informally gauge their financial well-being, and at the moment, that well-being is being eroded rapidly.
This article appeared in the South China Morning Post print edition as: beijing targets soaring pork prices ahead of anniversary