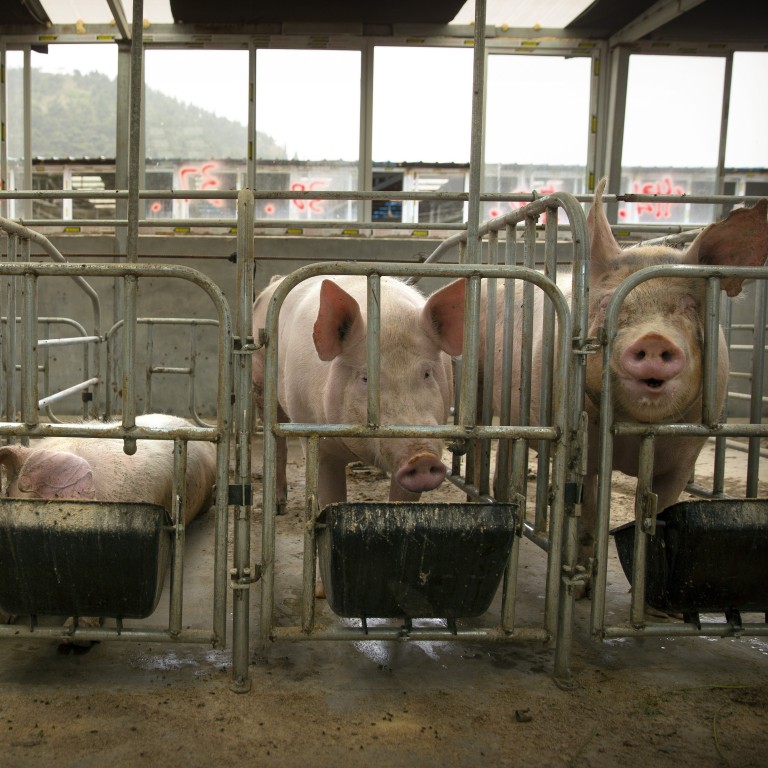 China aims to become self-sufficient in pork production despite African swine fever
Agriculture ministry says long-term goal is achievable despite the loss of a third of domestic livestock owing to impact of disease
Observers believe foreign producers will never be able to produce enough to satisfy the world's largest market for the meat
China will continue to strive for self-sufficiency in pork production although its farming industry has suffered a devastating blow after African swine fever wiped out about one-third of its hog herds, officials said on Wednesday.
Yu Kangzhen, a vice-minister for agriculture, said it was unrealistic for China to pin its hope on imports in meeting the
country's demand for pork.
Last year, China consumed about half of the world's pork but more than 95 per cent was sourced from domestic supplies, which have taken a serious hit this year due to swine fever.
The disease is deadly for pigs, although not for humans, and there is currently no cure or vaccine.
"Even at its highest level, imports accounted for about 2 per cent of China's domestic production," said Yu at a press conference in Beijing. "So from the statistics alone, we can see that we must adhere to the principle of self-sufficiency if we are to meet our demand for meat, and this also explains why we have put forward a 95 per cent self-sufficiency target."
According to Yu, the total global trade in pork last year was 8 million tonnes – less than 15 per cent of China's total production of 54 million tonnes.
Peng Shaozong, an official from the pricing department of the National Development and Reform Commission (NDRC), expressed confidence that foreign suppliers would be interested in filling any gaps in the Chinese market.
"Imports are guided by the market. If there is money to be made [in selling to China], they will definitely come," said Peng on the sidelines of the press conference.
Pan Chenjun, from agribusiness bank Rabobank, said China's pork production was expected to continue to fall in the coming year, putting pressure on the country's US$140 billion pork industry.
In July, China's pig population had fallen by 32.2 per cent from a year earlier, and was down 9.4 per cent compared with the previous month, according to latest government figures.
However, Pan said the government's 95 per cent self-sufficiency target was in line with market realities.
"In any case, the 95 per cent [self-sufficiency] goal is reasonable, as China's pork market size is too big, and imports, despite rising this year, still represent just a small part," Pan said.
Although China's domestic shortfall may offer a windfall to foreign suppliers, they must obtain government approval before they could sell to China.
On Monday, Beijing approved imports from 25 Brazilian meat factories, bringing the country's total number to 89.
On Wednesday, Danish officials completed a three-day trip to China, saying they expected to increase pork exports to China.
Danish food minister Mogens Jensen attended the opening of a new meat processing facility near Shanghai operated by Danish Crown.
China imported 230,000 tonnes of pork from Denmark in 2018, according to the country's foreign ministry.
On Tuesday, the Chinese State Council issued a new set of guidelines to support the industry, outlining measures such as increased subsidies to boost domestic production in the face of worsening pork shortages that have sent prices to record highs.
The
consumer price index
released on Tuesday reinforced the bleak picture of a tight market supply as the data showed that pork prices rose by 46.7 per cent in August compared with a year earlier, almost double the 27 per cent rise witnessed in July.
Prices of pork are one of the major indicators used by Chinese citizens to gauge their well-being and, at the moment, that well-being is being eroded rapidly.
According to NDRC, China has already spent a total of 3.23 billion yuan (US$454 million) in subsidies so far this year to tackle the pork shortage crisis.
"As much as 1.1 billion yuan has been newly added under the budget of the central government, with the focus on supporting western provinces in the Yangtze River basin to carry out farm improvement works to control pollution and reduce livestock and poultry waste," Peng from the NDRC said.
However, a report published by research firm Gavekal Dragonomics on Wednesday cautioned that the government's plans to soften the blow on the industry might not be effective.
"As the overhaul of pig-raising practices to eliminate the disease would take years even if the government was moving more aggressively, high prices and pork shortages are going to persist," the report said.
This article appeared in the South China Morning Post print edition as: Beijing in push to cater for pork needs