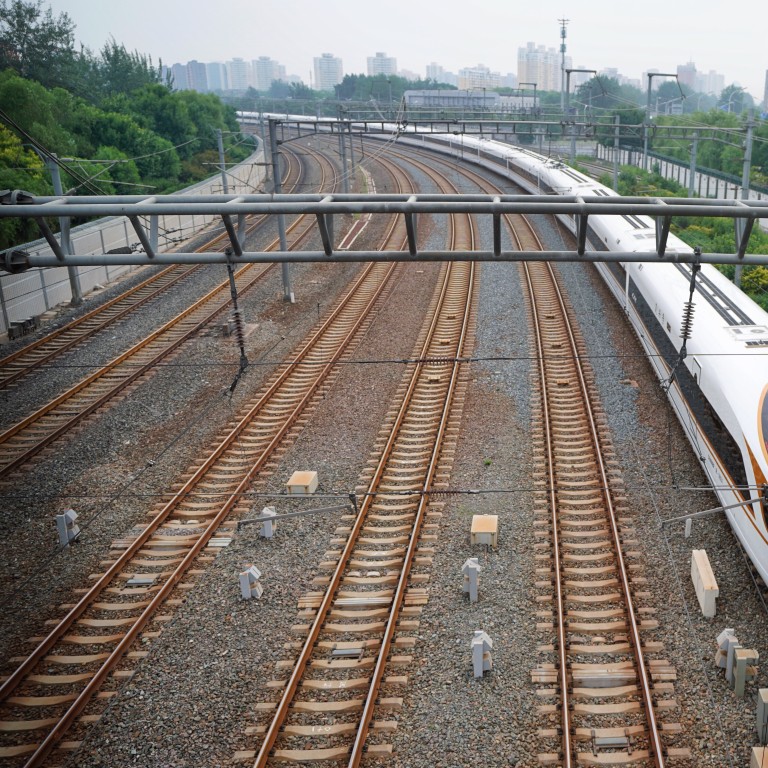 China's railway spending plummets as Beijing struggles to sustain momentum
Railway spending in August plunged 27.1 per cent following a decade-long building spree which has given China two-thirds of the world's high-speed rail tracks
Railway fixed-asset investment was 449.6 billion yuan (US$63 billion) in the first eight months of 2019, a modest 2.5 per cent fall from the same period last year
China's spending on railways, a key driver for growth in the last decade, tumbled in August – in part because all major towns are now covered by the country's extensive railway network.
China's economic planning agency said on Wednesday that railway fixed-asset investment was 449.6 billion yuan (US$63 billion) in the first eight months of this year, which marked a modest 2.5 per cent fall from the same period last year.
However, August alone marked a steep fall of 27.1 per cent compared to the same month in 2018, according to calculations by the South China Morning Post, based on the official data.
The abrupt fall in
railway investment
– which is part of a deceleration in China's overall capital spending – follows a decade-long building spree which has given China two-thirds of the world's high-speed rail tracks, leaving less room for future development.
Meng Wei, a spokeswoman for the National Development and Reform Commission (NDRC), said that China was on schedule to achieve its whole-year target of 800 billion yuan (US$113 billion) in spending on railways. She added there was now an issue of whether China could find enough new railway projects when existing ones were completed.
Meng said the agency had in July approved a number of new railway lines, including the second part of a line from
Zhengzhou to Jinan
with an investment budget of 40.9 billion yuan (US$5.7 billion), as well as a line from Heze to Lankao with an investment budget of 10.9 billion yuan.
She said the agency had also approved a feasibility report into a 700km high-speed railway line connecting Chongqing and Kunming, which would cost 141.6 billion yuan (US$20 billion).
"Railway is still in short supply in the central and western regions," Meng said.
However, the development of new lines in China's less developed zones and remote corners could be less effective in driving growth, analysts said.
Banny Lam, head of research at China Everbright Bank International Investment, said China's central government intended to use available railway investment quotas to stabilise fixed asset investments, which grew by only 5.5 per cent in the first eight months of 2019. In 2009 – when China was in all-out stimulus mode – the country's fixed-asset investment surged 26.5 per cent.
"Of course, there's always a risk whether they will be deliver economic benefits after they are built. It's not always certain if they will become profitable," Lam said.
Separately, the NDRC is also encouraging the country's mines, ports and industrial estates to develop their own mini railways, some as short as a few kilometres.
According to the plan, at least 80 per cent of ports, mines and logistics parks with annual cargo turnover of more than 1.5 million tonnes must build up their own "special use" railway lines by 2020. All major ports along the Yangtze River must build up their own special railway lines by 2020.
For any special railway application, the railway authority should give approval within 20 working days or, if an approval is not given, the local railway authority must offer technical support to make the railway line happen, according to the guideline issued by the economic planning agency and China's railway administration bureau.
For this year and next, there are 127 such "special use" railways in the pipeline, with a total length of 1,586km. The longest of these will cover 63.9km, with the shortest extending just 1.2km.
Additional reporting by Amanda Lee