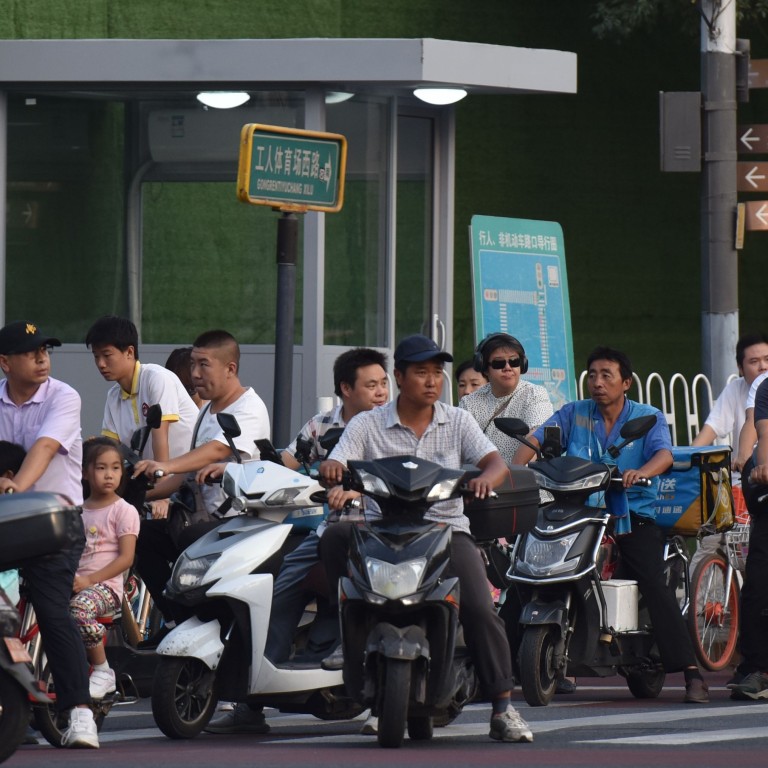 China can handle much slower GDP growth rate and still create enough jobs, government economists say
The headline gross domestic product (GDP) growth rate slowed to 6.2 per cent in the second quarter of 2019, the lowest figure since records began in March 1992
Risks are growing that it could slip below 6.0 per cent next year which would fall outside of the government's target range of between 6 and 6.5 per cent for 2019
China should not be alarmed by a much slower economic growth rate in the coming years, perhaps as low as 5 or even 4 per cent, with the economy now large enough to still create sufficient jobs at these growth rates, according to three prominent Chinese economists who advise the government.
"China had to put growth as a top priority because China had to create enough jobs, and when China's economic size was small, China had to achieve a high growth rate to ensure [sufficient] employment," said Zhang Yuxian, the head of the economic forecasting division at the State Information Centre, a think tank under the Chinese government's economic planning agency.
"But for now, a 6 per cent growth rate means 5.4 trillion yuan (US$761 billion) worth of additional GDP and China's labour force supply has stopped growing. In other words, a 6 per cent growth rate is enough to absorb the new labour supply. When China's economic size grows to 100 trillion yuan (US$14 trillion) or 110 trillion yuan, a growth rate of 5 or 4 per cent will be enough, so what's the point of aiming for an overly high growth rate?"
In 2018, China reported a growth rate of 6.6 per cent with a nominal GDP size of 90 trillion yuan. China's labour force, defined as those aged between 16 and 59, shrank by 540,000 to 897.29 million in 2018, according to the National Bureau of Statistics.
Chen Wenling, the chief economist for the China Centre for International Economic Exchanges, said China's GDP growth will be higher than 6 per cent this year and be "about 6 per cent" in 2020, a rate that is high enough for Beijing to claim victory in realising its goal of "quadrupling per capita GDP between 2000 and 2020".
"GDP growth rate is just a number – it doesn't matter whether it's 6 or 5. The growth rate in the US is 2 per cent, but that doesn't hurt the US as the most powerful country," Chen said.
"GDP is no longer the only target for China. China is now pursuing being a powerful country and it requires more than GDP, including manufacturing, healthcare and education, people's living standards as well as national governance."
Chen added that China is facing "structural"
employment pressure
as the trade war with the US has hit certain exporters who rely on the American market, but China, as a whole, is able to create enough jobs.
Zhang Yansheng, the chief research fellow at the China Centre for International Economic Exchanges, said China's economic growth is unlikely to witness significant changes over the next two years.
But at the same time, Zhang said it is possible for China's year-on-year growth to dip below 6 per cent in a specific quarter.
Many independent economists are also expecting a gradual slowdown in China's growth rate as the economy matures.
Louis Kuijs, the head of Asia Economics at Oxford Economics, said that China's trend growth will remain solid and decelerate gradually to 4 per cent by 2030 and 2.8 per cent by 2040.
In a scenario where economic and technological decoupling between China and the US-led developed economies is modest, China's trend growth can average at 5.2 per cent in the coming decade, Kuijs wrote.
This article appeared in the South China Morning Post print edition as: China could handle slower growth, economists say