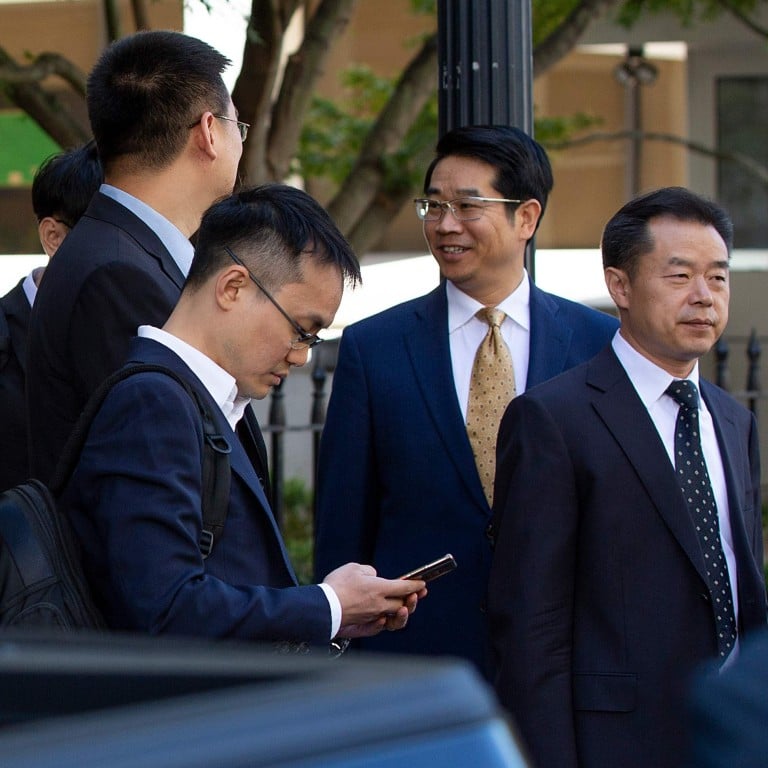 Donald Trump warned it's 'easier to negotiate nuclear weapons' deals than trade pacts by former White House aide
Kenneth Lieberthal helped negotiate China's accession to the World Trade Organisation and also helped defuse tensions after the Belgrade bombing in 1999
He joins other former negotiators in voicing concern over the chaotic approach adopted by the US president to reaching a deal to end the trade war with China
US President Donald Trump has been warned that "it is easier to negotiate nuclear weapons than it is to negotiate trade", by a former White House official who was charged with helping defuse tensions with China following the bombing of the Chinese embassy in Belgrade over 20 years ago.
The bombing occurred as contentious and prolonged talks over China's accession to the World Trade Organisation (WTO) seemed to be moving towards their conclusion in April 1999.
Chinese Premier Zhu Rongji visited Washington that month, but left without signing a deal. Zhu was subsequently infuriated when an unknown US official posted details of the draft agreement on a US government website – but the situation quickly deteriorated.
"Inevitably, s*** happens. Before we could get a final agreement, let things cool down a bit in Beijing and put Zhu in more of a face-saving position, we accidentally bombed the Chinese embassy in Belgrade, which was totally unexpected in Washington," said Kenneth Lieberthal, senior director for Asia on the US National Security Council under the Clinton Administration, who helped negotiate China's entry into the WTO.
"It took a long time to put back together and deeply reduced mutual trust."
The bombing killed three Chinese journalists during a Nato siege on the Serbian capital in the war over Kosovo's independence, and led to days of angry protests at American consulate buildings in China and lasting damage to bilateral relations.
Lieberthal's comments come as prospects of a US-China trade deal remain up in the air and as the scars of the
14-month trade war
are appearing on both economies.
"My view has always been, if you reach an agreement that both of you realise is close to what you want to end up having: sign the damn thing," said Lieberthal, now senior fellow emeritus in foreign policy at the Brookings Institution. "Because too much happens in the international arena that disrupts the best intentions if you let things hang out there."
The current series of
US-China trade talks
have not faced hurdles anywhere near as dramatic as the Belgrade bombing. External events such as the Hong Kong protests have been flagged as being potentially disruptive, but there is little evidence that, thus far, they have had any bearing on negotiations.
Nonetheless, the talks have been fraught and punctuated by a number of escalations and one
sudden collapse in May,
when the US pulled the plug after China faxed across a heavily redacted version of the 150-page agreement that was close to being finalised.
Numerous former US trade officials have noted that in years gone by, such hiccups have been part and parcel of negotiating with China and that, perhaps, May's collapse should not have been that surprising.
"In any negotiation, negotiators frequently get ahead of what they've been authorised to do or what the rest of their government is ready to do. So that is not surprising on a small scale, but this was obviously a much bigger scale," said Bruce Hirsh, assistant US trade representative (USTR) for Asia-Pacific under former US president Barack Obama.
In advance of May's breakdown, the US is understood to have requested their demands be encoded into Chinese law, which was rejected by Chinese officials.
Other theories posited by insiders about the talks' collapse are that China's lead negotiator Liu He was unable to "sell the deal" to perceived "hardliners" in the Chinese government, including Vice-President Wang Qishan, or that the US' interpretation of what had been negotiated was vastly different to China's.
"I don't know that it has really fully registered how difficult it can be [to make a trade deal]," said Hirsh. "Certainly on the US side, there was a belief that they were 90 per cent of the way to a deal. To the extent that they're focusing on a smaller deal, that reflects realism as to what each side is willing to do at this point."
Speculation has grown in recent weeks, however, that an
"interim deal",
which would see China agree to purchase a large amount of US agricultural goods in exchange for a removal or postponement of tariffs, will be agreed in October, when the Chinese lead negotiating team led again by Liu will visit Washington.
Trump has both fanned these rumours and subsequently tempered them. Two weeks ago, Trump said an interim deal "is something we would consider, I guess". On Friday, he stepped back from that claim, saying: "I'm looking for a complete deal, I'm not looking for a partial deal."
Meanwhile, in front of television cameras on Monday, Trump questioned why the US had asked a Chinese trade delegation to cancel a planned visit to farms in Montana and Nebraska last week.
"But I want them to buy farm products," Trump told US Treasury Secretary Steven Mnuchin. "Why was that our request, just out of curiosity?"
Trump has previously scolded USTR Robert Lighthizer with the cameras rolling and former officials said that this sort of behaviour, combined with flip-flopping over the substance of a trade deal, can confuse negotiators on both sides.
"It's just unclear in certain areas what the US actually wants," said Joseph Glauber, chief US agricultural negotiator to the WTO between 2007 and 2009.
"I suspect if this were left to the senior negotiators, you'd have an agreement. I think the big reason is at the top, the mercurial nature of the president has been that all of a sudden he decides no, that is not enough."
Lieberthal added that Trump "jumping all over the place" is likely to be a severe impediment to structured negotiations.
"I don't think anyone knows how to cope with that. I don't know how you'd negotiate in that context, because inherently you do not pack a lot of punch," he said.
"The Chinese on the one hand, would want to calm this [trade war] down. But on the other hand would be leery about reaching an agreement that Trump could rip up two days later with another tweet.
"I think there has been enormous damage done at this point. While I would like to see a good, strong, meaningful agreement, I am not optimistic."